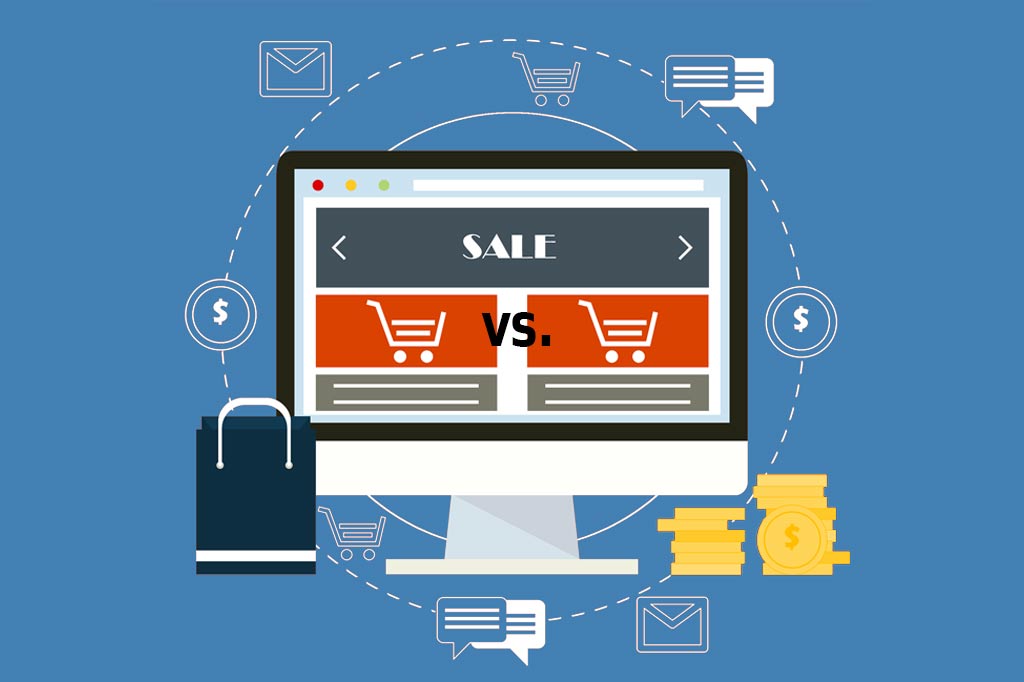 Estimated reading time: 6 minutes
Are you thinking about starting an online business? Or perhaps you already have one, and you aren't convinced that your eCommerce solution is right for you. Understanding the differences between a cart vs. platform is a big part of your online business endeavor. While the terms are often used interchangeably, there are some key differences that will make one better for your needs than the other.
The two terms are used together so frequently that it may be confusing to discern exactly what they are. We've put together a handy little guide for you to help you distinguish the differences between the two. In understanding the benefits, drawbacks, and features of both shopping carts and eCommerce platforms, you will be better able to choose the right path for your business.
How are carts and platforms the same?
Before we get into how carts vs. platforms differ, let's talk about how they relate. In essence, they both perform the same function. Carts and platforms both act as a bridge extending between you and your shoppers. They allow your site visitors to make a purchase, and they allow you to receive and process that purchase. They are, fundamentally, what allows consumers to shop online.
Now, let's get into more detail about how they function, and how they are different from one another.
What is a Cart?
Between carts and platforms, shopping carts are the simpler of the two. A digital shopping cart is a piece of software that you integrate into an already existing website. The addition of a cart takes your site from being an online catalog to a fully functioning store.
Fewer initial costs. Because you're only paying for the use of the cart and checkout (and not the search, product catalog, site layout, analytics, etc.) the initial and ongoing fees are significantly less than a full eCommerce platform.
Scaling is more expensive. If you start out with the bare minimum for your site, it'll be tough to grow. The more features you want to add or upgrade (forms, email marketing, caching and security, etc.), the more expensive your site will get.
Just the basics. With a cart, you depend on other plug-ins and third-party applications to do everything else on your site for you. A shopping cart will provide you with the ability to allow shoppers to check out and that's it.
Quick set-up. Presumably, the rest of the site is already built. The addition of a cart means your website turns from a catalog to a store with minimal downtime or expense.
Less flexibility. Shopping cart plug-ins and apps are template based, meaning they function in one way. If you want to tailor your checkout to any special needs your products or your internal work-flow may have, your options will be limited, if not out-right restricted.
What is a Platform?
While platforms may be more complicated, they are also more advanced, giving you greater opportunities to customize and grow your space.
Higher initial costs. While the costs are typically higher with a full eCommerce platform, you also get all the bells and whistles. At least, most of them. There's no puzzle to put together to build your business. You get all the ingredients you need for your site.
Complete Scalability. You have the opportunity to grow your site as quickly as you need. You can start your platform site off with just the most basic functionality if that's what you need. But as your business expands, your site can grow with it.
Sophisticated capabilities. It's true that the websites built on eCommerce platforms will require a little more technical elbow grease to set up. But that means you get to fine-tune your site's functional capabilities to your products, your market, and your taste.
Customize to your workflows. If you're an already-established business looking to broach the eCommerce landscape, you'll likely already have a workflow that you want to integrate into the site. Instead of having the limitations of an eCommerce cart dictate your procedures, you can adjust the platform to work for you.
Inventory and fulfillment management. Your platform will have the ability to help you manage your inventory, processing, and fulfillment procedures. While a cart strictly records the transaction, a platform can keep track of and adjust inventory. It can also fulfill your orders as they come in.
Who is a Cart Right For?
There are deficiencies to using a cart. However, much of that depends on the type of business you run and where you hope it will lead in the future. If your long-term goal is to run a small shop with a limited number of products and basic functionality is all that's required, then a cart may give you everything you need.
As an example, let's imagine you're an artist and you want to start making sales. Perhaps you already have a portfolio website that has About and Contact pages, and image galleries. Adding a shopping cart to the site will now allow your visitors to purchase your pieces.
This model is perfect for an artist who wants to sell a relatively small catalog of original pieces and maybe some art prints. As someone who will be spending the majority of the time creating, an easy-to-maintain shopping cart is the perfect addition to the website. As you advance in your art career, your painting prices will increase, but your sales volume won't get much bigger. It remains maintainable for a single person, while still allowing you to grow your business and make money without extra costs.
Who is a Platform Right For?
While typically more expensive and complicated to run, platforms provide the biggest opportunity for growth and customization. If your eCommerce store is going to be the main avenue for sales, and main source of income, you may find that you need the flexibility of a platform. As your business grows, and you start to discover the distinct needs and patterns of your customers, you will be able to adapt your checkout process to suit them.
Using the same example as before, let's say you're an artist but you have goals to turn your art into a brand. You want to be able to offer your designs on different types of merchandise, maybe involving attributes like sizing, colors, and materials. Maybe you even want to start wholesaling your products to other retailers. Maybe you have a small staff to help you run the business. You're happy to dedicate serious time, energy, and money into the digital storefront. Your eCommerce site is your business, and you want it to grow.
In that case, a platform may be what you need. It will give you the option to expand and develop your site around the products you sell.
Still Not Sure?
There are a lot of options for carts, platforms, and in-betweeners (like Shopify and Square that offer services on both sides of the fence). It's no surprise that making a decision can be daunting. If you're looking for something that will give you the flexibility to expand your business and tailor your site to the growing demands of the modern shopper, we recommend Miva. It offers the user-friendliness that you can expect from some of the smaller platforms and carts. But it can handle real growth and customization, be it B2C, B2B or both.
If you want to discuss your options and find which solution might work best for your needs, reach out to us and we can help.