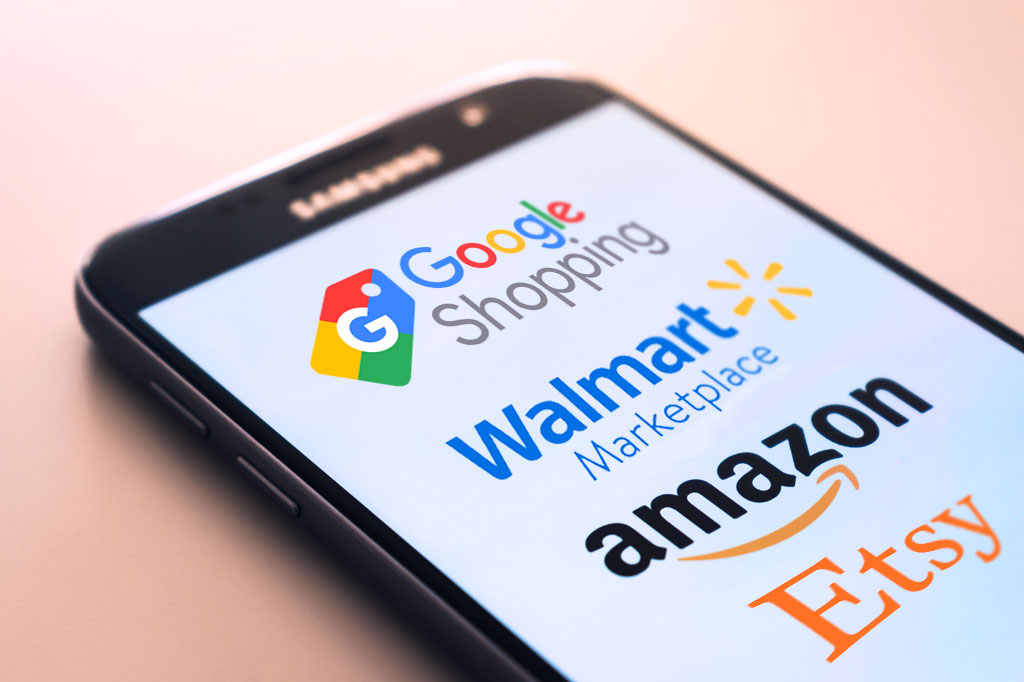 Estimated reading time: 9 minutes
More and more, online marketplaces are taking over the retail industry. On their path to domination, they are beginning to eat up small businesses. And as the old saying goes, eat or be eaten. Or perhaps, if you can't beat 'em, join 'em? Whichever idiom you prefer, it comes down to the same thing. It's time to consider third-party marketplaces.
There are legitimate reasons to both use and avoid third-party channels, and it can all get confusing. So we've broken down some of the big players in the game, as well as some pros and cons of marketplace selling. Like anything else in running a small business, you need to do your research before diving in to a new tactic. In this case, we've taken a head start on the research for you.
What is a Third-Party Channel?
Third-party distribution, marketplaces, omnichannel content strategies. They all refer to aggregate sites that allow you to post and sell your products. These companies function as eCommerce websites, but don't manufacture or source their own products. They leave that work to you.
When you post on a third-party channel, you're responsible for providing product photos, descriptions/specifications, and pricing. You're also responsible for managing and processing the orders collected through the site. And don't forget shipping them out to customers. Essentially, they are an eCommerce website that you share with dozens, hundreds, or thousands of other retailers. There are a handful of big-time marketplaces that everyone is familiar with and they run pretty smoothly at this point. But depending on what you sell, you may benefit from exploring smaller, niche marketplaces too.
Google Shopping

It won't be surprising to anybody that Google Shopping has a presence on this list. As in all other aspects of digital life, Google has become a giant in the online retail arena. But we're starting with a curve-ball; Google Shopping isn't technically a marketplace. However, it is a platform that provides product information to potential shoppers, separate from your online store.
Even though Google Shopping is actually an ad service, you provide all the same information as you would when listing a product on a marketplace. Shoppers head to Google, type in a query, and are provided with photos and data about your products. It has a few distinct advantages over other "traditional" online marketplaces:
Google is the biggest player in online product searches, offering shoppers the best chance to see your products.
Your products show up in more places. When you list products with Google Shopping, they can appear as a website result, a pay-per-click ad result, and in Google Shopping.
When shoppers click on a product, they are taken to your site to complete the purchase. They don't purchase through the marketplace.
Unlike most other third-party channels, you need to populate a product feed for Google Shopping. And that feed needs to stay up-to-date every time you add to or edit products. Luckily, we can help automate that for you. Whether or not you plan on listing your products in paid ads, you absolutely should have a Google Shopping Feed set up in your Google Merchant Center. Don't have Google Merchant Center? You need that, too.
Amazon Marketplace

Many people don't realize that the majority of products sold on Amazon are sold by third-party retailers – small business owners like you. In fact, independent merchants make up for almost 60% of total product sales on Amazon.
Once you create a store on Amazon as a third-party merchant, you populate it with the products you want to offer on the platform. Providing as much detailed information as possible will give you the best chance to perform well. Amazon has its own unique set of benefits and draw-backs:
Amazon is where people go to shop. Accounting for almost 40% of online retail, you won't have to worry about people not finding the site or your products.
Depending on the size of your catalog and how many products you plan on listing, you have the choice between two different Selling Plans. Regardless of the plan you choose, you'll be paying a cut to Amazon for every sale made.
Competition on Amazon may be high for the products you sell. Like we said, Amazon is the go-to marketplace, and that is a double-edged sword. You may get the most eyes on your listings, but so will all your competitors.
You can choose to have Amazon take care of order fulfillment on your behalf.
There's a lot to take in when considering whether Amazon is going to be the right step for you, so make sure you read over their terms very carefully.
Walmart

Yes, you can sell on Walmart's website now! This is another marketplace that most people don't realize hosts small, third-party retailers. Walmart has taken some tips from the way Amazon functions by offering things like order fulfillment services and allowing you to dictate product prices and specifications. There are, however, a few differences when it comes to selling with the mega-retailer:
You have to apply to sell with Walmart. According to their website, they partner only with reputable retailers who have reliable pricing, service, and fulfillment.
Like with Amazon, millions of unique users will be able to see your products every day, but because they are more selective about their partners, the competition may not be as stiff (yet).
They don't charge you monthly. Like Amazon, you'll have to pay a referral fee for every item sold, but there isn't a monthly subscription fee on top of that.
They have a slightly stricter policy on prohibited products than Amazon (for example, Walmart does not allow the sale of Adult products).
You do have to meet their performance guidelines; if a listed product is deemed "under-performing" it will be removed from the site.
Selling on Walmart is relatively new, but that doesn't mean it isn't a viable option. There's a lot to read through when it comes to their policies and guidelines, so take a careful look before deciding one way or another.
Etsy

Etsy used to be like the craft table at your county fair. It was generally for small, handmade, one-of-a-kind items. In the many years since its inception in 2005, Etsy has broadened its scope. While you will still find plenty of handcrafted decor, jewelry, and clothing, they're now being offered by small businesses as well as individual sellers. Etsy is on the cusp of being a niche marketplace; it's meant to offer a fairly small scope of products, but it's broad enough to provide a lot of variation, and it's very well-known. But is Etsy right for you?
Like Walmart, Etsy takes a cut of every sale without charging you a membership fee. They also charge a listing fee for each product you put up in your store.
They have limitations on the products you can sell, but there are a few notable differences. Unlike Amazon and Walmart, Etsy encourages you to sell one-of-a-kind products as opposed to mass-produced (though they don't shy away from those, either).
Personalized, unique, and made-to-order products shine on Etsy. That's the reputation that the site has curated over the years, and it's what most consumers still think of when they are looking for decor, gifts, or clothing.
Because of the "county fair market table" feel of the site, buyers expect a lot more one-on-one communication with the sellers. This can be good and bad. If you have the time and staff to dedicate to a lot of correspondence, you can earn a great reputation, plenty of reviews, and repeat business.
Other Niche Marketplaces
Do you sell a specialized type of product, or perhaps just want to direct your efforts to a specific audience? You can take advantage of niche marketplaces. What exactly does that mean? Despite knowing a handful of the big names like the ones listed above, there are actually hundreds more that you may not know. They range from offering products like art, apparel, and fair trade artisan items, to services like funerals and loans. It may seem counterproductive to post your products on marketplaces that aren't well known. Like the others, they have their own set of benefits and drawbacks:
Shoppers heading to that site are already looking for the exact type of product you're selling.
The sites are less well-known. They may not give you the reach you're hoping for when posting your products on a third-party channel.
Because the marketplaces are less well-known, there will be less competition with other sellers.
The terms and policies of the sites may vary widely, depending on the types of products they are specialized towards.
Are Third-Party Channels Worth it?
Whether or not third-party marketplaces are worth it will depend entirely on your goals and budget (including your time budget). Marketplaces aren't a one-size-fits-all endeavor, by any means. In order for it to be worth investing your time and money into marketplaces, you need to find ones that suit:
Your profit margin. Do you sell low-cost items like stickers or pins, food items, or party favors? The cut that marketplaces take from your sales might eat up all the profits. It could result in listing your products actually costing you money.
Your marketing budget. By having a fully-functional eCommerce site and also choosing to list your items on a marketplace, you're essentially using them as a marketing tool. That can be very successful! Consumers who shop exclusively on big marketplaces like Amazon can be introduced to your brand while simultaneously making a purchase. But depending on what other marketing tactics you're currently using and how well they're working for you, you may not have room in your budget.
Your schedule. There's no denying that updating and maintaining these marketplaces takes time. If you don't have employees available to manage your accounts, update pricing, reply to correspondence, etc. you can fall behind quickly.
Your product catalog. You may sell items that simply aren't permitted for sale on most marketplaces. Tobacco and CBD products, for example, aren't permitted on most sites.
If you choose to explore the expansive world of third-party selling channels, make sure you set aside real time to carefully read the terms and conditions, fees, and seller expectations before signing up. There's no doubt that they can be extremely profitable if you find the right fit, but they aren't for everyone. And if you decide they aren't for you, you should still make sure you have a Google Shopping Feed set up (even if you have no intention of paying for Google Shopping ads). To get your product feed for Google set up, or for help integrating a third-party channel, reach out to Glendale and we'll be happy to help.