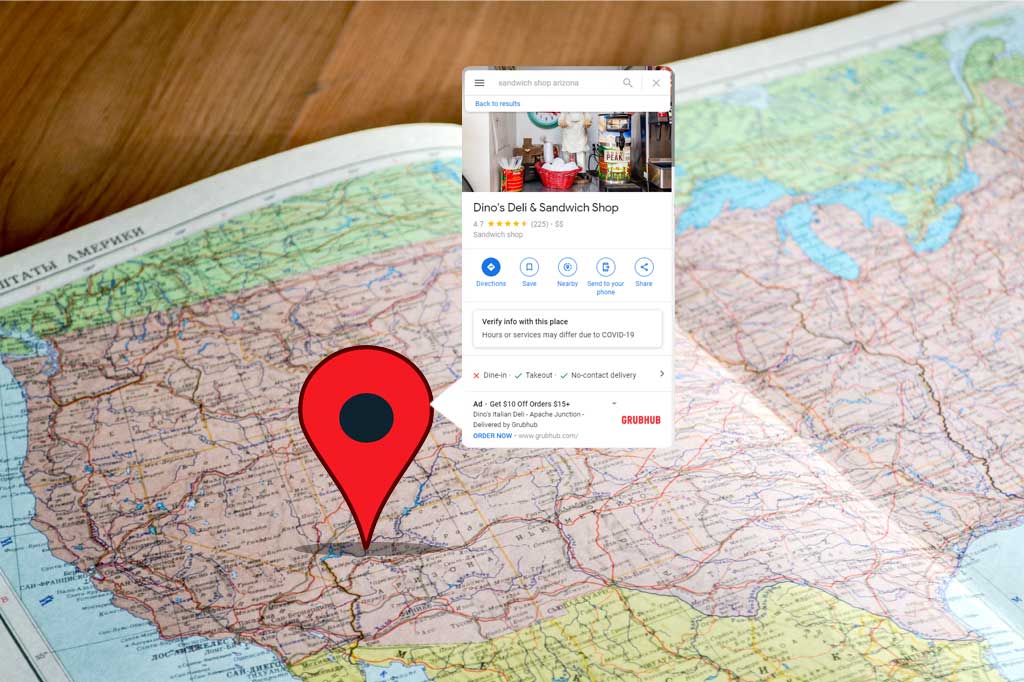 Estimated reading time: 11 minutes
Google seems to have an endless roster of tools and resources for businesses. They operate under the model of making things easier for their users (aka searchers), by improving how you do business. There are a variety of avenues by which this is achieved, like advanced analytic, tracking, and testing tools, to help run things behind the scenes. They also offer services like Shopping and Rich Snippets to help you present a stronger face to the end user. One of their most fundamental tools covers all of those benefits. Have you set up your Google My Business Account yet?
Many business owners may think you need to primarily operate out of a storefront in order to register or take advantage of the Google My Business (GMB) opportunities. But that isn't the case. While GMB does provide special ranking benefits for local businesses, your online presence will definitely benefit!
There is a caveat to that, however. Google's guidelines do require you to have some sort of in-person presence in order to be eligible for a GMB account. That may mean a fully-functioning storefront, a showroom, a pickup location, or maybe even a service area, if you travel to your customers. Regardless, there has to be some person-to-person contact in order to claim your listing.
What Does a Google My Business Account Do?
You're familiar with the business listings that display in Google when you search for a specific business? Those are Google My Business account profiles. Searchers turn into shoppers by using those listings to call, view your location, access your website, and read reviews. Many have been claimed and verified by the business owner, but astonishingly, more than half haven't!
Now and then you'll come across companies that don't claim their listing, though you may not be able to tell at first. The differences aren't always immediately obvious to the searcher. Here are two listings; the listing for Big D's Sandwich Shack has been claimed. Todd's Dogs, however, has not.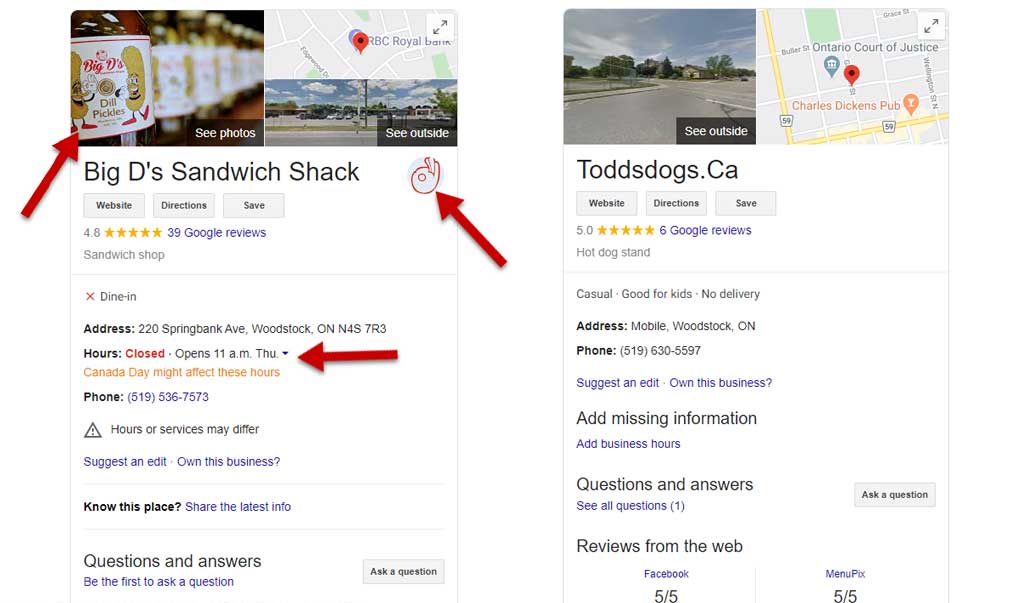 The first thing you may notice is that the listing for Big D's is more fully filled out. There are photographs (in addition to the map and street view supplied by Google). There's a logo added, the company name is correct, and the store hours are listed.
In Todd's Dogs' listing, you can see some of the information has been provided, though this is likely by customers, using the "Suggest an edit" button, and otherwise from Google using information found on the company website.
The real benefits of claiming your listing start happening behind the scenes.
Why Should I Claim My Listing?
Claiming your listing (aka providing proof to Google that you own the business) gives you the power of filling out your Business Profile. That allows you to provide all the information about your business, like setting your hours, providing a business description, assigning your website, adding photographs, and providing features like being wheelchair accessible. A profile with all of that information provided is perceived as being twice as reputable by shoppers.
In addition to that, you gain the ability to reply to your reviews (which can have a massive impact on your reputation), as well as access analytic data about the people who access your listing, and what they do.
There are also other perks like being able to set up a call-to-action button, answer questions, and share posts that are specific to your Google My Business account.
Not only does all of this make you more trustworthy and legitimate in the eyes of the shopper, but also in the eyes of Google. By having your information and links fully fleshed out, you appear more credible, come up in relevant search results, and can help you in making your advertising more relevant.
New Attributes for your Google My Business Account
Ever fresh and relevant, Google has recently released an update to GMB which includes some new attributes that you can apply to your Business Profile. The previously existing attributes help make businesses more appealing to searchers, by highlighting service features:
Wheelchair accessibility (elevators, entrances, restrooms, seating, etc.)
Device rental options (scooters, bicycles, boats, etc.)
Activities (game room, indoor track, horseback riding, etc.)
Amenities (wifi, air conditioning, gift wrapping, etc.)
Languages spoken
Payment options
Dozens more
They are selectable depending upon the industry of your business, and allow you to put a spotlight on what makes you stand out.
While Google My Business accounts are available (and very useful) to online businesses, many of the options really only apply to strictly physical locations like hotels. However, these in-house features haven't been so important lately.
Perfectly timed for the current commerce climate, the new attributes have to do with moving the focus of your business online:
Online Care
Geared to healthcare and counselling service providers, the businesses have the option of adding an Online Care option. This is fairly straightforward; it notifies potential patents that there is secure online and socially-distanced care available.
Online Appointment
While it's similar to online care, online appointments can be more broadly applied. Not just appealing to healthcare providers, you can use online appointments to conduct meetings with all sorts of clients. This may be especially helpful for any local business that might have otherwise done a home visit or consultation, for example, decorating or event planning services.
Online Estimates
We have clients who have integrated features into their websites that allow users to request estimates before committing to a purchase. Outdoorspeakerdepot.com gives users the option to submit a floor plan for help in planning their sound system setup. This is exactly the sort of feature that would benefit from adding the Online Estimates attribute.
Online Classes
Content marketing is an excellent way to earn new leads and keep your shoppers coming back to you as a resource. One example of content marketing is offering a free webinar. This style of online learning allows you to share your expertise and improve your clout. It's also a great way of collecting contact information and retargeting valuable customers. Promote your online classes and webinars by adding this attribute to your Google My Business account.
Adding Attributes to Your Google My Business Account
While these additions are specific to COVID-19, they will likely be sticking around. The same way that many offices are now realizing remote employees work just as hard as when they are in the office, business owners are starting to realize that their reach can be broadened by taking these services online.
As mentioned earlier, there are a ton of other attributes already available, and Google has been releasing them steadily in relation to the pandemic. Here's how to add them to your Business Profile:
Sign into your Google My Business account.
Select the location you'd like to edit.
From the menu, click Info.
Select Add Attributes then Edit.
There's a large list, so you can search for the attribute you'd like to add. Alternatively, if you've never added attributes before, or haven't updated them in a while, you can scroll through the available ones and select all that apply to your business.
Keep in mind that some attributes only appear for applicable businesses. As an online retailer, you likely won't have "Indoor track" or "Horseback riding" available.
When you're finished updating your attributes, click Apply.
Tips to Optimize Your Google My Business Account
Many of the best practices to keep your profile as efficient as possible have already been mentioned, but we want to provide you a complete list. The following actions will help ensure that your Google My Business Account is working as hard as possible to help you.
Fill out Your Basic Business Details
This should go without saying, but fill out as much information as you possibly can about your business. Even if you think it doesn't apply to the average user, fill it in!
Confirm that your business hours, location, phone number, and website are all correct. Fill in holiday hours too, if you're affected by them.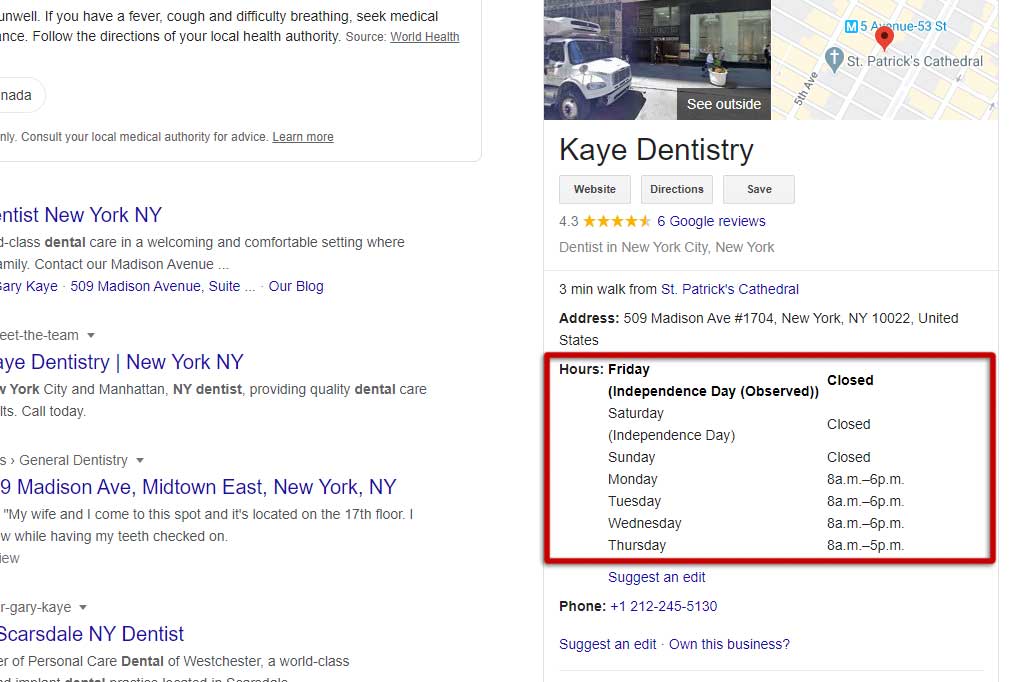 Add a Business Description
Your business description can help clarify anything about your business that might set you apart. It allows you to highlight your best features in your own words.It's also particularly helpful if you're in a niche market that doesn't have appropriate business categories available.
You may sell awesome burgers and (seriously delicious) loaded fries, but Google may not have the right categories available to notify that your menu is entirely vegan. Use your description to make that distinction. The description should be appropriate and high quality, and Google disallows listing promotions, misleading content, or offensive material.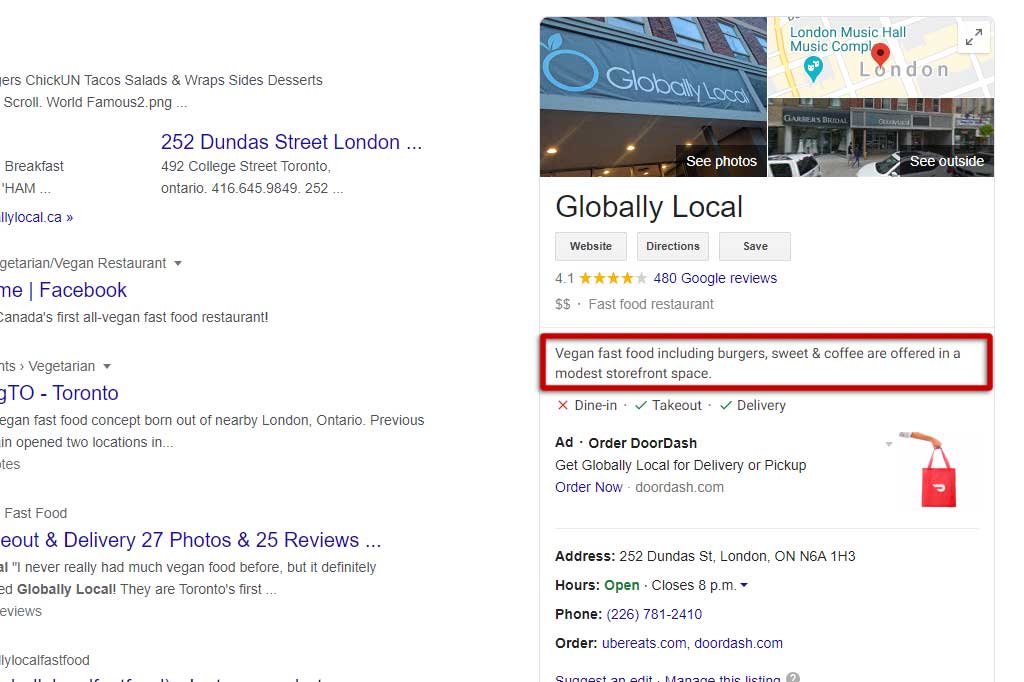 Pick Your Business Categories
Google allows you to assign up to 10 categories to your Google My Business account profile, however they recommend using as few categories as possible. Select your business categories to represent your core business purpose.
If you sell used instruments, selecting "Used Instrument Store" is a better choice than using "Music store", or even "Instrument store". However, if you also provide on-site or online music lessons, you shouldn't also select "School", as that is a business attribute, and not your main category.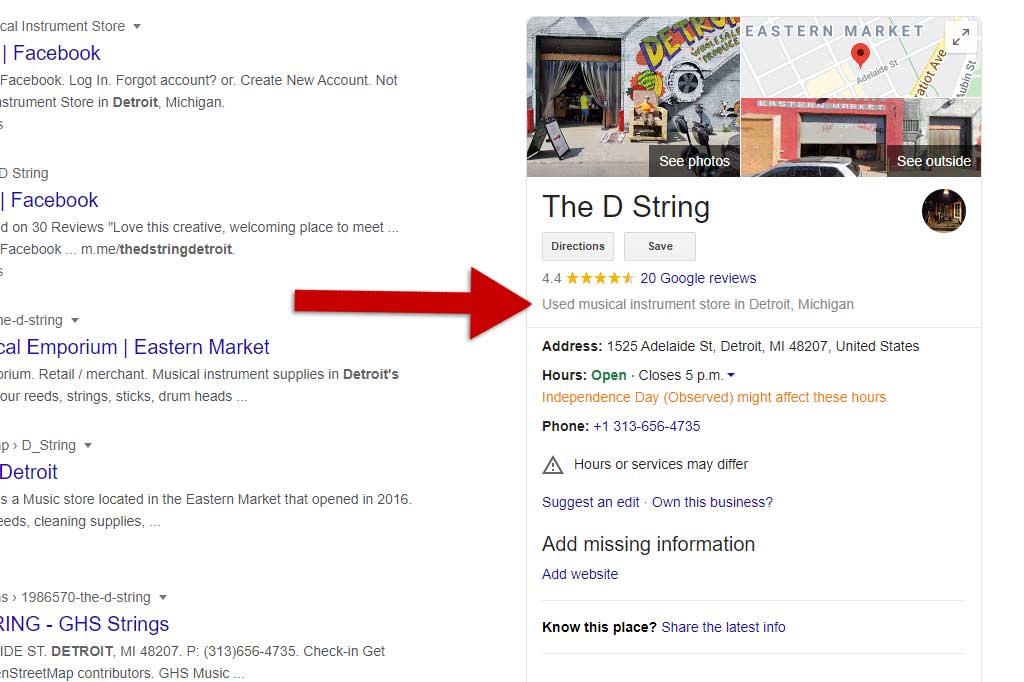 Fill Out Your Menu and Appointment Options
This won't apply to everyone, but may apply to more than you think. Beyond food menus (which it does include), this option also applies to service menus.
If you take appointments for your services and offer the ability to schedule them online, you can specify that as well. In fact, you can do so in a couple of ways. You can provide an appointment link, or take advantage of a call-to-action button.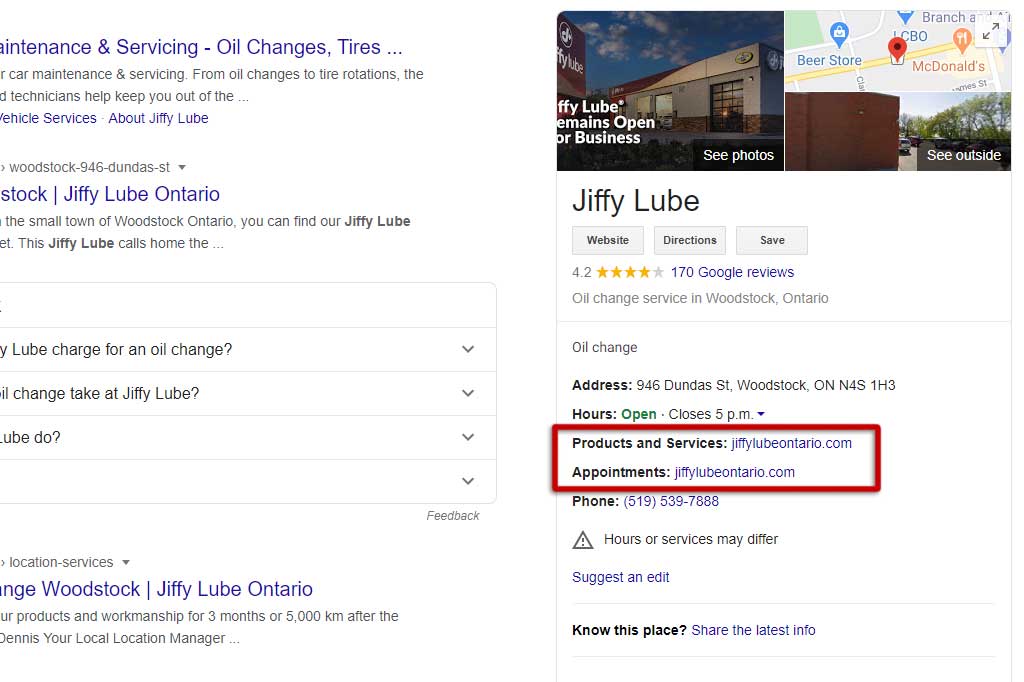 Add Plenty of High Quality Images
This is the same as your website and works the same way. Plenty of high quality images that properly represent your business will serve you very well. Customers will know what to expect from your services, and what your building looks like if they have to visit your location.
Respond to Reviews and Answer Questions
This was mentioned earlier in the post, but replying to reviews is a big benefit of claiming your listing. And it is extremely beneficial to your reputation. The replies will show as being written by the owner, which will provide a peace of mind to potential customers, even if the initial review is negative.
Answering questions works much the same way, with the added bonus of coaxing shoppers in by providing additional business details.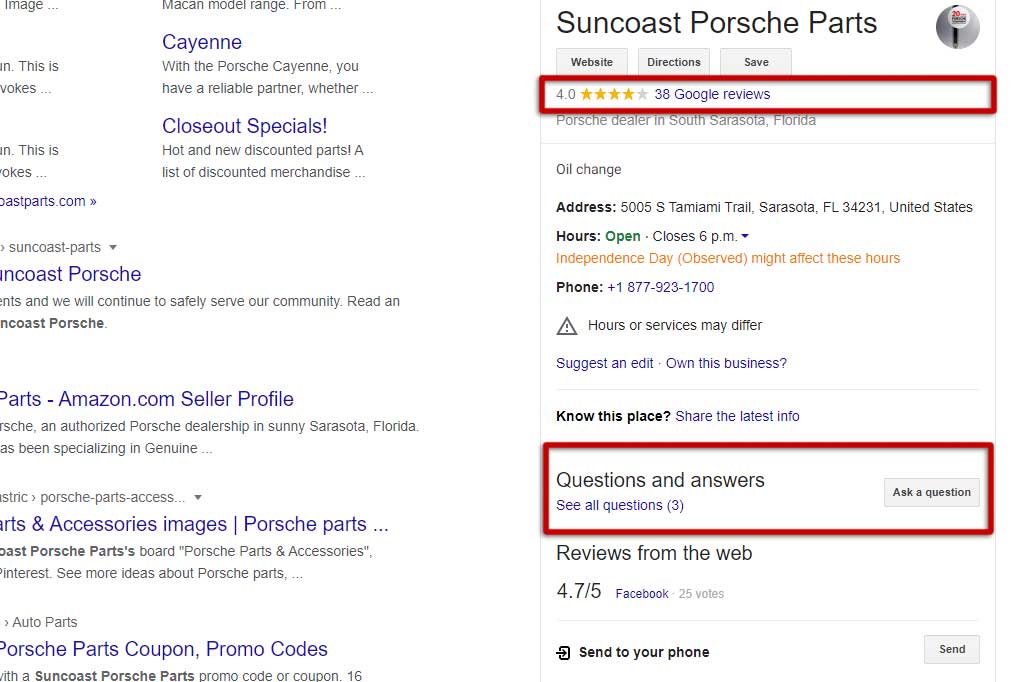 Use The Post Feature
You have the option to add posts to your profile. Similar to social media posts, you can provide a fast piece of news to your shoppers. Communicate important news, new services, and promotions with posts. You may wonder why you'd need to add posts to Google if you're already posting on social media.
The easy answer to that question is also the most obvious. Because they aren't looking at your social media page. They are looking at your listing on Google. The point of posting (whether on Google or social media) is to get as many eyes as possible on your content. Here you can see what it looks like when you have a post on your Google My Business account listing, and how it's displayed when you click to view all.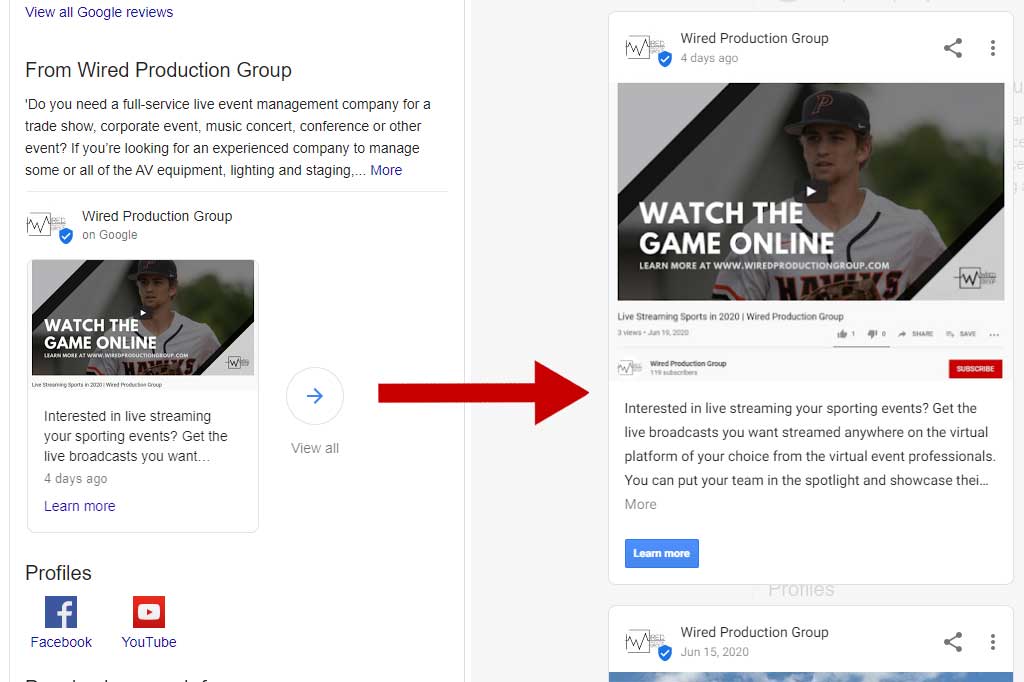 The Key to a Successful Google My Business Account
Google's goal is to make the searching and spending experience as easy as possible for their users. Anything you can do to comply with their guidelines will help make you more successful. That means claiming, verifying, and filling in your Business Profile information as fully as possible.
Be clear, be consistent with the information between your listing and your website, and be attentive to your profile. Update your attributes, answer questions, reply to reviews, and post updates to be as visible and appealing as possible to Google searchers.