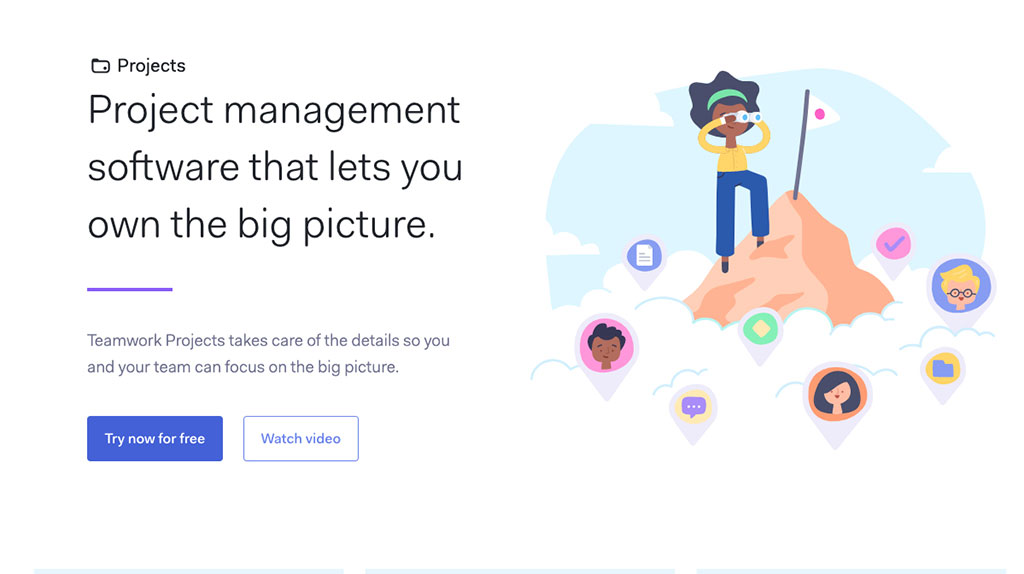 Estimated reading time: 5 minutes
Every business owner knows the struggle of finding good help. Employees who have the credentials, the experience, and the know-how are hard enough to find, but try finding one who also works well with the rest of the team! It can be a contentious part of managing a company, without a doubt. And when your employees don't work well together, it slows down day-to-day productivity. Ice-breakers and team-building exercises can only do so much to help your staff work well together. We've got a solution for you that will help take your workforce the rest of the way from functioning, to positively thriving.
Teamwork is a project management tool that allows for easy scheduling, customer service, communication, and organization in one neat utility. They offer several different products under the Teamwork umbrella that can help your business run smoothly and efficiently.
This article contains affiliate links to products/services. We may receive a commission for purchases made through these links.
Projects
Teamwork Projects offers something every small business owner cherishes: simplicity. By breaking down large projects into smaller tasks, you can sort out exactly who is responsible for what. Beyond that, you can also assign deadlines, timelines, and view progress to ensure you're staying on top of things. A built-in timer app allows you to log time to specific tasks, and notebooks help keep all your data in one place. Team members can communicate effectively and efficiently with each other and nothing gets 'forgotten'.
Desk
Desk is the customer service portal provided by Teamwork. It allows you customers to submit service tickets, and keeps all their communication in one place, ensuring nothing gets missed. It also allows your team members to see exactly who is expected to manage the queries. Direct the technical issues to your IT support team, and billing questions to your accounting department.
Chat
The Chat function in Teamwork is the perfect central place to promote communication. Instant connection between employees allows for a smooth workflow without breaking your focus to answer emails or take phone calls. This is especially helpful if you have employees who work remotely, not necessarily under one roof.
CRM
Teamwork CRM is sales software available that helps add structure and clarity to your process for your sales team. The ability to track your metrics and view them in a clear and concise format will help you recognise where your team is succeeding and where they might need help. Keep a handle on your targets and progress so that you can scale the business in a manageable way.
Streamline Your Workflow
At Glendale, we have an ongoing stream of projects, and countless tasks and deadlines to organize. I'm sure this sound familiar, as it would to any business owner who is expanding their company. The perfect storm of new employees, incoming projects, increasingly advanced clients, and broadening services creates the potential for chaos behind the scenes. The best way to maintain productivity and quality control is of course efficiency, organization, and clear communication.
While experiencing the same tribulations as any other growing business, the Glendale team is able to run as a well-oiled machine with the help of Teamwork.
There are several key features that Teamwork offers which keep us running on a day-to-day basis. The application of deadlines and scheduling, for example, is crucial. So many departments depend on one task to be completed before another can begin, so it's vital to keep everyone on schedule. If one person is unclear about when their task is due, it can domino and set the whole project back. Teamwork helps by allowing a very customizable scheduling feature. Not only can you assign a task to a specific employee/department, you can also make that task dependent upon another task being completed first. Perhaps you don't want your art department to begin on design work before getting approval on the mock-up from the client. You can dictate that course of action and assign the tasks to specific users on your team.
Involving Your Clients
Interested in keeping your client involved in your operation? You can bring them into the mix and assign them the task of approving that design. That way they know the project is waiting for their approval before moving forward. But don't worry; you can restrict areas of the project to keep your client out. You don't want them seeing all the inner workings of your business after all. Besides wanting to keep a little of the mystique, you may also want to keep sensitive information private. Or maybe you need to keep an over-eager client from changing tasks as they see fit. You have full control over what your client is able to see or do, right down to individual comments within a task.
If you don't want your customers to have any peeks behind the curtain, you can also keep them just to the ticket system. With Teamwork Desk, you can have your customers and clients submit tickets as needed. This helps to keep all queries organized and centralized. It also helps with transparency. Every member of your team can be updated on the latest inquiry, solution, and comment to and from your client.
Whether you need to manage a large project, bolster communication within the team, monitor and track your sales data, or just organize your daily tasks, Teamwork offers comprehensive solutions. You can get started with Teamwork by clicking here. See how easy and satisfying it is to integrate into your day-to-day practices and watch your team click into place!