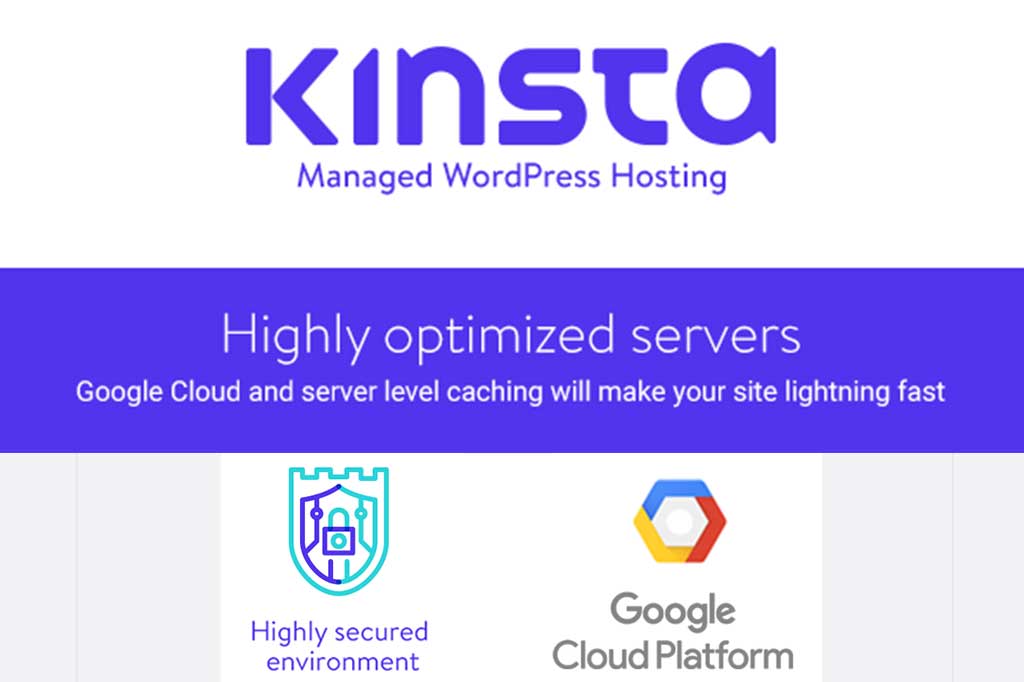 Estimated reading time: 6 minutes
If you're serious about your WordPress website and want it to succeed as a main channel of your business, then you have probably already looked into managed hosting. If you haven't, then now is the time. This quick overview will give you a brief breakdown of why managed hosting may be best for your WordPress site, and why we at Glendale recommend Kinsta to do the hosting for you, specifically.
This article contains affiliate links to products/services. We may receive a commission for purchases made through these links.
So what exactly is managed hosting?
There are a few different types of website hosting and each one has benefits and drawbacks, which vary widely depending on your needs, and the size of your website. Shared hosting, for example, is the lowest tier of hosting. Your site shares a server with hundreds or maybe even thousands of other websites. This means your cost will be extremely low, but so will the quality and functionality of your site. Potential slow load times, limited resources, and little to no customer support means that your visitors may get frustrated and leave, and Google may score your website lower, pulling it from the search pages and severely damaging your ranking.
Another type of hosting is dedicated server hosting. In this instance, you have the server all to yourself. You have room to spread, top-quality speed, and full control over your security, operating system, and everything in between. All that space and freedom comes with a price, however. Not only is the service itself more expensive, but it also means you'll need to pay someone anytime you need updates and fixes unless you're already a tech-wiz. WordPress sites can be tricky to get right if you're not well-versed with plug-ins, codex, and security features.
The option we're discussing here is managed hosting. Managed hosting offers you lower prices than dedicated without sacrificing speed or security, yet more support and resources than shared hosting. This makes it the perfect option for the business owner who is serious about their website growth and performance, without the means (or desire) to do the coding and technical work themselves.
How can managed hosting work for you?
Managed hosting has several benefits over dedicated hosting services, but one of the most crucial for small-business owners is the support. Managed hosting typically offers more customer and technical support for its users. This can be a huge appeal for store owners who aren't coders or server administrators in their spare time. If you don't have the technical abilities required to help pull your site out of a crash, a breakdown, or a hack, then you will need the support provided by the hosting company. Even in less dire circumstances, if you don't know how or don't want to be responsible for system updates, backups and restoration, security audits, performance tuning, and a whole range of other responsibilities, then managed hosting is for you.
So maybe you aren't a system administrator, but you still want to be a little hands-on with your website. Being able to experiment with additions to your site, viewing analytics, and running backups yourself can save you money and give you some autonomy with your business. You're a business owner and not an employee for a reason, after all! Managed hosting is a great middle-ground there, as well. While you can keep your fingers out of the tricky (and crucial) aspects like site security, you can still operate your website with the comfort of knowing you'll have some technical and customer support on standby in case something goes awry. However, not all managed hosting services are created equal. The one we recommend is Kinsta, and we've got several great reasons why they should be your first choice.
Why is Kinsta the right choice?
There are plenty of managed hosting services out there, and at Glendale, we want to make sure we are working with and recommending the cream of the crop. A few of the key features of Kinsta have already been mentioned: speed, security, and support. The importance of these three factors in regards to your website cannot be stressed enough. Google has several factors on which it bases its rankings, and speed and support are two of the big ones. In this day and age, if your page takes more than 3 seconds to load, visitors are going to get impatient and leave. That quick visit-then-leave reaction is called a bounce rate, and it is crushing to your Google ranking. If your ranking is low, then your site won't be suggested to searchers, and potential customers/clients won't find you. The same applies to security. If your site is rife with malware and spam, Google is not going to want to recommend your site to searchers and again, your ranking falls.
Kinsta offers state-of-the-art technology to ensure your WordPress site maintains its speed and performance even at peak traffic hours; part of the way they do this is by hosting your site on the Google Cloud Platform. Having your site powered by the same platform as Google is a great way to ensure Google approves of your speed and performance.
Proactive prevention is another of Kinsta's most crucial features. By employing SFTP and keeping all software up to date, they greatly reduce the chances of hackers breaching the software of your website, keeping you free of malware and viruses. If a hack does happen, Kinsta has 24/7 support to get it fixed with immediacy. In fact, they perform site checks every 2 minutes to ensure everything is running smoothly.
Speaking of customer support, the live chat and experienced technicians will be a crucial asset for you while updating and maintaining your site. Because their support techs come from a background directly dealing with WordPress, when you contact them about an issue, they will understand what you're saying and know how to fix it.
So we've covered the big points. Their hosting ensures your site is fast, secure, and supported. But they also have several other features that help you get the most out of your business and enjoy doing it. With a clean and simple interface, the platform makes it easy to jump right in and start exploring, with tabs like "Analytics" to see information about visitors and site performance, "Sites" to help you manage the different websites you host with them, and "Dashboard" to give you a comprehensive overview of your usage. Kinsta also offers a staging view, which allows you to make a mock version of your website if you want to experiment with the look and functionality of your WordPress site (ie. Installing various plugins) to ensure they work properly before pushing them over to your live site. Even if you do make these changes on the live site then decide to revert, their backup system will have you covered.
It's clear why our developers are eager to recommend Kinsta, and why they prefer it when working with WordPress sites. Don't be intimidated by switching your hosting, sign-up for Kinsta hosting and let us know if you need our help