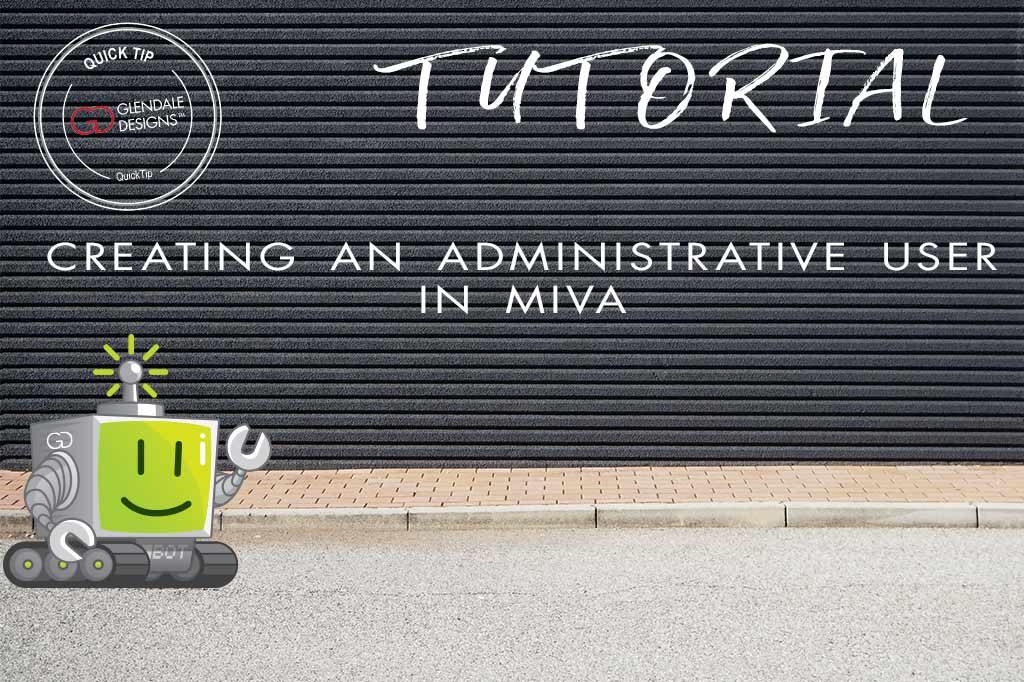 Skill Level: Beginner
As a store owner, you may find yourself needing to create users in your Miva account. Typically necessary for employees responsible for website up-keep, and for any order processing/workflow management, this will give access to the back end of your website. This tutorial will demonstrate how to create non-developer user accounts in Miva.
STEP ONE: Access Your Users Panel
Log into Miva and, from the home page, click on the Users button.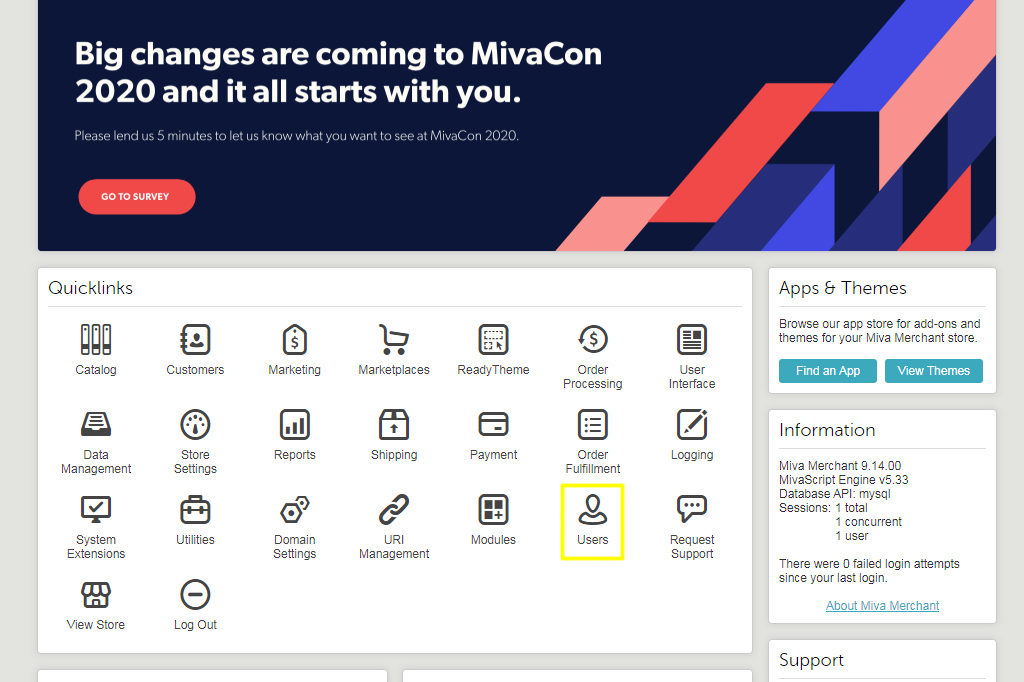 STEP TWO: Create New User
On this page, you will see any/all users that currently have access to your Miva account. Click the + button to create a new user.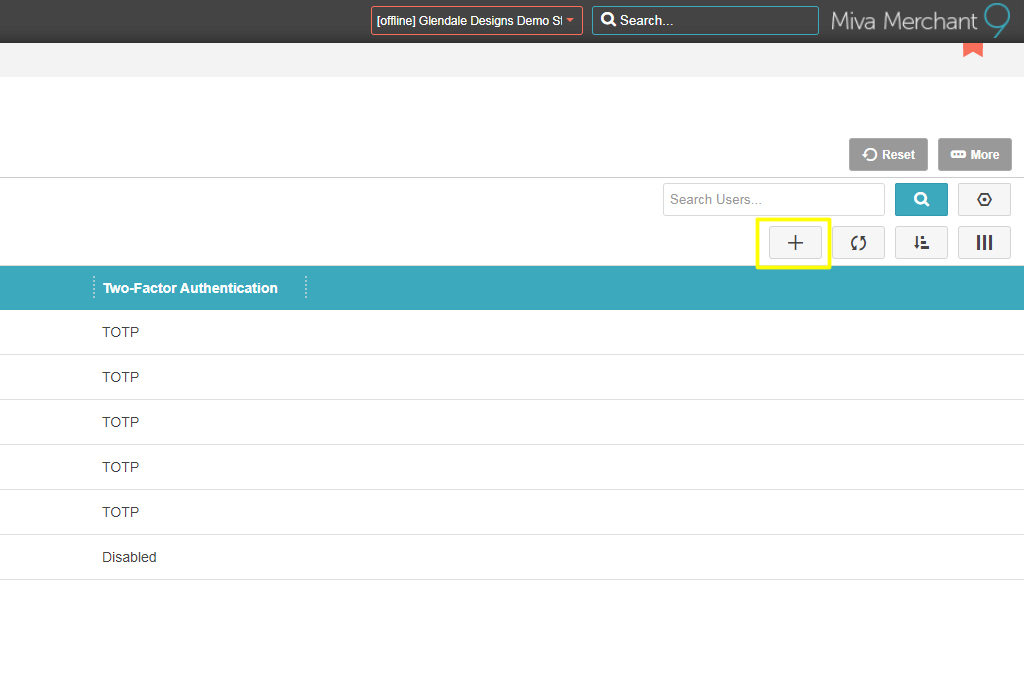 STEP THREE: Fill in User Details
A pop-up window will appear. Here, you will fill in the details for your new user, including their username (this is what they will use to log in), a password, and an email address associated with the account. You can also toggle on the option to force the new user to change their password upon their first log in.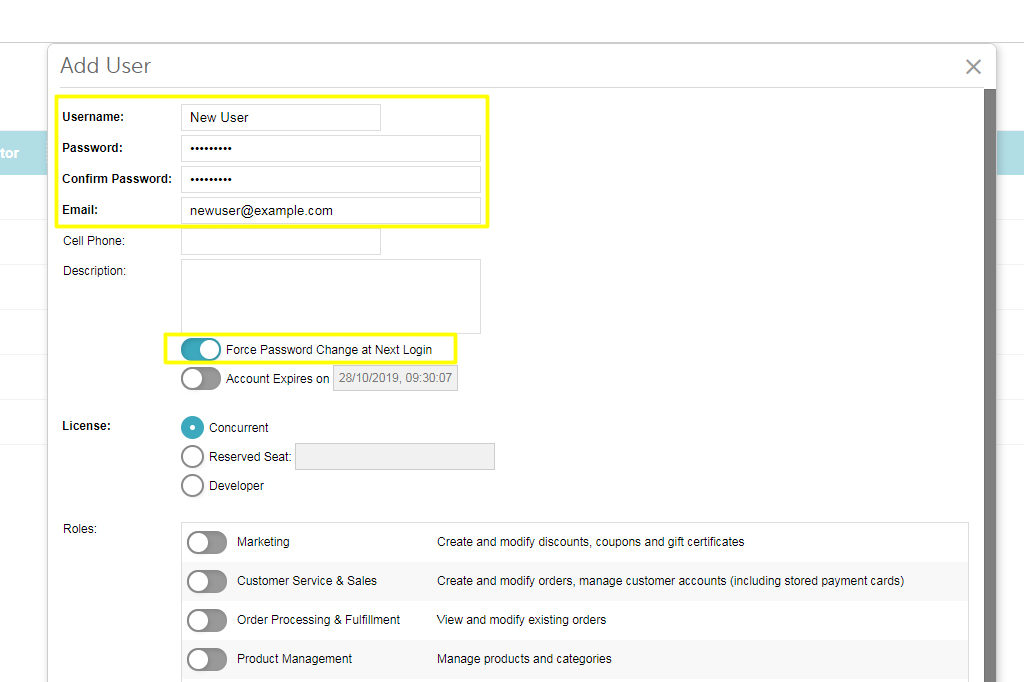 STEP FOUR: Select Roles for the New User
In the Roles section of this window, you can assign permissions to the new user. This allows you to control what they have access to change. If you have an employee that manages the store for you, it is wise to turn on all permissions. Click the toggle buttons to turn on the permissions and assign the roles to the user. Click the blue Add button to save the user.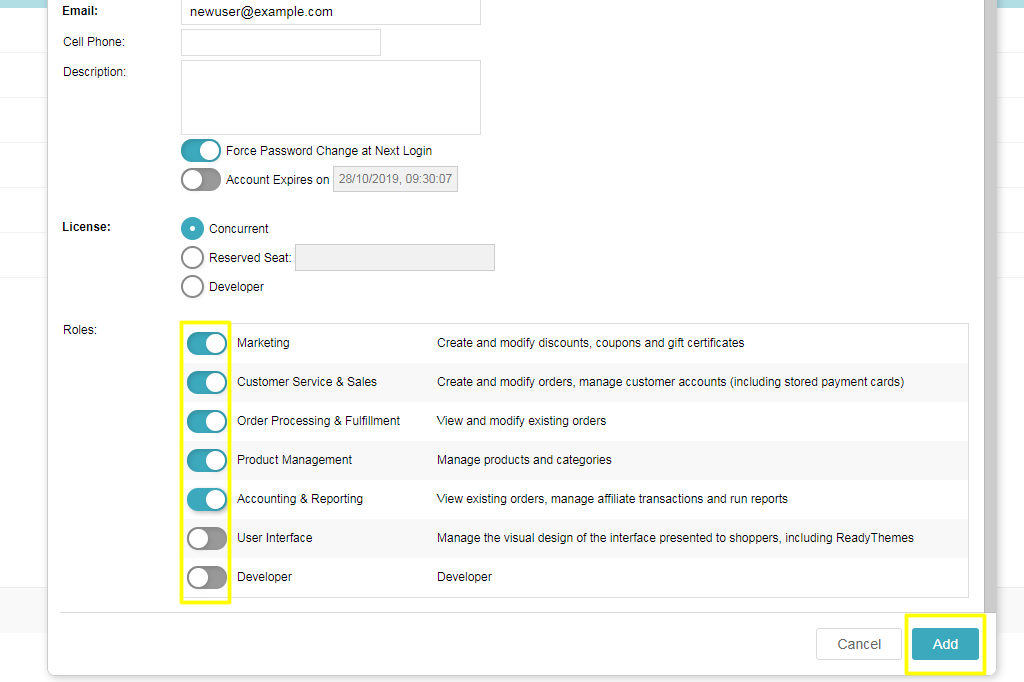 From this point, the new user will need to turn on TOTP two-factor authentication themselves.
STEP FIVE: Turning On Two-Factor Authentication
Log into your new account using the username and password set up for you. Upon your first login, you will be sent an email with a verification code. Enter this code when prompted. From the menu, select Edit User.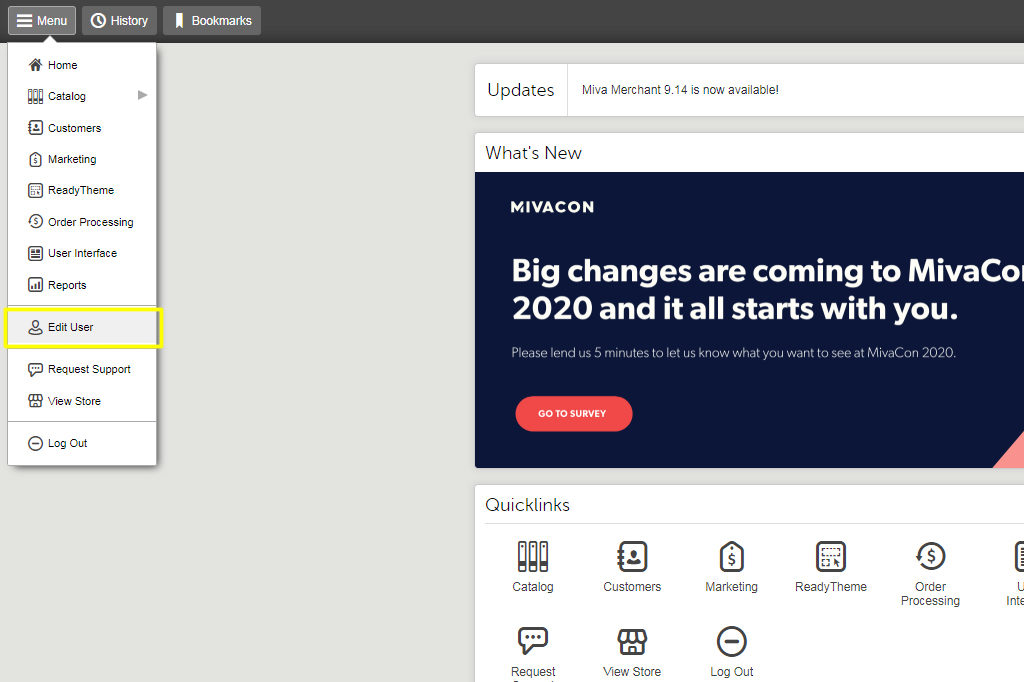 STEP SIX: Enable Two-Factor Authentication
Click on Manage Two-Factor Authentication and select Time-Based One-Time Password (TOTP) from the drop down menu, then click next.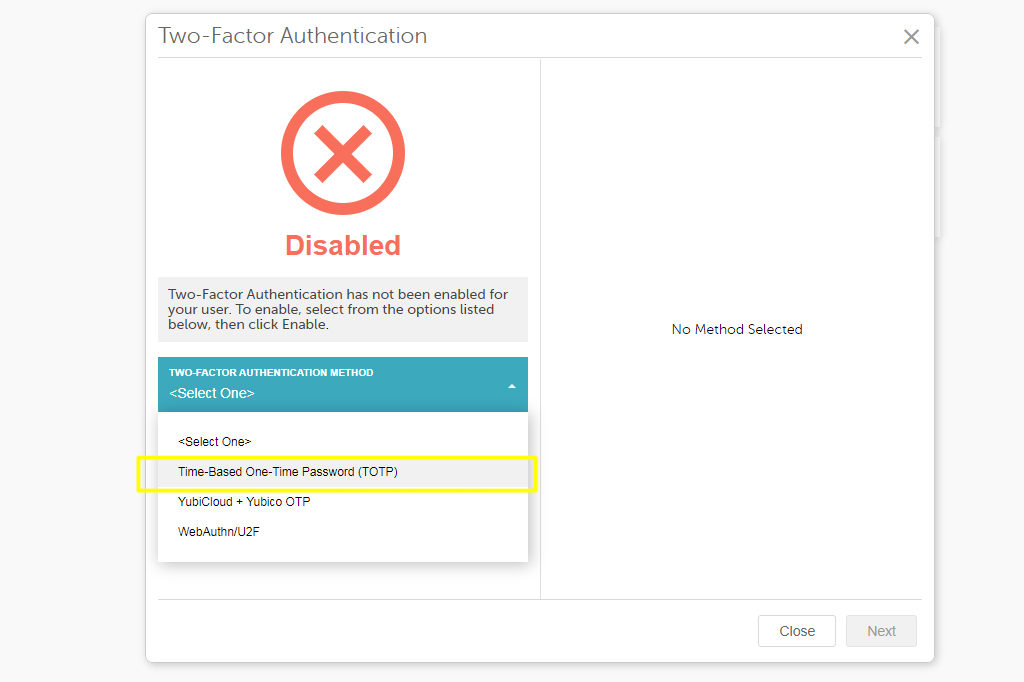 STEP SEVEN: Scan or Copy/Paste the QR Code
This will provide you with a QR code. On your mobile device, open the Authy application. The three vertical dots in the top right-hand corner will let you add a new account. Scan the QR code with your phone (or copy/paste it into your desktop Authy app) and you will be provided with a 6-digit number. This is your time-based one-time password (TOTP).  Enter this number into the field in your Miva screen and select Enable.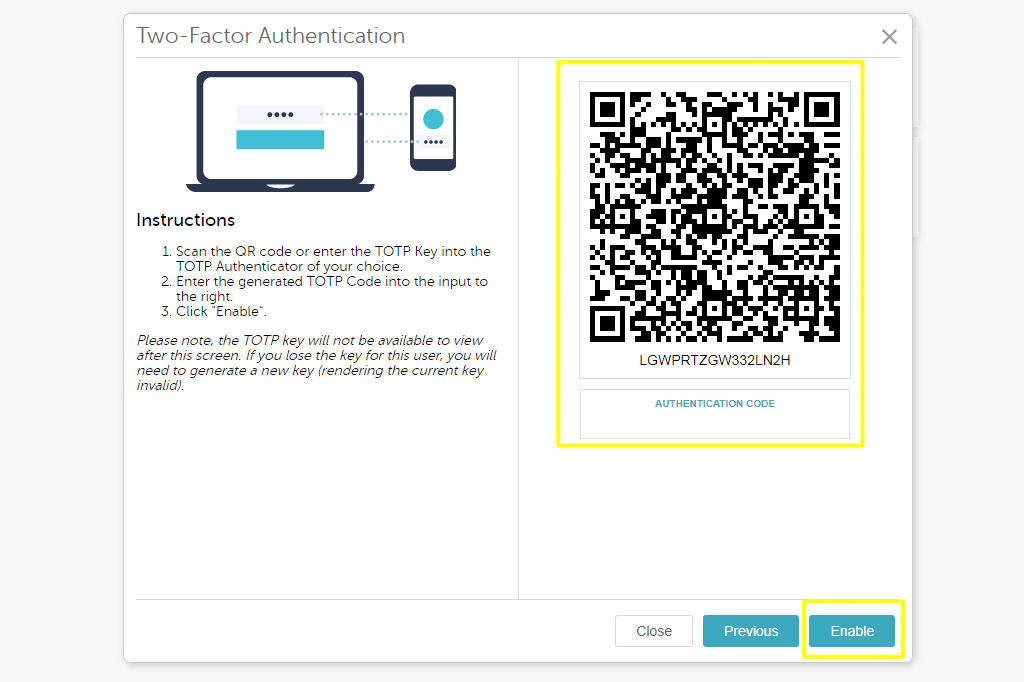 STEP EIGHT: Save Your Backup Tokens
After clicking Enable, you will be provided a list of 10 backup tokens. These are codes you can use in case of an account lock-out. Save those tokens, and click next. You can now sign out of the account, and the Miva account owner will complete this process.
STEP NINE: Enable Administrative Rights
As before, sign into your main Miva account and go to the users panel by clicking the Users button on the home screen. Double-click on your new user and a window will pop up that will allow you to edit their account. Turn on the Privileges toggle and click the blue Update button to finish this procedure.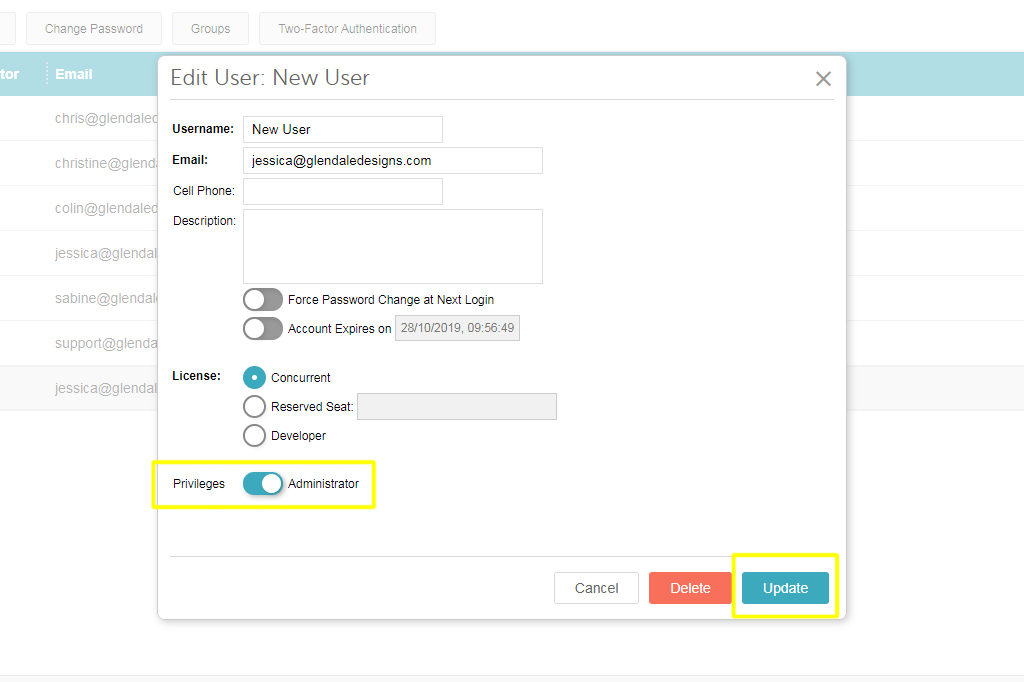 The new user now has complete administrative authority in the Miva account. You can edit these settings at any time.
If you have any questions or need help setting up an administrative user in Miva, contact us at Glendale Designs and we can help.