Estimated reading time: 9 minutes
Category descriptions may seem passé, but they are still important for your SEO. And now, you have more options than ever to optimize and stylize them to suit your site.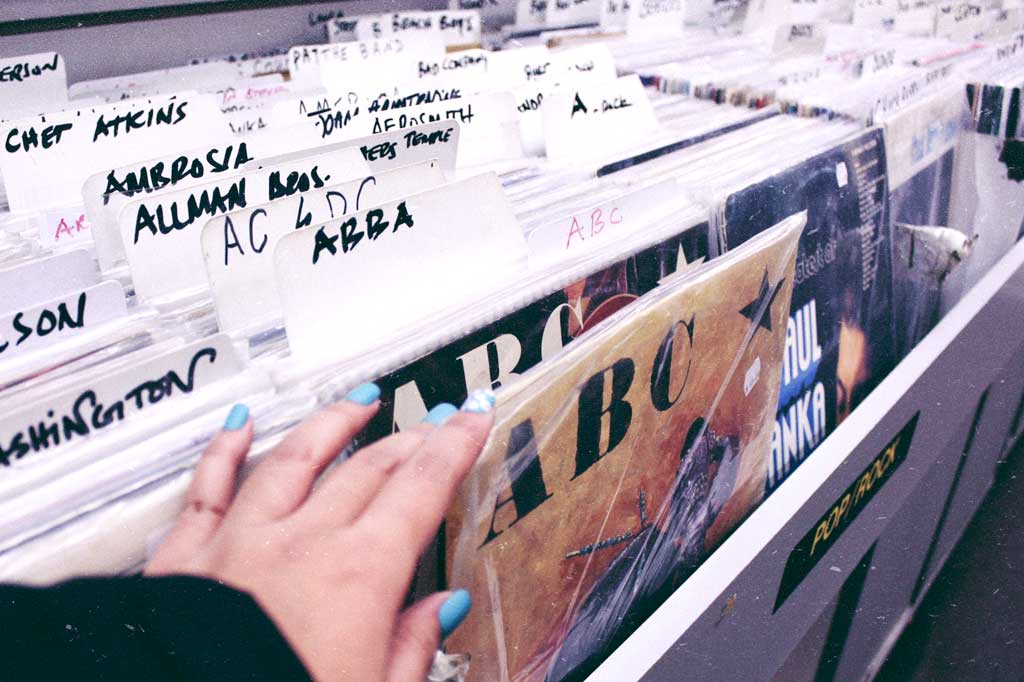 Our last blog post was a guide to your on-page SEO (complete with a downloadable checklist). And in that post, we spoke briefly about category page text. It may seem to you that category page text, or category descriptions, are a little old fashioned. They've been around forever and were one of the several ways you could sneak some keyword stuffing into your site to help it rank.
But keyword stuffing is out. User experience is in. And who really reads those category descriptions anyway?! Well… it turns out the Google crawlers still do, at the very least.
While it's no longer kosher to cram a ton of keywords into a block of text on a page, keywords and keyphrases are still important in the SEO game. Here's a look into using category descriptions to your advantage in the new age of eCommerce.
Adding Keywords to your Category Description
It may come as a surprise that when it comes to SEO, it may be more important for you to optimize your category pages over individual product pages. While the goal is to get shoppers onto the product pages (and then into the basket, with any luck), you should be aiming to promote your category pages.
If you have a category of natural hair care products, and every product page ranks for natural hair care, the pages start to cannibalize. And yes, it's as scary as it sounds! Yoast describes this occurrence of keyword cannibalization as having multiple pages on your site competing to rank for the same keyword.
So when you choose a keyword to focus on for your category description (and your category title tags, headers, and meta description), you want to pick something that is broad enough to catch a lot of search results but specific enough to appeal to the right shoppers. And it won't repeat on your site. 
Here are some examples:
| Too Broad | Too Specific | Just Right |
| --- | --- | --- |
| Beauty Products | 100% Natural Products for Straight, Wavy, and Curly Hair | Natural Hair Care Products |
| Shirts | Long and Short Sleeved Button Down Casual Shirts for Men | Men's Button Down Shirts |
| Water Bottles | BPA and Aluminum Free Metal Reusable Insulated Water Bottles | Insulated Metal Water Bottles |
The details listed in the "too specific" column are great to add into the body of your category description text, but if you focus on them for your keyword/keyphrase, they have too much information to include in the URL and the page title.
Plus, you can't realistically reuse the phrases multiple times in the text. Not to mention, very few people will be searching for a long phrase like that. The "Just Right" column is long enough to catch many of the long-tail keyword searchers without being too wordy or too brief. 
Use Them Naturally
Like we mentioned above, part of good keyword usage is knowing you'll be able to use it naturally and realistically through the text, without sounding like a robot. This is part of the "user experience" that search engines hold in such high regard.
If a customer does read the category description, you want the text to actually make sense, and offer some value.
When putting together your copy, try reading it out loud. You'll be surprised to find what a difference it makes in sounding natural and fluent. Focus on being easy to read. Shorter sentences, paragraph breaks (if necessary), and good grammar will all help your shopper and Google.
Add Relevant Synonyms
Include some relevant synonyms to your keyword. You'll probably find that some of them may be your subcategories as well. If you're writing your category description for Natural Hair Care Products, you might also want to refer to your selection of shampoo, conditioners, and hair masks.
Take a look at this example from Mansoura Bakery. The description for their Pastries category also mentions some specific products and ingredients by name that people may search for.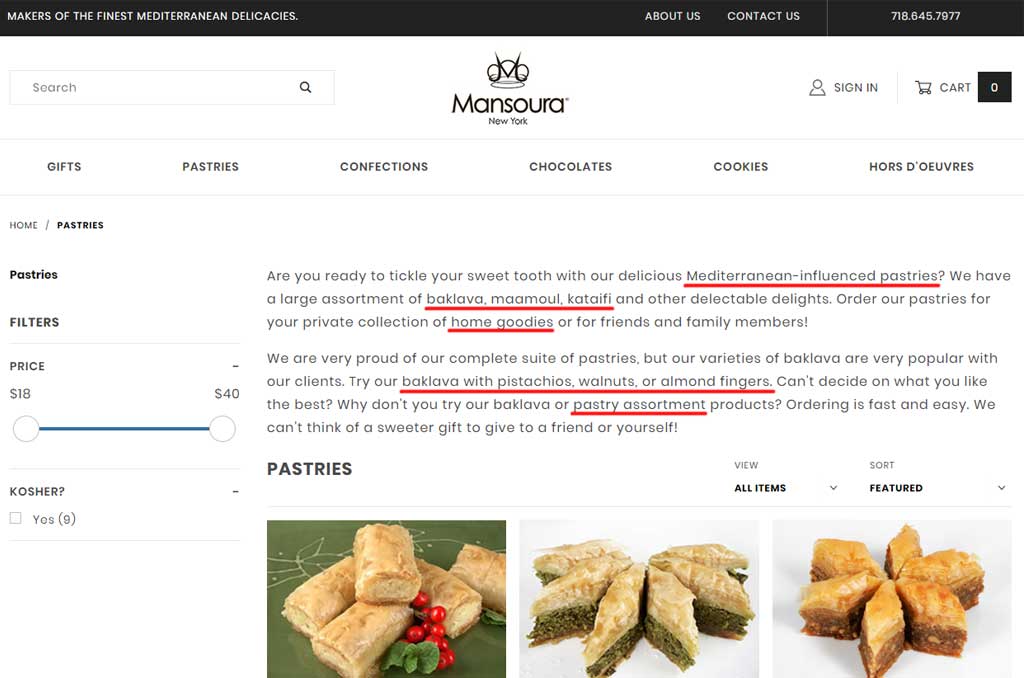 While they are all still relevant to the main keyphrase of your category, they can offer some variety in the text, and also provide more results for searchers! And if you do use synonyms that are also subcategories, you can use that as an opportunity for internal links!
Add Some Links to your Category Description
Internal links are super helpful for your SEO. They can help guide the crawlers through your site structure, and reinforce that what you're talking about is relevant to the page. Linking keywords to related pages can also help guide the user to find what they need.
In this example, Hemslojd has chosen to link to their blog posts that go into the history of their Dala Horse products. Those blog posts, in turn, link back to the categories (creating effective crosslinks) as well as specific products.

Don't limit your internal links to just your product and category pages. Your entire site should offer value to your users. If you have guides, tutorials, interesting product histories, or other pages that may help the shopper, don't be afraid to link to them! They all add to your reputation of being an authority on the subject.
Use your Category Description to Brag
Seriously. There's a reason your shoppers should choose you over "the other guy", right? Well talk about it! Whatever it is that makes your brand unique should be flaunted at every opportunity, and the category description is just that.
Take, for instance, the example in the previous section. Hemslojd is a specialty retailer and they have a unique look into the history, creation, and origins of their products. They successfully used the space to show off some of that knowledge.
It also gives your store a "human" appeal. Regardless of how professional and polished your site is, if you take a moment to talk to your customers about your products and include some of your passion, the user will view you in a more personable light. That sort of connection can be a powerful marketing tool.
Pay Attention to your Page Layout
You've put so much work into the category description you might want it front and center to ensure everyone sees it! That is totally fine, as long as your text is relatively short. 
Regardless of how insightful and helpful your text is, if it's so long that your products are pushed below the fold, that's not good.
Being "below the fold" is a reference to newsprint, where the layout editor would ensure the biggest, punchiest headlines were above where the paper was folded. Putting the good stuff up top helped draw readers in and encouraged people to purchase a paper. The same concept applies to site design, except the "fold" refers to what the user sees immediately upon landing on the page, before having to scroll.
If a user has to scroll down the page to finally see the products, you risk losing them altogether. They may click the category link, see what looks like a blog post, and think they've taken a wrong turn somewhere. This is especially true on mobile devices.
There are a couple of ways to combat this.
Use a Read More Link
If you have a lot to say, or perhaps your site design is laid out in such a way that doesn't allow for a lot of room above your products, you may want to use a "Read More" link.
We discuss this briefly in our post about helping your site pages rank. A client of ours provides great content in their category descriptions. But because of the layout of the site, and the length of their content, it might push the products below the fold.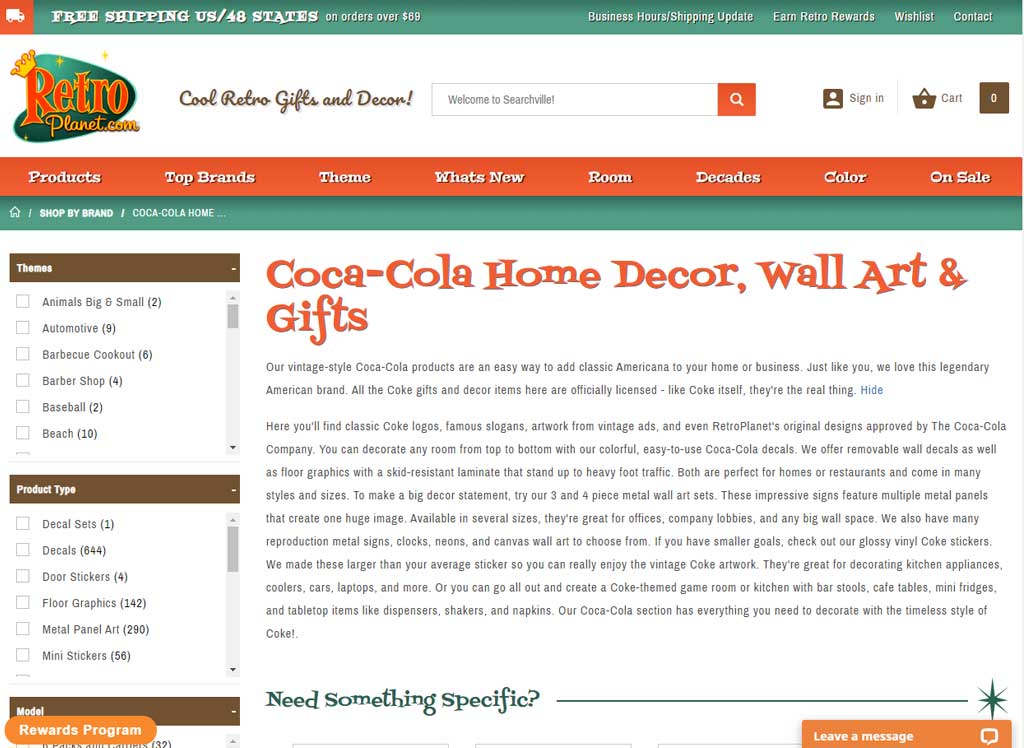 So RetroPlanet.com uses a "Read More" link. It gives the viewer a snippet of the content, invites them to read on if they choose, but doesn't impede the view of the products. It allows the category page to still collect all that SEO goodness, without being an inconvenience to the user.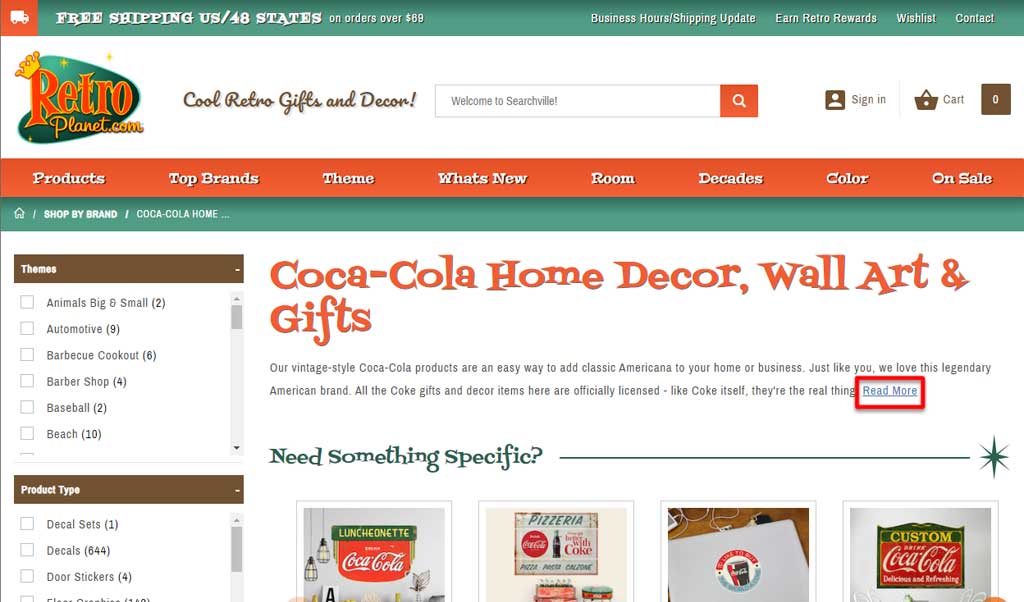 Add your Text to the Footer
If you personally don't like the look of text up top at all, you do have another option available. And that is putting the text in the category footer instead! Having the copy at the bottom of the page, below the products, is a completely valid way to include it.
It's much less likely that shoppers will see the text, so if you include important information, it's not wise to put it at the bottom. That isn't typical for most stores, though.
While Suncoast Parts doesn't have a huge amount of text, including any copy at all at the top of the page would disrupt the look and feel of the specialty landing pages that we created for them. It would also conflict with the particularly sleek branding that goes along with selling Porsche parts.
They've chosen to include their category description at the bottom of the page.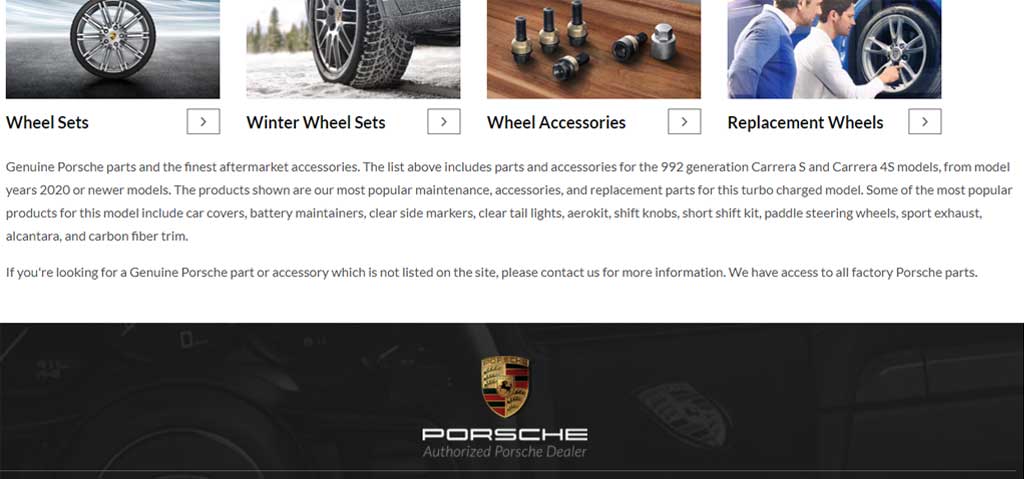 If you employ the use of continuous loading for your products, this is probably not a viable option for you. Your shopper would have to scroll to the end of your category product listing to finally get to the text, which is a major annoyance to anyone that wants to read it.
Category Descriptions Should Help You AND Your User
While having text on your category page may help your SEO, it shouldn't be done at the expense of your user experience. As always, when it comes to site design, balance is key.
Don't make your text longer than it needs to be, simply to add in a ton of keywords. Don't link to several pages just to say you've done it. And most importantly, don't make your shoppers work harder than necessary to get to your products.
If you discover that your category description is doing any of those things, it may be time to get out the red pen and do some editing and evaluating.
For help balancing your page design or writing your category description, feel free to get in touch with us. We can help you optimize your text to keep Google and your shoppers happy.