Estimated reading time: 5 minutes
Can a beautifully designed website exist without SEO? Can an optimized website convert without a well-designed UX?
It's an ongoing battle royale, and even digital experts don't always agree on which is more important – or how they can live in harmony.
Given the complexities of search engine optimization, trying to build a winning user experience around the technical elements doesn't come easy.
But the two must both exist in the same digital space. This guide is your Google Map to navigating the twists, turns, and shortcuts to helping UX and SEO arrive at the same destination.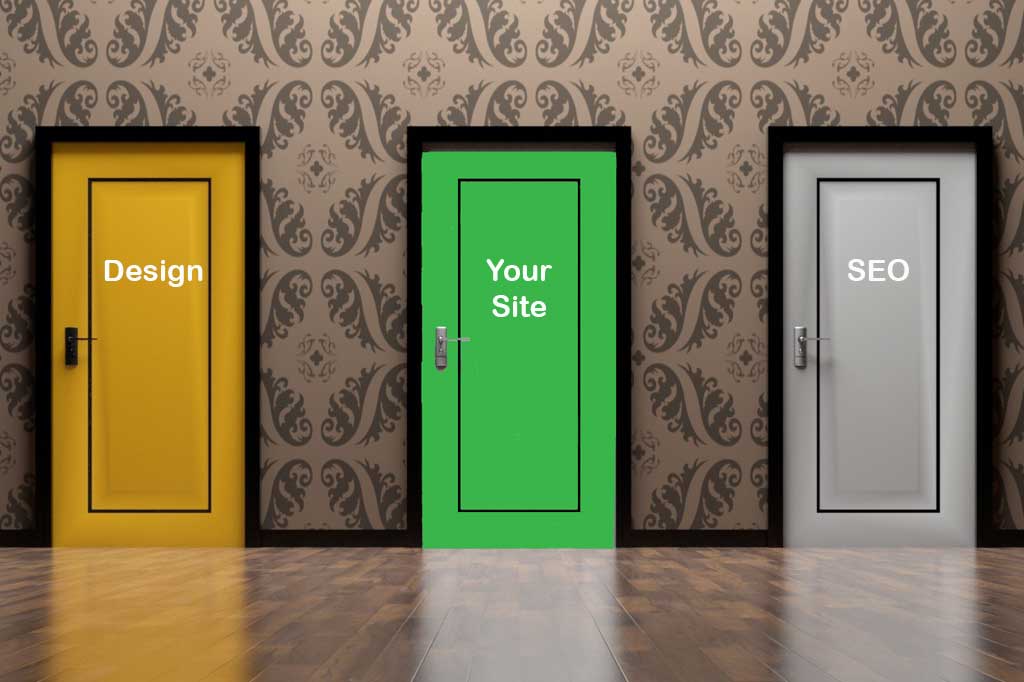 SEO for E-Commerce Is Different than Traditional SEO…
One of the biggest pitfalls of leveraging SEO in E-commerce is that many store owners don't realize there's a difference between E-commerce SEO and traditional SEO.
Google is constantly refining its algorithms to ensure it's delivering the best results to its searchers. The way they determine if their tweaks are working or not is by using a brigade of quality raters that look for specific guidelines. Websites are rated by these quality standards, then the algorithm is refined again to see if it positively or negatively impacted the results – repeat process.
Google guidelines look at things like product information (hint: your first goal should always be to inform, even though it's clear your intention is to sell), user ratings or product reputation, and high-quality MC (main content like text and images) to determine page quality.
To complicate matters further, Google uses separate guidelines for category pages than product pages. In addition to robust MC and reputation factors, the guidelines also look for SC (supplemental content), such as product filters.
To summarize, E-commerce websites have tons of unique components that non-E-Commerce websites don't. The more you can dig into what matters to Google, the better you can construct your UX around these elements.
…And So Is User Experience
Of course, SEO is just part of the picture. Many of the SEO E-commerce guidelines enable you to create a quality user experience, but often times website owners concern themselves with only one or the other and don't realize how they can leverage both simultaneously.
SEO can only go so far in helping people discover your website. But good rankings don't always mean great conversions. Without a solid UX, people who land on your website may leave just as quickly as they came because they can't find what they're looking for, waste time navigating through pages and categories, or have a terrible checkout experience.
Bottom line: when you can create an easy user experience that helps consumers navigate your website with ease, find product information, leave feedback, and experience seamless shopping from start to checkout, you'll automatically score points in the SEO department.
How to Weave SEO Best Practices into Website Design
Website designers are not SEOs. SEOs are not website designers. The following tips can help the two camps speak the same language and achieve SEO/UX zen:
Content Architecture Is King
Content is king in traditional SEO, but E-commerce websites have a new king: content architecture. How you display your content is just as important as the content itself, and can go far in creating a satisfactory UX.
Having a consistent, easy to follow architecture can help search bots crawl your site and understand exactly what you're offering. A basic architecture may look like this:
Main Page > Category Page > Product Page
Also, having a consistent layout on each category and product page can make it easier for your users to find what they're looking for. For example, the juxtaposition proximity or position[1] of your images, copy, menus, and other on-page elements should remain the same for each product or category page.
Once you settle on a content architecture, it's a good idea to document all the details in a style guide so that anyone working on your website can maintain consistency.
UX Is Also King
The way you display your page content has a lot to do with your website's usability. Content architecture and navigation play huge roles in UX, but they aren't the only factors in creating a user-friendly website.
Case in point: a recent Shopify study found that 67% of all online shopping carts in the UK are abandoned. Findings revealed that content layout wasn't the biggest problem. More than half of respondents blamed surprise costs during checkout. Other factors included slow loading and processing times, payment security issues, and website crashing.
Remember, UX isn't just how users find and experience your content. It's the full picture of how they interact with your website, whether it's sending an email to customer service, finalizing a purchase, reading a blog, filtering product options, how quickly they can explore your website, or how and where to apply coupon codes.
The more you can dig into real shopper experiences, the better chance you stand of creating a unique experience that helps users shop the way they expect.
Continually A/B Test
To pull content architecture and UX into a harmonized advantage, you'll want to tweak and test various elements to ensure you're hitting the right marks.
A/B testing can be slow going since you're only testing one thing at a time, but it's essential you know exactly which changes are bringing you results. Altering more than one element at a time leaves you to guess at which change was the most effective.
One option is to create a focus group that can give you real-time feedback on their shopping experience. You can also read user comments and reviews, send out customer surveys, or use a third-party heatmap software that shows where visitors are intuitively clicking.
A/B testing is never a one and done deal. Audiences shift, trends change, algorithms update, and competition increases, which means you should continually test different techniques to fine-tune your strategy.
Fusing SEO and UX for E-Commerce
Designers may never understand the full value of SEO, nor will SEOs always recognize the importance of UX. But the two are equally important, and learning how to employ them both can help your e-commerce website earn the attention and conversions it deserves.