Estimated reading time: 10 minutes
Creating a landing page that converts isn't a very difficult task. But you need to go beyond creating an attractive page to adding the elements that'll make your visitors take the desired action. So, what can you do to simplify the process and create landing pages that can increase conversion rates by 100%, 200% or maybe even 300%?
It would be great if you could just find a straightforward guide that helps you create a foolproof design. Unfortunately, there's no cookie-cutter recipe.
Layouts that produce high conversions are as varied as the kind of people who look at them. So your page design must be tailored to a specific type of reader; one who wants your product or service and who will respond to a particular type of call-to-action.
This means that you need to adapt the flow of your page in a way that will persuade your target audience to take the required action. Nonetheless, there are some important universal elements that make up effective pages.
What Is a Landing Page?
Before we look at the parts of an effective landing page, let's look at what differentiates a landing page from other pages on your website.
A landing page is a page you create specifically for your advertising or marketing campaign. It's the page that a visitor "lands" on after clicking an ad (like Google Ads) or a link set up for marketing.
The main purpose of your landing page is to capture leads or make a sale. They are usually standalone pages and they seldom have navigation bars or links to other pages on your website (with the exception of ecommerce sites potentially). This is to minimize distractions because you want to convert visitors into customers as quickly as possible.
Unlike a home page that welcomes visitors and encourages them to browse your products and services, the focus of your landing page is to get the visitor to take action toward making a sale.
There are two basic types of landing pages:
A transactional landing page – This page is designed for lead capture. Users give their email address and other contact information in order to receive a gift or other offer of value. Their contact information may be used to study the customer and lead them through the sales funnel until they finally make a purchase decision.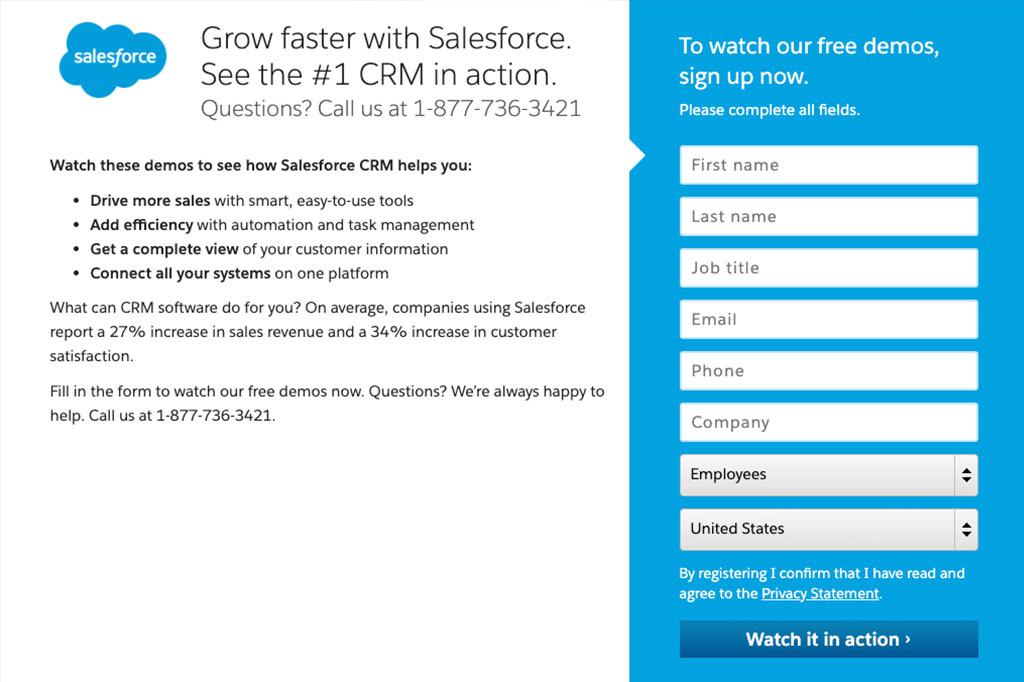 This screenshot is from salesforce.
A reference landing page – This page provides information to a prospect and sometimes it may have a brief list of the features and benefits of a product or service.
How to Create Effective Landing Pages
1. Do Some Research
Before you start designing your landing page, you have to make some decisions about what you must accomplish. Answer these questions:
Do you want to use it to add subscribers to your mailing list?
Are you trying to promote a freshly released product or service?
Do you want to promote a service with a mouth-watering discount?
After you've set your goal, you should think about the content of your message. How will your offer solve your customers' problems?
Then, you can begin your keyword research. Find out what people will type in when they are looking for solutions that your product, service, e-book, special report or newsletter can solve.
After you've written your marketing goals, your message, and you have your keywords, you can proceed to design each element of your landing page as described in the following steps.
2. Use an Attention-Grabbing Headline
Your headline is the most important part of your landing page. Ensure that your headline:
Captures your reader's attention.
Is set out in bold letters.
Helps the reader to understand what your product or service will do.
Moves the reader to read the rest of your copy.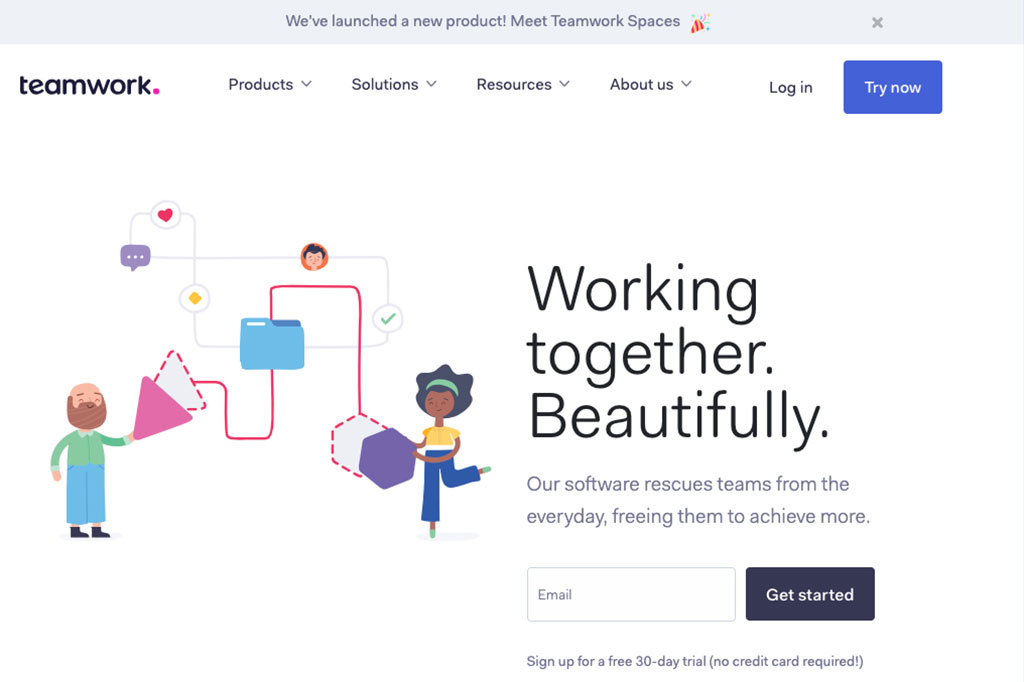 Screenshot is from TeamWork (click for a larger image)
Ideally, your headline should not be too long. A good rule of thumb is to keep it between 10 and 20 words long.
On Teamwork you will notice "Working together Beautifully. Our software rescues teams from everyday, freeing them to achieve more" and is a nice reference landing page. Presenting text as well as a call to action item.
3. Add Persuasive Subtitles
The next element to add to your landing page is a subtitle or sub-headline. After grabbing your visitors' attention with the headline, you need a carefully crafted sub-headline to make them stay and read the rest of the copy.
Bear this in mind as you write your sub-headline:
Position the persuasive sub-headline just below the headline.
Provide more details in the sub-headline than your main headline.
Focus on persuading the reader about the benefits of your product or service.
Make the font size smaller than the main headline.
4. Include Some Attractive Images
Pictures, images, and illustrations are essential elements of pages that convert. The human brain processes visual content much faster than plain text. As a result, visitors will be influenced by the visual content on your page instantly.
To get great results with visual content:
Choose high-quality optimized images.
Pick large photos because they are more captivating than small pictures.
Select photos that are relevant to your products.
Place an image of your physical product on the page.
Use a relevant image that grabs attention when you're marketing a service.
Include screenshots for digital products.
Avoid using stock photographs that will be used on a ton of other websites. When purchasing photographs, ensure that they're not being sold to thousands of other customers.
5. Give a Clear Explanation
A clear and succinct explanation of what you're offering should be part of your landing page. What if your reader or visitor lands on your page and doesn't know or understand what your service is about? Obviously, you will lose them to your competitors.
While you can get away with just a headline and sub-headline for a simple product or service, you will need to provide an explanation for a higher-priced product. And when you're writing your explanation, here's what you should do:
Use your explanation to highlight the benefits of your product or service.
When you talk about the features of your product, show their relevance and benefit to the user.
Integrate your explanation with your headline when you can.
Make your explanation a part of your sub-headline without putting it in a separate section or paragraph.
Let your images aid your explanation of your product or service benefits.
6. Talk About Pain
Showing how your service helps your target audience to avoid pain is a time-tested persuasive technique. As humans, we tend to shun pain. So, showing how your service relieves pain will trigger a positive response from your visitors.
When you help people to think about pain, they will seek relief from it. This increases their desire to convert. So how do you use this tactic?
Talk about what your prospects can lose, not just what they can gain. People are more likely to convert due to fear of losing $400 than the pleasure of gaining $400.
Add real testimonials with pain references.
Use a pain reference in your headline. For example: "How many clients are you losing because of your landing pages?"
Make sure you show how your product will alleviate the pain.
After you have presented an obvious pain point that your visitor may have, you should also make your service or product stand out as the clear answer to the pain.
7. Provide a Promise of Pleasure
While we all like to avoid pain, we also move toward pleasure. You can trigger a strong desire for pleasure in different ways but these two methods are quite effective:
Let your reader see how much pleasure your service or product can provide.
Show how your product takes care of an emotional need, like the desire to feel loved and appreciated.
For example, if you're marketing weight-loss tea, basically, you're marketing a health and fitness pill. But you're also providing a way to achieve good looks, freedom, joy and high self-esteem.
The important thing is to make your product look like a source of psychological and emotional pleasure. Just look for an emotional desire that your service can satisfy and promote it to your audience.
8. Include Your Contact Details
Your landing page will be more persuasive if you provide as many means to reach you as possible. Provide different means of contact such as a phone number, email address, physical business address, and a web contact form. In addition, you could set up a live chat platform that allows a member of your customer service team to provide instant answers to your visitors' questions.
These can help prospects to develop a greater sense of trust in your company and move faster toward closing the sale.
When providing contact information:
Provide some proof that you're a legitimate company, which means you give a phone number and physical address.
If you must use live chat, ensure that people are actually chatting with a knowledgeable and courteous representative and not a chatbot.
Encourage visitors to use your contact form to get in touch with you to receive answers to all their questions.
Use the method that makes it easier for prospects to contact you and take action.
9. Offer a Guarantee
Buyers love guarantees. No matter how you present it or how it is worded, a guarantee will give assurance that you'll deliver on your promises. Guarantees almost always increase conversions.
To use guarantees effectively, you need to bear these in mind:
A guarantee can be in different forms.
Select a guarantee that will produce a positive response from your visitors and state it clearly on the landing page.
Even if you can't provide a product return or money-back guarantee, you can still offer a "No spam guarantee" for all those who provide their contact details.
Place the guarantee statement near the CTA. It'll give the customer some assurance, which will also improve the likelihood of conversion.
You can put all the legal details about your guarantee on a separate page with all the technical jargon.
10. Make a Strong Call-to-Action
The call-to-action (CTA) is the most vital element that you must not forget to put on your landing page. Without it, there will be no conversion.
All the other elements on the page are supposed to lead your customer to read or click on the CTA. So, what must you do to make your CTA convert readers into customers?
Make it bold and conspicuous. When it comes to CTA's, the larger, the better.
Make it compelling or irresistible. The words you use can trigger the desired response or make the visitor procrastinate. So, add something persuasive and exciting instead of just saying: "submit."
Add a button. Many people expect the final step to be a click on a button. Follow this tried and tested technique and place a CTA button on your landing page.
Make the button a contrasting color. Let there be a high contrast between the background color of the page and the color of the CTA button.
The position of the button can affect your conversion rate so be ready to test different positions and see if there's a difference in the click-through rate.
Tips to Raise Conversion Rates
1. Use Analytics
After your landing page goes live, you'll need to keep monitoring its performance. Use web analytics software. Track your page views, click-through rate, scroll depth, bounce rate, and other important metrics. Make use of A/B testing if possible and you have enough data to discover the best performing page design that helps you achieve your desired conversion rate.
2. Provide Social Proof
Social proof is the number of tweets, shares, likes, and subscribers that your brand or company has acquired. Put these in a conspicuous place on the landing page. Millennials are more likely to buy from you if you have a lot of recommendations online. If you show new customers that you have a large fan base, it'll be easy to convince them to buy from you.
If you don't have much engagement on social media, you can put in some recent customer testimonials in place of social proof.
With these tips, you can create amazing landing pages that attract more customers, increase your sales and improve your company's bottom line.
And if you ever get stuck, just remember that we can always help. Our team of knowledgeable, friendly professionals can create pages that draw in your customers, speak to them in their language, and convince them to only hear your message but to take the action you want. Contact us today and together, we'll create something great!