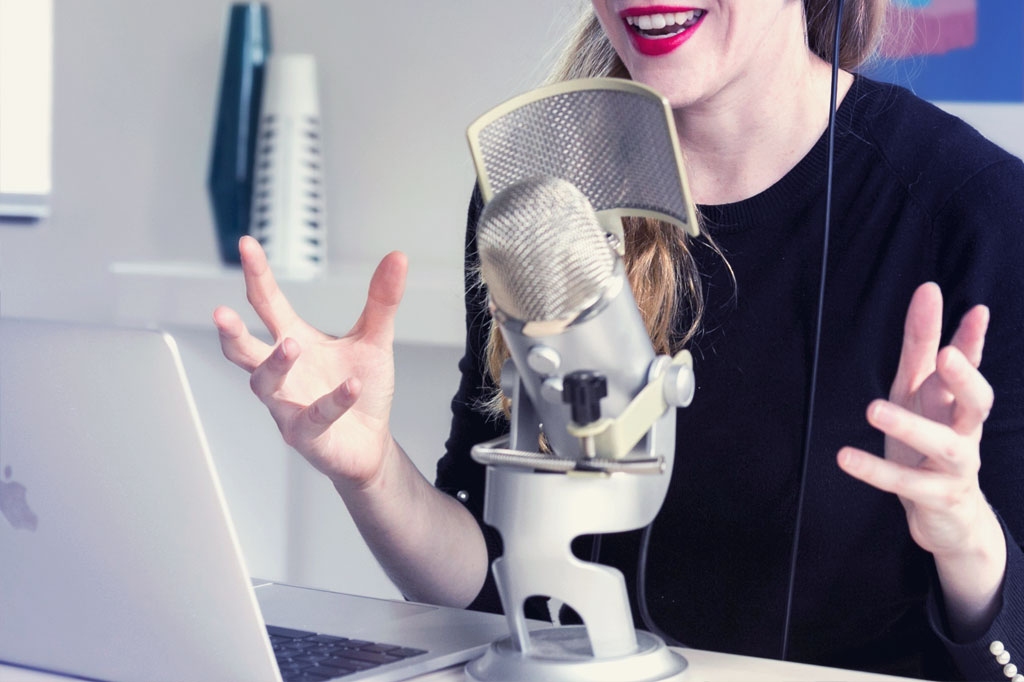 Estimated reading time: 8 minutes
You've probably heard the term "content marketing" before without giving it much thought. It does sound like a buzzword without much real meaning. After all, any marketing material is content, right? But in reality, content marketing is a specific and effective way to not only market your brand and expand your reach, but make your business invaluable to consumers.
What Is Content Marketing?
Content marketing is the practice of creating and curating resources on your site (or one of its channels) that will appeal to your consumers. What type of content are we talking about?
Blog posts and articles
Videos
Instructional guides
Recipes
Podcasts
Infographics
Charts and diagrams
There are lots of ways to produce content that will appeal to your customers (and those who aren't customers yet). The key to good content marketing, though, is making sure that appeal can withstand the test of time. That means you should aim for focusing on topics that are more than just entertaining – however a bit of entertainment doesn't hurt either.
Why Is Content Marketing Effective?
Make sure the content you're posting is something that will help your followers solve a problem. You want to come up in Google searches as the answer, and you want consumers to keep referring to that content again and again.
Writing in-depth articles on the issues in your industry will help your customers view you as an authority on the subject. Over time, when they see your name on a well-written article, they'll trust that you know what you're talking about. As a bonus, Google will feel the same way and begin to rank you higher.
Making recipes and instructional material will make sure customers who buy your products return to your site. They are also a great way to place product links without being an overt advertisement.
Podcasts, similar to blogs, will give you an opportunity to provide your voice on your topic. But it's in a format that is often more entertaining and more easily consumable than an article. People often play podcasts while they commute, exercise, or do housework. That's a great way to become a part of your customer's everyday life.
Regardless of the medium you use, take care to share your perspective on whichever topic you're covering. If you only regurgitate facts, there won't be any unique value in your content. The same information could be gathered from countless other sources. But by sharing your opinion (backed by evidence), you get to introduce your readers, listeners, or viewers to your personality. They get to know you as a person and form a bond.
Shoppers and content-consumers tend to form emotional bonds with brands. Once you're able to build a sense of trust and value with a consumer, they are more likely to recommend you to others, be forgiving of transgressions, and turn to you first.
3 Quick Tips On Finding Ideas
As you begin to plan your content marketing course of action, you may find yourself in one of two camps:
I have endless ideas. This will be a cinch.
I have no idea what to address without coming across as boring or spammy.
Chances are, you'll actually find yourself hopping back and forth from both of those feelings pretty regularly. Regardless of how you feel about it, you need to keep in mind that your content should have a clear and direct purpose. If it doesn't, your endless ideas won't amount to much, as consumers won't know what to expect from you, and your content won't really present a solution for them.
When you find yourself in the second camp, and you're struggling to come up with ideas, or you feel like the ideas you do have don't have a clear direction, there are some tricks to help.
1. Google Autocomplete
This is an old trick, but it's very effective. Open a browser window in privacy/incognito mode (found in your browser's menu in the top right corner of the screen) and go to Google.com. Start typing a search query into the search bar and see all the auto-suggest options that Google provides. They've done the market research for you and are telling you all the popular searches related to the term you entered.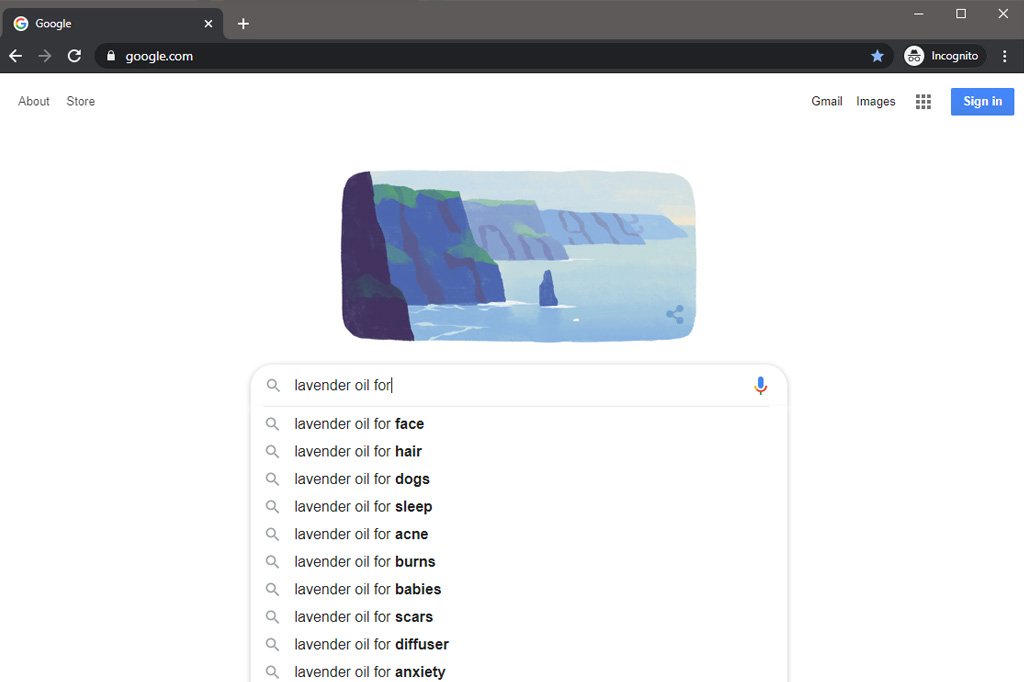 When using privacy mode, the browser doesn't access any of your cookies (stored search information). It provides autofill results based on the general public, and not just your own search history. If you sell essential oils and know you want to write an article featuring lavender oil, you can type in "lavender oil for". Instantly, you're provided with things that people are specifically looking to learn about lavender oil uses.
2. Quora Questions
If you haven't heard of Quora, it's a question-and-answer based website that covers every topic out there. It is an absolute gold-mine when it comes to content marketing. You have members of the public asking specific questions and you can sort them based on topic.
It gives you the opportunity to data-mine your customer base for all the questions, concerns, and issues they have with the products in your industry. Similar to the Google search method, type a topic into the search bar and see what comes up. With Quora, you have the ability to sort the types of results you get. Sorting by date posted, for example, can help make sure you're covering topics that are still relevant.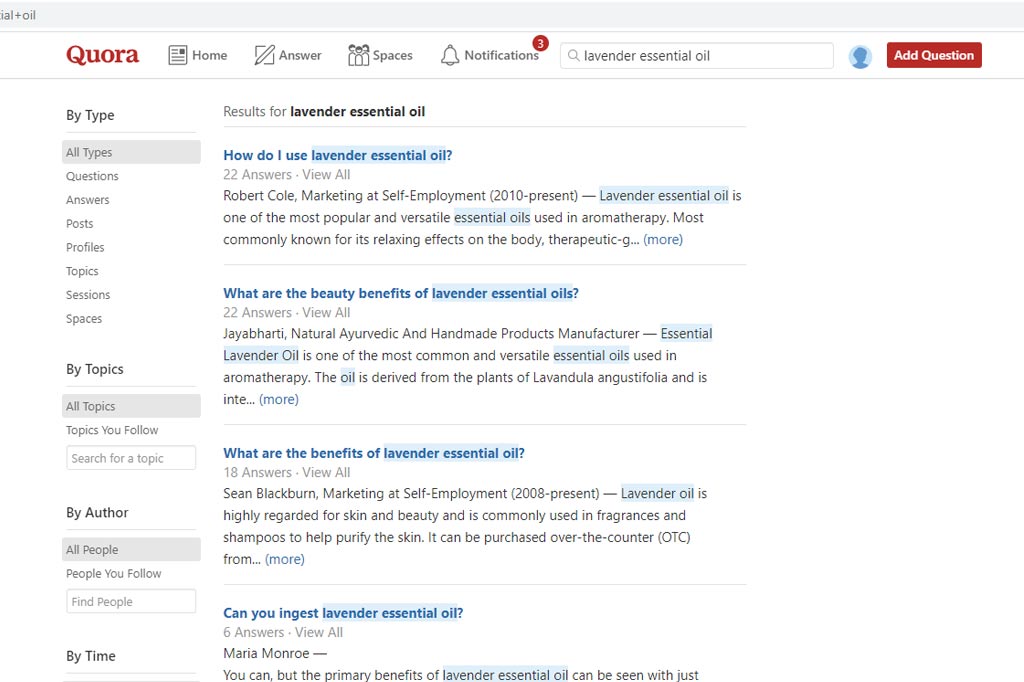 You also have the added benefit of the "Related Questions" section. When you select a question and are taken to the page, there will be a list of related questions on the right that can provide even more content ideas for you.
3. Keyword Research Tools
There are plenty of dedicated keyword research tools out there that you can use for free. The information they provide can sometimes be limited, but you will still be able to get some insight and ideas from the results. For example, typing "lavender oil" into keywordtool.io provides several of the same results as the Google autocomplete. However, the list goes on for 295 entries.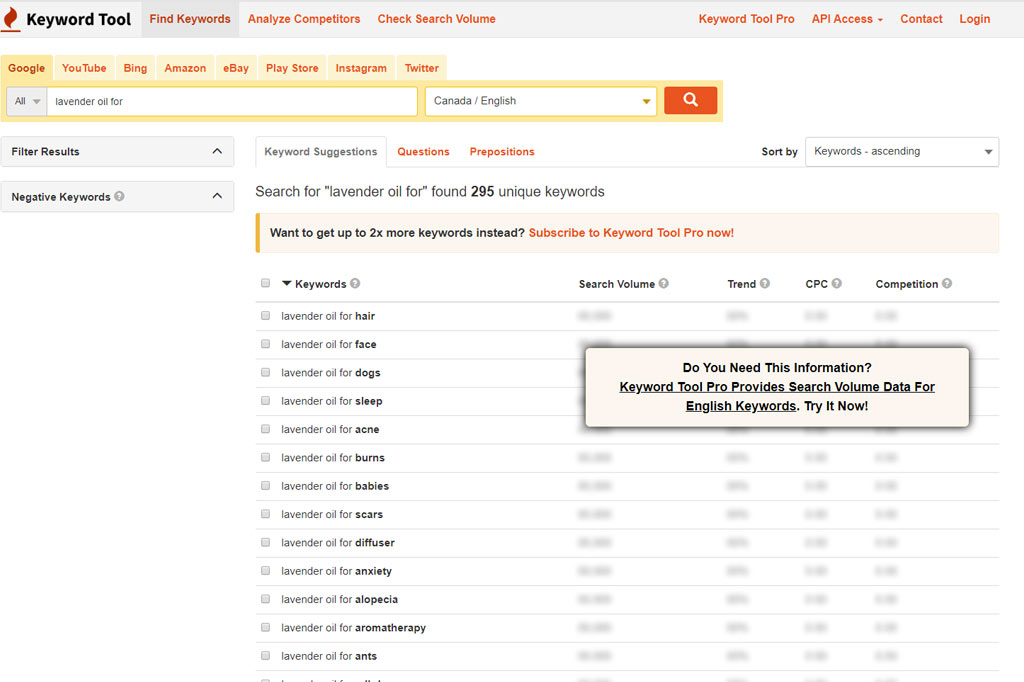 The information blurred out is data representing how many people have searched for each term, how much people are paying to promote the topics (Cost per click – or CPC), and the amount of competition you'd have.
If you're planning on paying to promote your content, that data might be valuable for you. But in the case of finding topic ideas, it's not as important.
Things To Remember When Creating Your Content
Once you're armed with your list of topics, and you know the type of content you're going to create, you'll be eager to dive right in. Here are a few things to keep in mind while you craft your content.
Aim to be helpful. Set out to solve a problem for your consumer. The goal for your content is to be of value to your customers.
Consistency is key. As discussed in our post 7 Tips for Running a Successful Blog, while posting frequently is great, posting consistently is better. If you can only dedicate yourself to putting out one really great piece of content a month, that will be far more valuable than posting one crummy piece of content every day.
Add personality. Don't just list a page full of stats or instructions. Have a conversation with your reader, listener, or viewer. Engage with them and they will want to stick around.
Don't forget the facts. While having personality and opinion is important in your content, don't forget to actually structure your content around something useful and true.
How To Turn Your Content Into Marketing
Once you've got your content created, you might be thinking, "okay, now what?". Now it's time to actually turn content into content marketing. When posting your content (on your website, blog, YouTube channel, LinkedIn profile, Facebook page, etc.) make sure you're tagging the post appropriately. This helps people find it when they go searching.
Share the release of your article, podcast, or video across all social media platforms, and let your newsletter subscribers know! In fact, each piece of content is a great time to invite viewers to subscribe to your newsletter so they don't miss the next release.
And be sure to promote your content on your own website as well. Posting recipes and usage guides on your blog won't help anyone if they don't know you even have a blog. A Featured Content section on your homepage is a great way to draw attention, as is a global element that displays on every page of your website. That way your site visitors won't be able to miss when you release new, helpful information for them.
If you need help adding those features to your site, or want a hand in content creation for your blog, reach out and we can help.