Estimated reading time: 6 minutes
Television ads and radio commercials get about 30 seconds or more to state their business. So why do digital ads only get two seconds to make their presence known?
One study by research firm Lumen showed that of all the digital display ads, only a mere 4% received more than two seconds' worth of attention. Compared to print ads, which are usually seen for about 2.2 seconds on average, digital ads are viewed less than half as often, for less than half as long.

This data is nothing short of alarming for marketers who are spending billions on digital ads, and it begs the question: Are digital ads simply a waste of time and money?
The answer, of course, is no, but it's going to take some hefty reform to start making digital advertising more effective. And it starts by transitioning away from traditional marketing and focusing instead on attention economics.
Understanding the Behaviors of Online Consumers
Part of the reason that digital ads are viewed so quickly (and so infrequently) isn't just because ads lack compelling content. People tend to read faster and less concisely online. They prefer to skim rather than let things soak in. Moreover, they're more interested in skimming for the content they came for and have learned how to block out everything else.
The sheer number of digital advertisements is nothing short of overwhelming. Google alone dishes out an average of almost 30 billion advertisements each day. Data scientists believe that consumers are exposed to about 5,000 ads per day, a huge increase from about 500 daily ads in the 1970s.
The worst part for marketers is that consumers don't take notice of even half of them.
The digital era has ushered in droves of me-too competitors clamoring for the attention of your very audience. This alone points to the fact that it's no longer enough to simply advertise what you do or what products you offer. You must also highlight why someone should choose you over the competition and build your value as a company.
Consumers have developed their own internal ad blockers to overcome the ever-growing storm of advertisements. But rather than stop advertising altogether, marketers must become more successful at not only getting specific about what their message says but also to whom they say it.
Why Your Digital Advertisement is Being Ignored
Is there something wrong with your ad's color?
Did you pick a poor font?
Are you not connecting with your target audience?
Is your ad a generic speaks-to-all?
Truthfully, there are plenty of reasons why your ad isn't delivering the great results you expect, and it could be any one of the above.
Many marketers rely on the power of color and shape psychology to evoke specific emotions from their audience. But what this psychology doesn't account for are things like personal preferences, experiences, and cultural norms. Artistic changes might be able to boost your engagement, but it shouldn't be a central focal point.
Oftentimes, advertisements are created by designers to make a compelling visual display. Color, copy, and images come together in a single creative that looks nice, is well-branded, and makes a strong visual impression.
That's fine if you're using impressions as a core metric.
But if you want to spur action and engagement, your creative also needs to include personalization and value that speaks clearly and succinctly (two seconds or less). This way, there's no mistaking your message when your viewer's eyes land on it.
Personalization is the Digital Advertising Powerhouse
Jivox performed a study to demonstrate the power of personalization in digital advertisements, and results were compelling. Personalization boosted engagement about three times over that of non-personalized ads. The study measured three key performance indicators and how each was affected by personalization: click-through rate, interaction rate, and average dwell time (time spent on site).
The final findings:
Click-through rate was 230% higher than Google's display ad benchmark concerning rich media
Average dwell time was 28% higher than Google's display ad benchmark
Interaction rate was 84% higher than Google's display ad benchmark
But what does personalized digital advertising actually look like, and how can it make an impact in just two seconds? Let's explore a few options:
1. Use Data-Driven Insights
Marketo's Jeffery Hirsch recommends that you start by advertising based on data, not assumptions. Hirsch mentions that companies are continually collecting data regarding their customers, and they should begin to organize and use their data to deliver relevant content to the individual user, not just similar users.
2. Continue the Relationship
Another tactic Hirsch recommends is to focus your advertising on the next best action, not just the next best offer.
For example, when a customer makes a purchase, companies become all too eager to get them to purchase again. They will start showing advertisements for other related products hoping to spur another sale. But Hirsch believes that advertising after a purchase should continue to nurture the relationship, such as offering an educational video, download, or other content that improves the customer's experience with their purchase.
In this approach, the buying process starts over. "When brands shift to a next-best-offer approach, they encourage further sales by becoming a part of their customers' lives — a trusted resource rather than just a store," says Hirsch.
3. Use Hyperlocal Advertising
Imagine yourself at a concert or event. Most of the faces there will be unfamiliar to you, but someone you know would catch your attention.
Hyperlocal advertising works in a similar way. Digital ads that contain elements familiar to the viewer but not likely to be seen in other advertisements (think local-based street names, sports teams, or landmarks rather than famous ones) are more likely to stand out in an ocean of lookalike ads.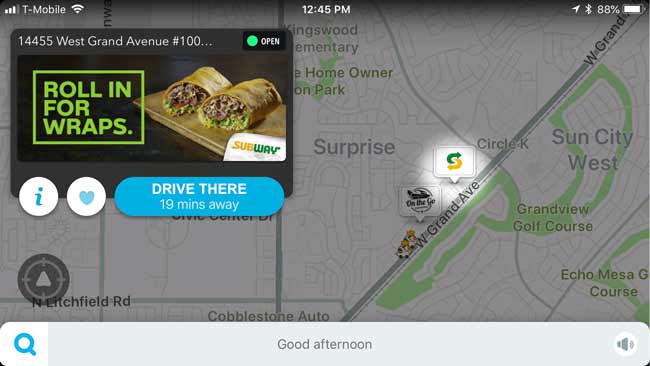 Wrap-Up
Marketers spend countless hours and a total of $209 billion in digital advertising, and that's far too much for the resulting ads to only earn about two seconds' worth of attention. But unless consumers start becoming more interested in viewing ads, that two seconds isn't likely to change, which means your techniques in creating compelling advertising must change.
When you can tailor your advertising to become a personal message rather than another sales pitch, your creative becomes a much-appreciated tool instead of the digital clutter people are used to.