Estimated reading time: 11 minutes
Rewards or loyalty points have become a mainstay on many eCommerce websites. It may have been typical, once upon a time, for shoppers to stick with their main, popular brands for years, decades, without ever considering a switch. However now, in an age where consumers are constantly looking for the best new deal, it's tougher to keep them around. Brand loyalty does still exist, but you have to be clever and dedicated in earning it. The Miva rewards points module can help with that.
Miva Points & Loyalty Rewards Module Overview
The Miva rewards points module was released late into the lifespan of Miva 9. From its inception, the module has been pretty robust, so things haven't changed much since then.
The module allows you to determine how points are earned, redeemed, what their value is, and includes some fun ways to offer them to your shoppers. With some imagination, you can create some enticing promotions and rewards that encourage your users to participate on your site.
The rewards points module is available for free through the Miva App Store but should be installed by a developer. The setup will include some code that makes it risky for non-programmers to install. However, once the module is installed and working, you're able to make adjustments to the settings through your Miva admin interface, so you have total control over your point accrual and redemption! Let's take a look at some of the ways you can use Miva reward points in your store.
Using Reward Points in your Miva Store
Earning Rewards Points
Labelled as "Accrual" within Miva, the ways in which your shoppers can earn points is customizable.
By Price
This is the most typical way to award points to your shoppers. The more they spend, the more points they earn. The points can be awarded based on the purchase price of items. If your accrual rate is 1 point for every 1 dollar spent, then a $10 item will earn 10 points.
Miva does account for discounts, as well as taxes, shipping, and other fees, all of which are not included in accrual. If your shopper applies a 50% off coupon to their $10 item, they will only receive 5 points for the $5 they paid (and that's assuming you allow discounted items to earn points).
By Item
This method may be more suitable if all your products are relatively equally priced, and you want to encourage buying in multiples. By awarding points based on the number of items purchased, the points will disregard the price altogether. Whether a shopper spends $10 or $100, if they purchase 5 items, they will earn 5 points.
Accrual Rates
The accrual rate is what determines how many points are earned at one time. Maybe you want to keep the math simple and say $1 or 1 item = 1 point. Or maybe you want $1 to earn 100 points.
By using a lower ratio like $1 = 1 point, you have less flexibility in how the points are spent as the shoppers have a smaller margin to work within. Not only that, but it just doesn't look as rewarding to earn 4 points as it would to earn 400 points. This is a marketing system after all.
There are three different ways to set up your rates: Base level, by product, by category.
The Base Accrual Rate found within your Payment Settings screen will allow you to set a default. If you don't specify a rate on the product or category levels, the system will use this base rate.
The Product Rate lets you set specific point values per product. Depending on your catalog, this may be very time consuming and repetitive. It should only be used if you have some products that earn points at a special rate.
The Category Rate allows you to set a point value based on entire categories at one time. This is excellent when used for promotional purposes (ie. Earn BIG points on our Store Brand items!).
When the Points Are Awarded
The reward point system allows you to decide when you want the points to show up on your shopper's account.
When Order Placed – Points are applied to the customer account immediately after the order is placed on the store front. This will allow the shopper to start spending those points immediately.
As Items Ship – Points are applied in a "pending" status and cannot be used until the order ships. This may help reduce friendly fraud. For instance, a shopper may try to place a very large order, earn the associated price, spend the points, then cancel items off the original order. This would help to prevent that.
Earning Points While Spending Points
Checked by default, Miva has the option of allowing shoppers to earn points for purchases on which they are redeeming points. Many retailers do not allow this, as they only want the points to accrue when cash is being spent.
Redeeming Reward Points
I've got some bad news for you. Setting up your point redemption rules involves everybody's least favorite subject: Math. When deciding how you want your reward points to be used, you'll be taking into account what their dollar value will be, whether they can be combined with other promotions, limited, or tiered. Let's walk through it.
Redemption Mode – Fixed or Per Point
Whether using the fixed or per-point setup, you will encounter a table that needs to be set up.
Fixed – This is the more restrictive option of redemption for your shoppers. They are only able to redeem points based on the tiers you set up. If you use the settings below, a shopper with 60 points will not be able to redeem them at all. Once they reach 100 points, they can be redeemed for $10 off the purchase and will only be able to redeem $25 once they reach that 250 point tier.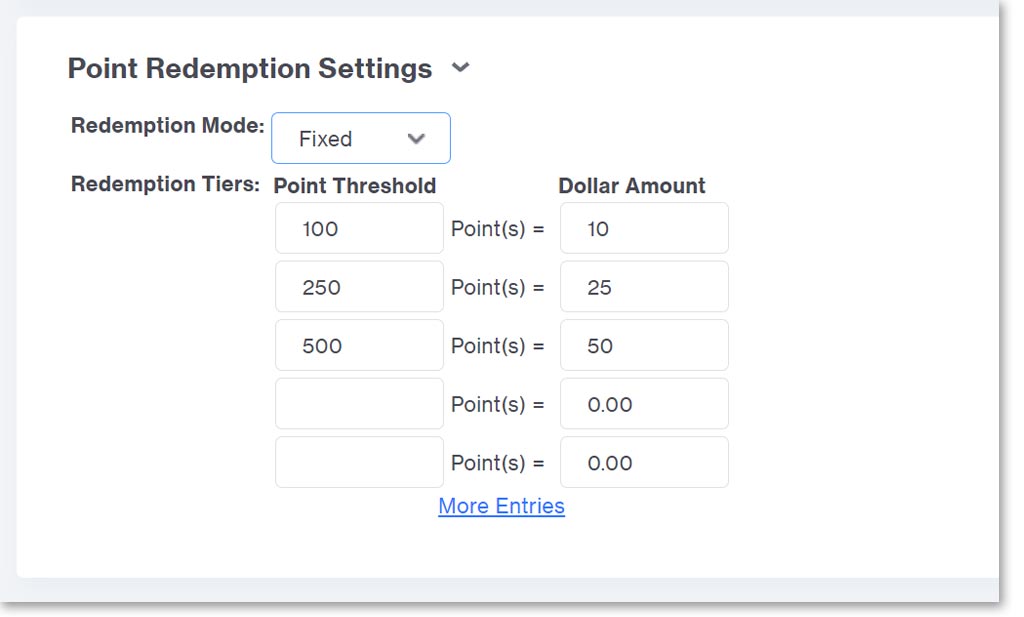 Per Point – This option is more flexible for the shopper but does require some math so you don't accidentally give shoppers a wild discount. With the per point setting, you dictate how much each point is worth. For some stores, this may be as simple as 1 point = $1. If you have 23 points, you can redeem 23 dollars. For others, you may want to have your shoppers work a little harder for their rewards and set it to something like 1 point = $0.10, when 23 points equals $2.30 in rewards.
Point Thresholds – Regardless of the mode you select, the threshold will allow you to set a minimum that must be met in order to redeem points. By setting your first tier up at 100 points, shoppers must have at least that many points in order to redeem, and this applies to both the fixed and per point methods.
Restricting Rewards Points
We all know you can have too much of a good thing. That certainly applies to points, as well. We have helped our clients restrict their point redemption in multiple ways. The two most common are:
Capping Redemption – If a shopper has built up a large number of points and suddenly decides to redeem all at once, you may be looking at sending orders out for free. As retailers, we know that in a perfect world, we would love to honor that transaction. Unfortunately, rising operating and transportation costs mean that bigger and bigger portions of revenue never reach our pockets, and in fact, you could easily lose money on an order that is paid for entirely by points.
Capping redemption is an effective way to help resolve that. An example of this would be applying a $50 max on redemption for any single order. Or only allowing up to 50% of an order to be paid for with points. This is something your friendly neighborhood developer can set up for you.
Disallowing Promos – We will get deeper into points and promotions soon, but a very common rule in place for loyalty reward points is that they cannot be redeemed in conjunction with sale items or coupon codes. When a discount is already applied to an order, payment via reward point may be too big of a hit on your margins to allow.
Reward Points and Promotions
We're probably all familiar with promotions on points held by big companies: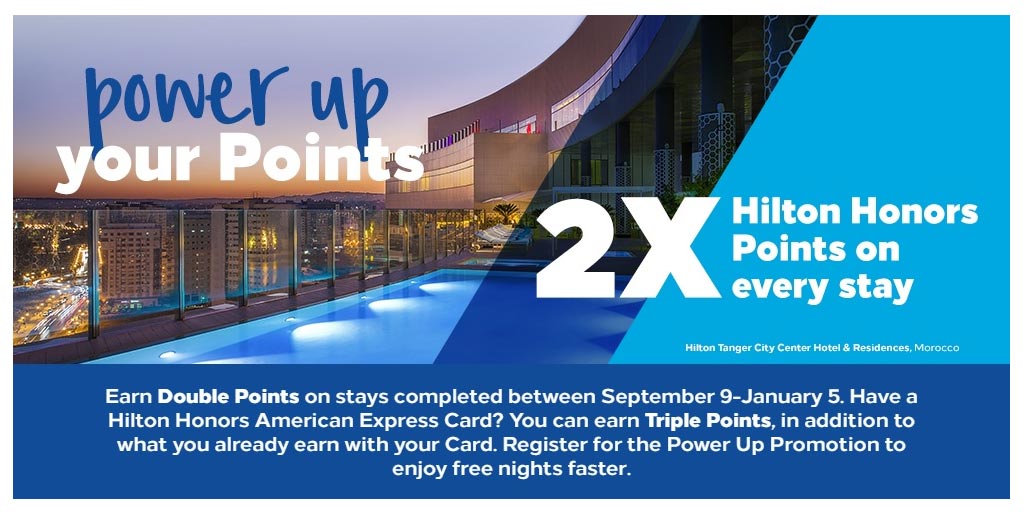 With the Miva Loyalty Rewards Points system, you're able to hold the same type of promotions. Once the rewards system is installed on your site, a new Price Group type will be available called Points/Loyalty Program.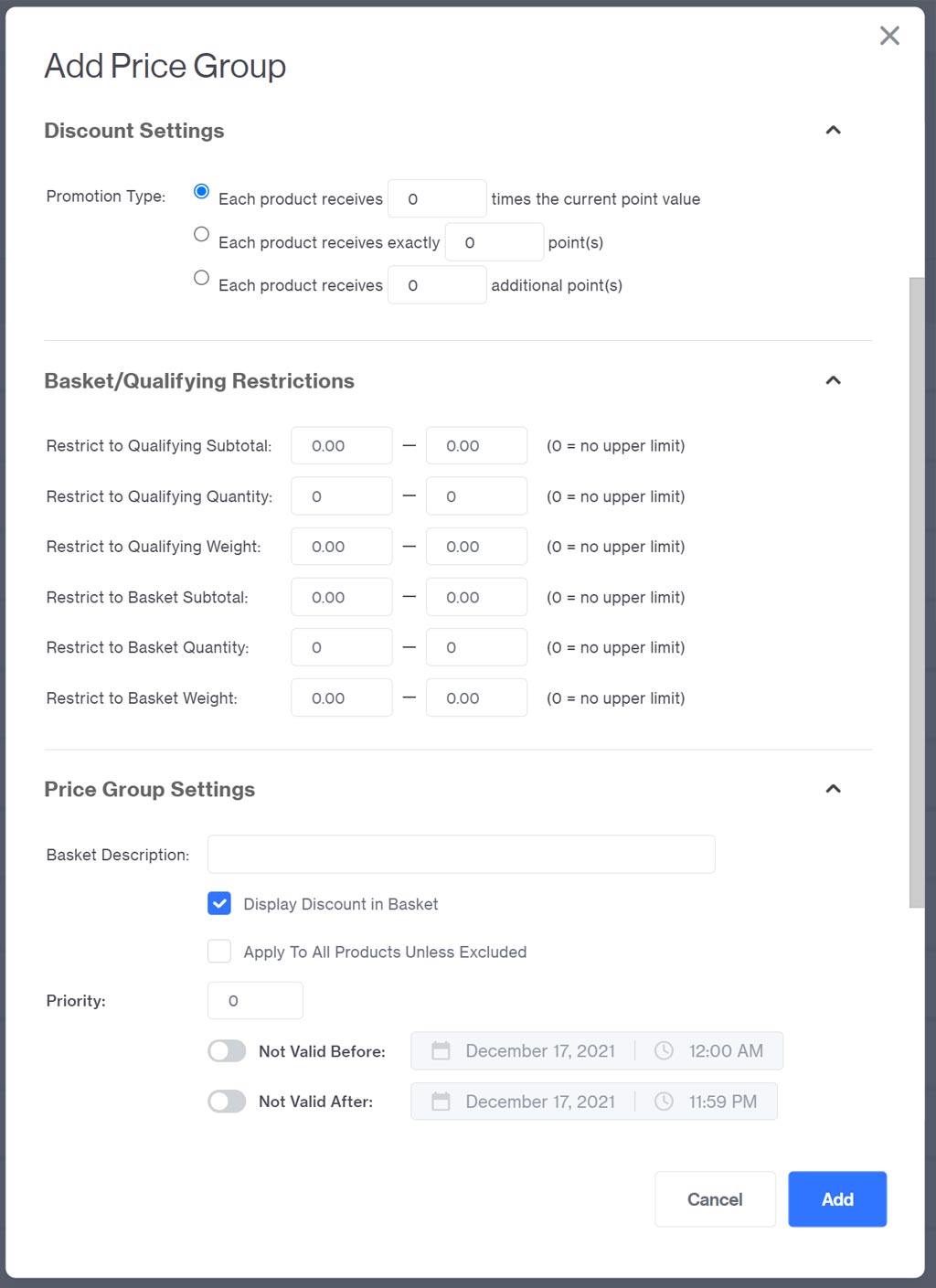 In addition to your standard price group fields that let you customize sales (Basket/Qualifying Restrictions), you're given three new options. Here are examples of how each one could work for you:
Each product receives 10 times the current point value
"Shop our Boxing day sales and earn 10x the points, store wide!"
Each product receives exactly 500 point(s)
"Everything must go! This weekend only, earn 500 points on all clearance products!"
Each product receives 100 additional point(s)
"Don't miss our FLASH sale! For the next 2 hours, each item will earn you an extra 100 points!"
You still have all the same control over order subtotals, start and stop dates, priority, etc., and you can choose whether to apply the promotion to all products, or only a select few. This is the perfect example of when you might want to consider limiting the use of points in combination with promotions. Otherwise, a shopper could earn 500 points and pay with points!
Things to Consider When Using Reward Points in Your Store
We've seen a ton of different applications and setups for loyalty reward points from various customers. Because of this, we've been able to collect some nuggets of wisdom that you may want to keep in your back pocket if you decide to implement points.
Branding
Loyalty Reward Points don't need to have such a utilitarian name. Have fun with the name of your program and remember to stick to your branding. If your store, Roberts Fine Jeweler, decides to offer points, it may not be appropriate to call your points system Big Bob's Bonus Bucks.
It's a good idea to include some form of identifier like points, rewards, club, loyalty, etc. in the name to quickly and easily pique interest on your site. But combine it with your store name or slogan, something unique enough to be obviously related to your site if the shopper gets an email about it.
FAQ or Landing Page
When you introduce a new system or policy to your site, it is critical that you have an FAQ, policy page, or set of Terms available online before launch. If your points guidelines aren't clearly stated from the get-go, you're going to end up in trouble.
Rewards rules vary so widely from one site to the next that unless your rules are clearly stated, it will be too easy for shoppers to get confused and angry. This is especially true when you're dealing with a substitution for legal currency. These points will operate as cash on your site, and people get VERY particular about what they can do with their cash.
A detailed set of terms, as well as an FAQ page is necessary. Remember to update these pages any time you launch a new promotion, or change the way the points work.
A landing page specific to your points can handle all of this and more. In addition to laying out your terms, and answering questions, a landing page gives you the chance to sell your program as something super fun and rewarding that the shopper would be foolish to miss out on (maybe not quite in those words).
Overriding Points
You may have some instances where you don't want to offer or allow points to be used on certain products. Bulk packs, clearance items, or custom products are all examples of this. You may not make enough of a profit on these items to warrant the use of points. Take a close look at your catalog to decide if there's anything that should be left out.
In-Store Purchases
Do you have a brick-and-mortar store along with your site? If so, you may want to consider whether you'd like the points to cross the bounds of the internet into your storefront. If you do, be aware that it may take more work than you bargained for, especially if you need to integrate a third party point-of-sale system. You'll need to contact a developer to map out the possibilities.
Expiration Dates
Sites will often set an expiration date for loyalty points. If you do this, you may want to consider setting up an email template that notifies your shoppers when their points are about to expire. Not only will this help prevent some angry emails and phone calls, but it's also a great promotional tool to get your shopper back onto your site and spending!
Setting Up Your Rewards
There's a lot that goes into getting a rewards program ready. If you need a hand getting everything arranged and the data work completed, we can help with that. We can also help you explore some of the broad possibilities that are out there when it comes to creating enticing loyalty reward points programs for your shoppers.