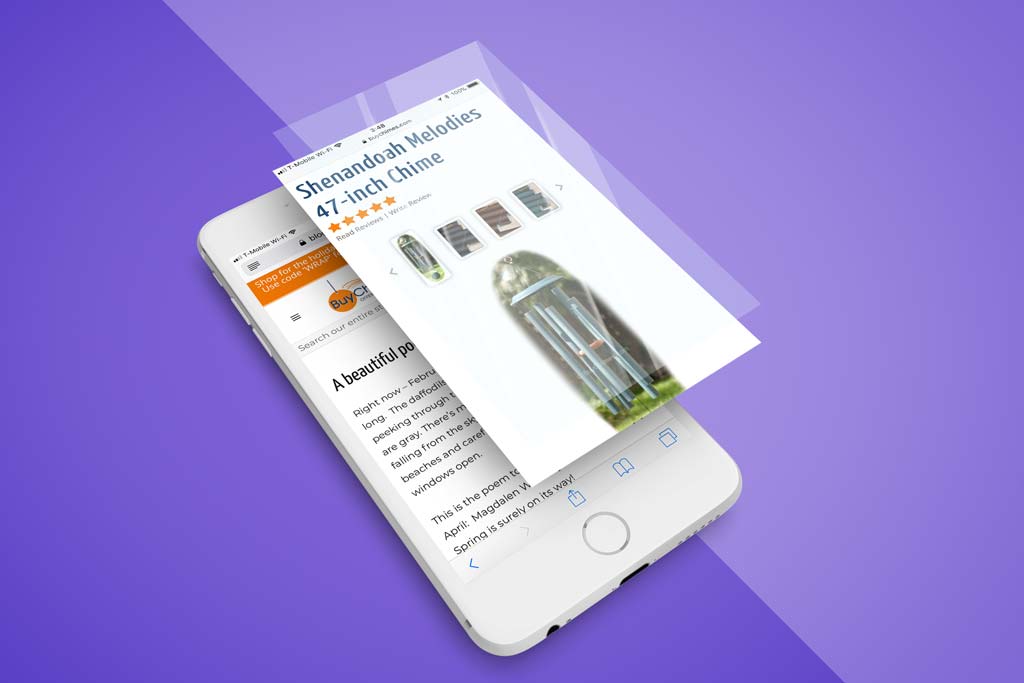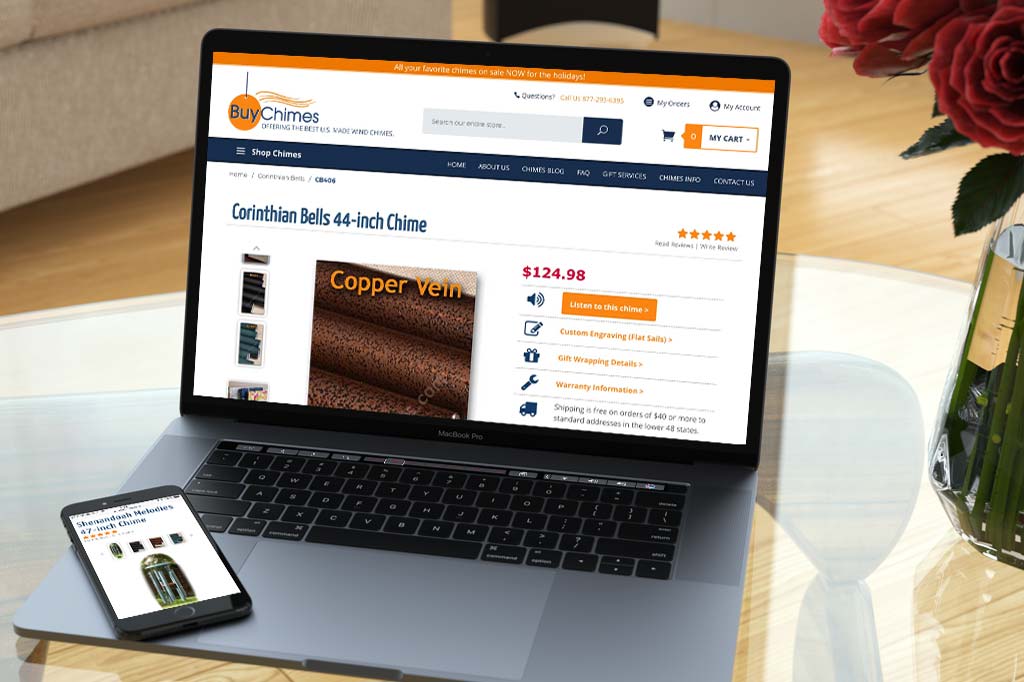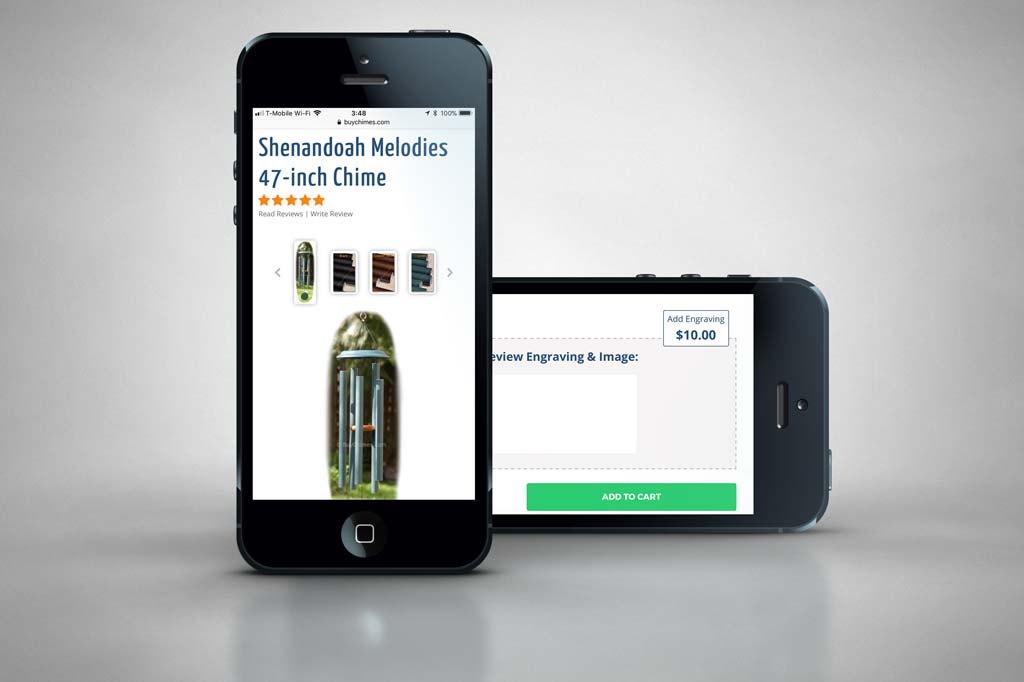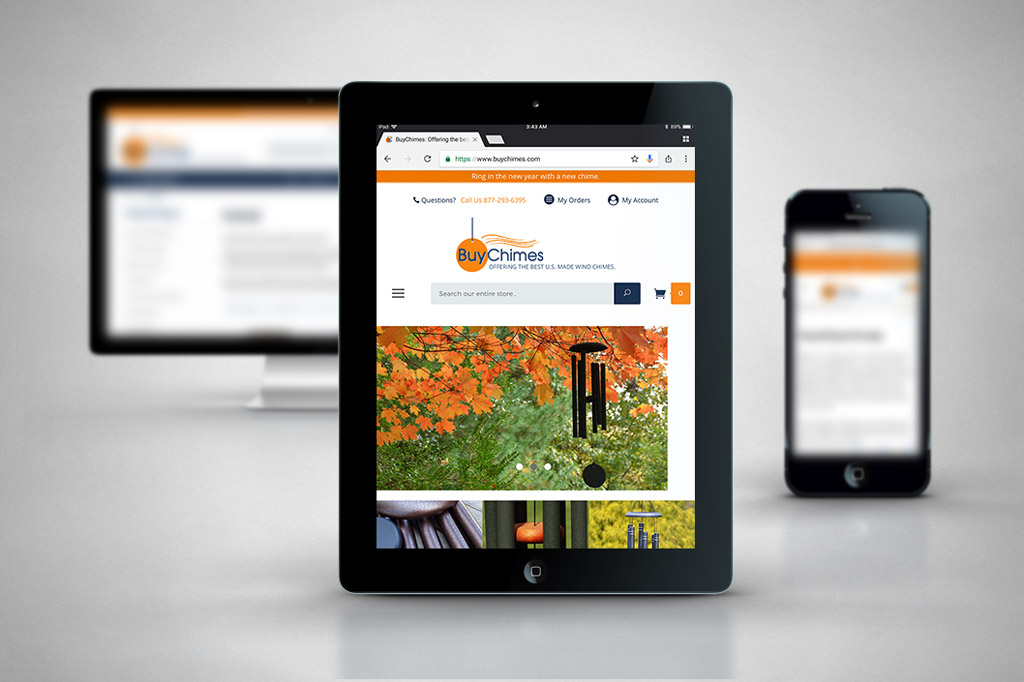 Miva Ecommerce Customization – BuyChimes.com
Global Design/Tasks
Integrated responsive Mobile/Tablet/Desktop versions all equally powerful and easy to use. (no missing components on mobile)
Site-wide promotions bar easily edited by client.
Retained current branding and logo with fresh design.
Navigation Flyout Menus with images are organized to shoppers can get to a specific product in one-click instead of 3, as previously.
Large search in header on mobile, tablet and desktop gives dynamic results to categories and products
Integrated product reviews and testimonials
Full HTTPS Conversion at site re-launch, including necessary/required changes on all Google profiles.
Data
Eliminated a lot of popup pages and integrated content into the layout using easy to understand icons, lists and modals.
WordPress Blog
Updated to latest  WordPress version.
Created a custom responsive WordPress Theme Styled to match the ecommerce site, including header navigational elements and global footer.
Conversion to full HTTPS, including any/all required 301 redirects, since blog was also moved to a sub domain due to current best security practices.
Home Page
Large self-rotating banner with text and links is easily modified by client via Miva ReadyTheme images.
Featured products slider can include whatever products the store owner sees fit.
Latest MailChimp newsletter implementation directly on the page.
Design fulfilled the client's parameters: shipping on time, wonderful gifts, made in the USA.
Category Layout:
Easy to pick chimes that can be compared by various attributes like music note scale, chime size and number of tubes
With One-click listen to each and every chime without leaving the page – also works on Mobile.
Product Layout:
Customers can easily select options for engraving their chime with fonts and images. In addition, a real-time preview image is saved with their order to eliminate guesswork on the merchant side.
One click listen to the sound of the chime works on all devices
Optimized ecommerce layout to showcase client's special gift services
Product gallery with dynamic zoom and video support
Checkout
Utilizes all the new Miva Ecommerce features like coupons, gift certificates, customer credit on account, etc.
Integrated mailing list opt-in to easily collect new subscribers for future marketing efforts.
I cannot say enough GOOD THINGS about the Glendale Designs team! They're responsive, thorough and just great to work with. BuyChimes has worked with Glendale through numerous website redesigns over the years. They're consistently fresh and honest in their approach to site design and customization. I appreciate their willingness to kindly suggest a better solution at the outset of a functionality conversation – rather than investing resources (time, energy, money) into an approach that has little chance of success. Would heartily recommend!
Carolyn Strong, BuyChimes.com