CalendarCompany.com
Miva B2B/B2C Development
B2B, Design, Web Development, Customization
CalendarCompany.com has been in business for over 140 years, balancing old-fashioned work ethic and charm, with new-age technologies. With the most comprehensive catalog of products in the industry, the only thing that outstripes their selection is their customer service!
The Client
Over 140 years ago, what is now Calendar Company was commissioned to print their first Almanac calendar. That launched them into a whole new universe of product production. While the times, technologies, and tastes have changed, Calendar Company has held fast in their mission of providing high quality products and service. Some things never go out of style.
Their focus is on fostering innovation and providing customizable products at affordable prices on both a personal-use and business scale. This would provide a unique challenge of creating a site that seamlessly combines B2B and B2C purchasing capabilities.
The Challenge
Calendar Company already had some great stats on their side. Their conversions were high for the industry, and they knew how to ensure their large customers repeat their orders. However they were still able to pinpoint some areas needing improvement.
They wanted the enhancements to the site to reinforce the weak points, while also supporting what was already working for them. We got to work scoping the project to identify some specific needs moving forward:
Clearly target corporate marketing and advertising departments (B2B) while still appealing to the individual consumer (B2C).
Increase traffic and sales in an economy full of DIY services and competition.
Reinforce and promote the sale of custom products.
Simplify ordering and checkout process to encourage completion of sales.
Improve site navigation and overall user experience.
And finally, Calendar Company wanted their site to exude the same kind of confidence and authority in the industry that their brand has spent over a century cultivating. Like the old adage of dressing for the job you want, Miles knew the company had the goods to deliver, they just needed to look the part.
The Solution
Our project managers worked with the client to create a detailed plan of action for the new site, to be implemented by the developers, designers, and eCommerce experts. Matching Calendar Company's penchant for innovation, there would be a total rebranding to bring the website into the future. But the changes didn't just apply to the look of the site. In order to make both B2B and B2C customers happy, there was some need functionality to be added.
SEO and Marketing
As with every site we do, an important part of the build isn't obvious to the average user. Our technical SEO experts worked their magic on setting up this client's marketing requirements:
Integrated enhanced Google Analytics eCommerce tracking
Managed checkout labels, goals, and funnels for accurate reporting
Enabled on-site search tracking to allow the client to audit and monitor trends
Activate adwords conversion tracking to ensure effective use of ad spend
Our developers put all this into action to ensure that Calendar Company can trust they are reaching the right people with their ads and search engine results. There were, of course, the other SEO tasks that are standard but critical for every build:
Implementing 301 redirects
Schema markup
Creating and scheduling feeds
Setting up XML sitemaps
URI management
These tasks make sure that the existing rankings and backlinks are retained, as well as analytics data.
In order to make both B2B and B2C customers happy, there was some need functionality to be added.
UI/UX
Getting the right people to the site is, of course, only the first step of the journey. From there, we needed to make sure that the users had an impactful experience on the site. Part of that involved a strong and encompassing design.
The new CalendarCompany.com has a masculine yet orderly feel, with rich colors and bold images. Paired with the same structure and organization that you'd expect from a calendar producer, the site is a uniquely youthful experience. It perfectly marries the innovative approach of the brand with the process of calendar shopping.
The new look also provides a commanding presence in the industry, effectively mirroring the capabilities of the company. While important for B2C customers, it was crucial for B2B clients who historically need extra assurance about a new supplier. A big part of the Calendar Company brand is their ability to deliver the highest quality products, with unmatched value thanks to the technology they use.
Our developers and designers worked together to ensure that while the site was fresh, bold and memorable, it also functioned beautifully to make for a quick and easy shopping experience.
Site Navigation and Data
With such an extensive and ever-growing product catalog, tackling the site navigation and data was a critical part of the redesign. Having well-organized data and navigation sets would allow the shopper to fully take advantage of the new design and features.
A goal for the new site was to help reduce the amount of time spent on customer service. Custom orders, new products, and a blend of B2B and B2C, all on an overloaded and out-of-date site meant a ton of customer service. With so many options, it was important that we simplify and clarify the ordering process for the customer.
By employing some detailed facets, product videos, instruction guides and more, we were able to give the shopper an easier buying journey, and confidence in their purchases.
Incorporating B2B and B2C
While the bulk of the company's revenue comes from B2B clients, they didn't want to leave their individual consumers out in the cold. They also didn't want to abandon their roots of a small business helping to produce small orders.
It was, however, important to recognize that their B2B and B2C customers would have different needs and priorities. So we needed a clear strategy to serve both customer types effectively and simultaneously. Volume pricing, low minimums, set-up charges, and filtering were all used to offer the largest possible range of products to both customer types at the same time without the need for two separate sites.
Being able to offer service to both individual and business customers from the same site allows for lower operating costs, larger product variety, and less administration/site maintenance time.
The Result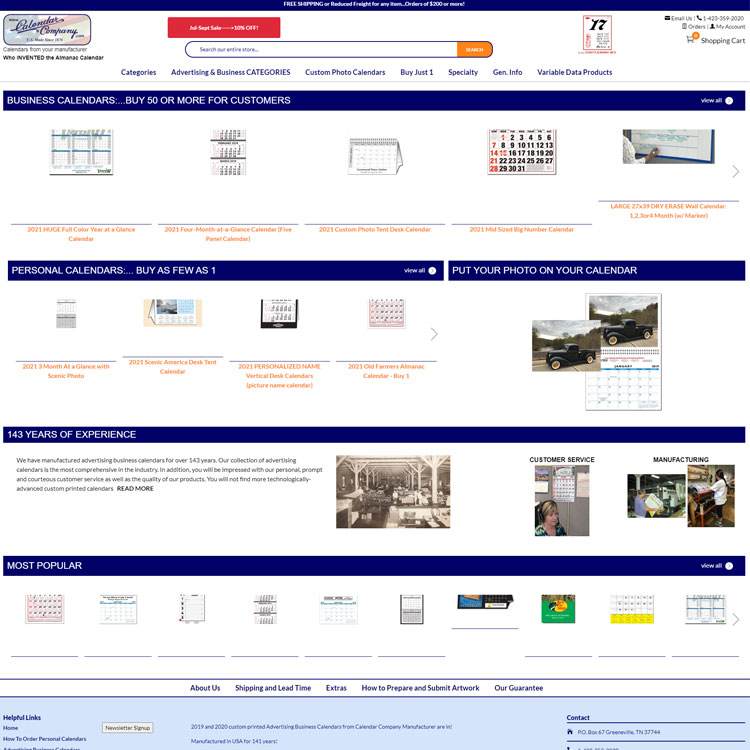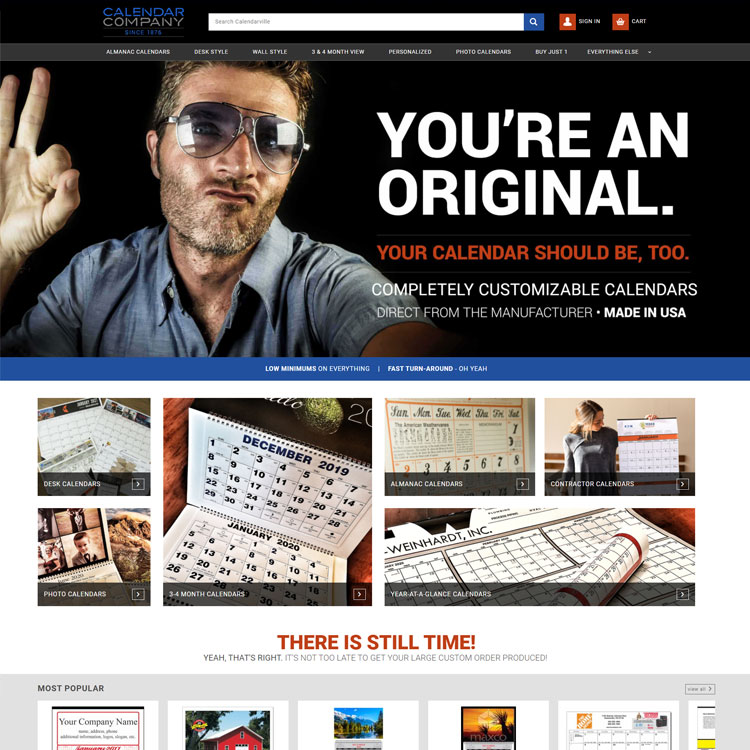 The result of the CalendarCompany.com website rebuild is an impressive and impactful site design that offers full-service options to customers large and small. Making the shopping process easier and faster helps to give a more comfortable experience for individual shoppers while also cutting down on ordering time for big buyers.
An easier experience all around helped to ease the transition from old-school manual ordering to online shopping – relatively new in the B2B universe. This resulted in more new users and transactions, a lower cart abandonment rate, and an overall faster (and cooler) site.
Is it time to bring your business into a more modern age? Reach out to us and we can help you build a plan!
30-Day Post Launch