OSDAudio.com
Miva B2B Development
B2B, Miva Customization, Web Development
Optimal Speaker Design (OSDAudio) designs, engineers, and distributes high-quality sound equipment for home and commercial use. Their product catalog ranges from simple wall and ceiling mounted speaker systems, to whole-house audio setups, including commercial transformers and amplifiers. Working with leading-edge musical, technical, and electrical engineers, they confidently produce the highest tier of home and business audio equipment, sold in a B2B environment.
The Client
Dave and his team have worked hard to build a small network of businesses that are responsible for designing, developing, engineering, and selling audio equipment. Their passion for pristine sound and optimal setup has led to the success of several related audio equipment stores.
The focus of OSDAudio.com is specifically B2B, and providing a premier, elite shopping experience for business clients.
As an existing client of Glendale Designs, when Dave knew it was time to update his B2B site, he came to us. We were able to support him and his team in the design and development of the new OSDAudio.com website. With a strong understanding of what it takes to run an effective eCommerce business and provide a successful user experience, Dave was instrumental in the development of the new site.
The Site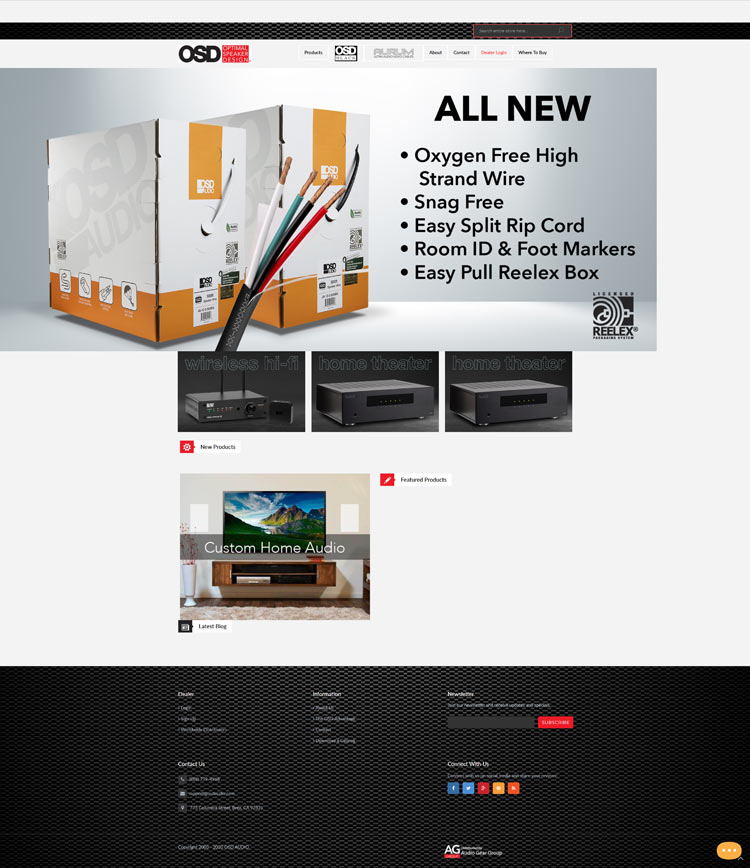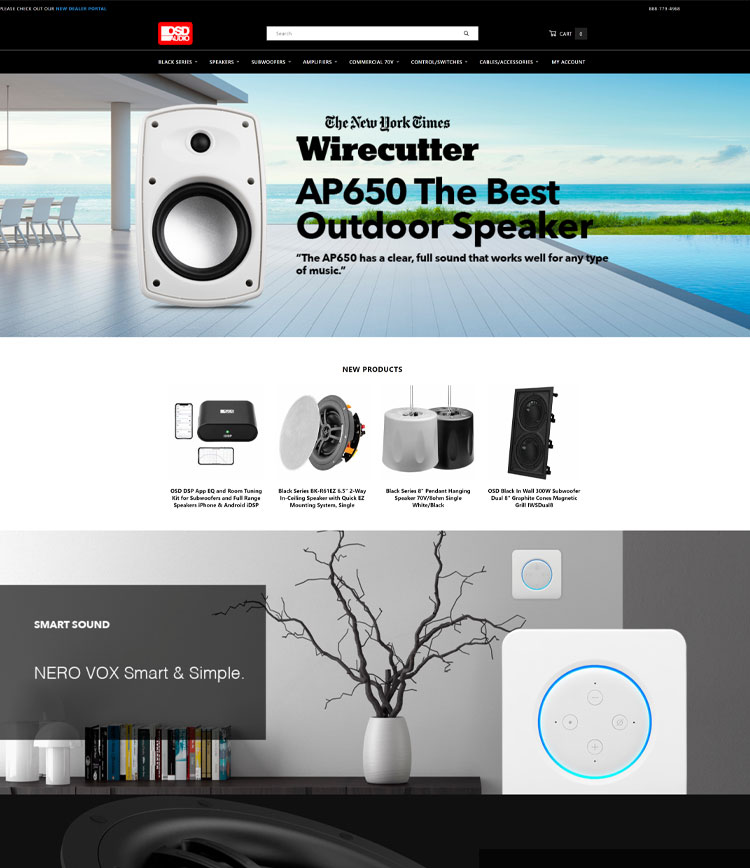 With the previous successful build of OutdoorSpeakerDepot.com under our belt, working with Dave and his team was familiar and intuitive. They came to us with much of their own planning already done. This made it easy to keep the build within a limited budget and a short deadline.
Design
Largely, the design of the new site was prepared by Dave's creative team; they needed our help to get it integrated. Through the use of modules, template adjustments, and new code, our developers were able to effectively reproduce the desired design that the OSD Audio team had come up with.
While the client provided a solid base for the design details, our developers and project manager were able to work together to fine-tune the specifications. Making adjustments to the client requests, we were able to encompass not only Dave's vision for his new site, but also peak usability for the customer.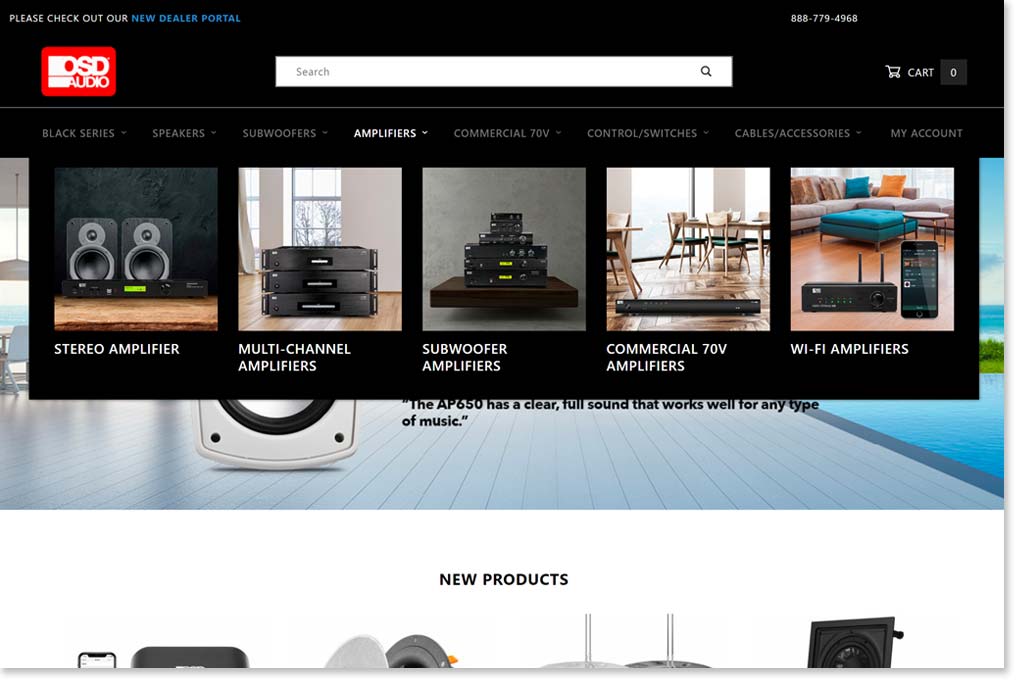 With the help of our eCommerce and UI/UX expertise, the new site design was optimized to be easily manageable for the OSD Audio staff, as well as highly attractive to their B2B customers. Overall, the new site boasts a sleekness that aptly reflects the high quality and engineering of the products they sell.
Data
The process for updating this site was different from that of other builds; aside from the client providing design files, we also started the project with a site copy. This meant that time would be saved in transferring and manipulating the existing site data. Products, page content, and category descriptions were already in place, directly copied from the live site.
However, this presented us with a new challenge in that old code, obsolete modules, and outdated site content would also be brought over. While there wasn't as much new data that would need to be imported or created, a lot of old content had to be filtered out.
Our developers worked with the client to clean up the data and organize it in a way that would be cohesive and coherent with the new design.
B2B
Unlike the other businesses that Dave owns, OSD Audio is entirely B2B. This meant a few big changes would need to take place that would alter the way the site functions. Not a typical eCommerce site, the new store would need special account and login features, as well as resources for the customers.
The nature of OSD Audio's customers generally tend to be home builders, audio installers, and audio specialists. As such, Dave wanted to make instruction and data sheets easily available. Through the use of PDF document links, customers can access and download the appropriate information as needed, right on the product page.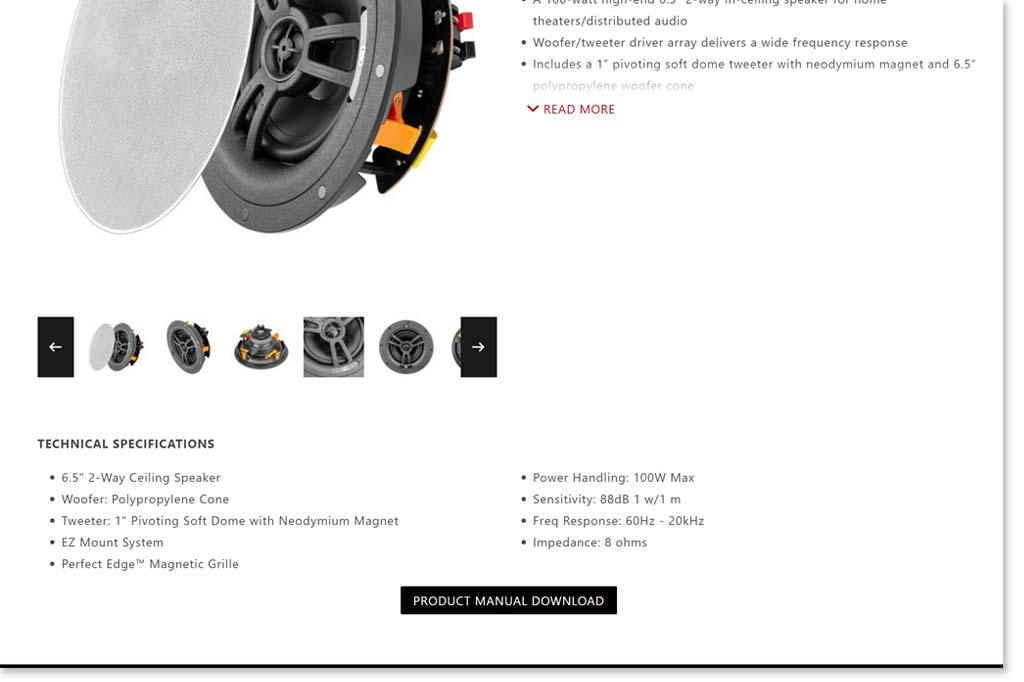 Because the site is specifically B2B, Dave wanted to be able to show the product catalog before an account is created, giving browsers the opportunity to view the wide selection of over 500 products.
In order for shoppers to view pricing and make purchases, they are required to fill out a downloadable PDF form and submit it for approval. At that point, OSD Audio staff reviews the information and creates the account.
In addition to helping eliminate users only looking for wholesale pricing for one-time projects, the form submission gives the staff the chance to place the dealer account into the correct Wholesale Pricing tier. From there, the dealer can take advantage of benefits like purchase order payment, and tax exemption where appropriate.
The Result
The final result of the OSDAudio.com build is a sleek and modern site full of highly impactful images. It acts beautifully as a product catalog, resource guide, and wholesale hub of top-tier audio equipment.
There can be no doubt in the shopper's mind that the website is professional, contemporary, and effective. By backing up the high-quality products sold with a polished and efficient eCommerce site, OSD Audio is cementing their position as an authority in the industry.
From The Client
Dave Chai, President, OSDAudio.com
"Glendale Design is a perfect Miva consultant company, it is not too big but has all the needed resources to finish the job – from design, coding, function and add features to the stores, you name it and they will give you an answer. They are also very all-around. I mean lots of consultants are just good in certain areas, but GD also knows about Google Ads, SEO, Blogs……they are very fast too, Sabine is on top of everything.
Also they are very reasonably priced too, they are not super cheap but ROI is excellent, they deliver their service on time and all things they did for you work.
I call GD the "Swiss Army" of Miva platform agencies. I think together we can have a long prospect relationship to build a better customer experience."
30-Day Post Launch