MagicDartsWholesale.com
Miva B2B eCommerce Development
B2B, Data Manipulation, Design, Web Development, Customization
MagicDartsWholesale.com is the premier online distributor of darts and game accessories in the USA. For over 30 years, Magic Darts has offered an impressive range of products to retailers and businesses, offering Big Business selection with Family Business service and expertise.
The Client
Magic Darts Wholesale has been a family-run business since its inception in 1989. When John Baxter, former USA #1 professional dart player, started selling darts and other game accessories, it was on small-scale basis at events. It has since become a booming B2B eCommerce venture. 
Over the years, the business has grown into a multi-tiered company, including an 11,000 sq ft. facility in his home of Sacramento, and several online businesses, one of which is the largest online distributor of dart accessories in the USA.
John and his team decided that it was time for a new look to the site that would live up to the impressive stature of the business. Having already been clients of Glendale Designs, we took on the project of building them a new B2B eCommerce site.
The Site
Design
The new MagicDartsWholesale.com website has an unforgettable look. The design is masculine and bold without being too serious or overbearing. In fact, there are several fun touches to the site. That blend of whimsy and intensity perfectly represents how seriously they take games.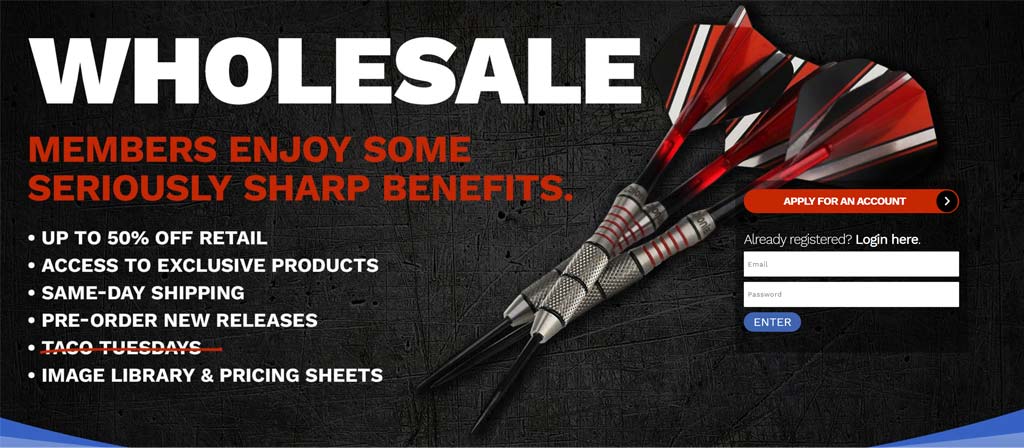 Little additions like dart flights as product slider buttons help to carry the theme of the company throughout, without being imperious or distracting from the other product lines. In addition to dart and dart accessories, the site hosts a range of other game equipment.
The client's superb collection of product images make the site really pop. The new design supports those product images; it highlights them in a way that helps them stand out while also remaining cohesive. While we wanted the design to impress, as a B2B eCommerce site, it was important that the products shine front and center.
B2B eCommerce Functionality
Geared specifically toward B2B customers, the site prompts the user to login in order to view pricing and make purchases. But it doesn't hide the catalog from view the way other wholesale sites do.
Instead, the user is greeted with plenty of large, clear, high-quality images and fun branding. The option to apply for a wholesale account follows the shopper through the site, available but inconspicuous in the bottom corner.
While we wanted the design to impress, as a B2B eCommerce site, it was important that the products shine front and center.
Miva's B2B eCommerce capabilities allow the team at Magic Darts to approve wholesale applications easily. They can then assign new shoppers to the appropriate wholesale price group, and get those users shopping.
This setup happily entices shoppers to register for an account on the B2B eCommerce site by giving them a taste of what the company can offer. Combined with the impressive look of the site, potential new clients are going to be excited to work with Magic Darts Wholesale; they'll be able to trust a high level of quality standards.
Catalog
The impressive catalog size could be daunting for the average shopper. With so much to choose from, in a wide range of specifications, it would be easy to get lost in the options. Through our work with the team at MagicDartsWholesale.com, we were able to ensure detailed faceted search capabilities as well as easy browsing.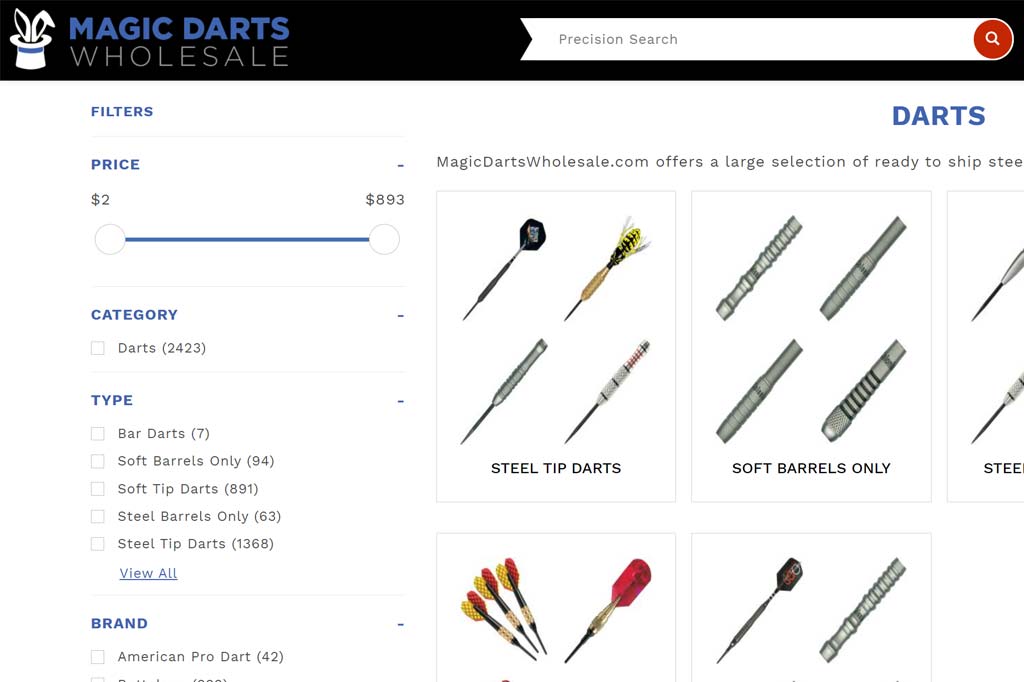 Whether the viewer knows exactly what they are looking for, has only a general idea, or wants to peruse all items, they can reach the checkout satisfied with their basket.
The Result
B2B shoppers have a unique set of needs. Not only do they have the same high expectations for design and UI/UX that retail shoppers have. They also rely on a smooth business interaction and an expedited process. The new MagicDartsWholesale.com has an impactful design, easy-to-shop layout, and fresh and responsive coding. It provides the memorable B2B eCommerce experience that other business owners need.
Looking for some work done on your B2B eCommerce site? We can help you hit the target; contact us today for more information.