AveryAutoMats.com
Miva eCommerce Development
B2B, Design, Logo & Branding, Web Development, Customization
Avery Automats has been growing since the mid-80's into the premier aftermarket automotive floor mat manufacturer in the United States. With their state-of-the-art design, Avery has become an expert in the field of automotive floor mats amongst consumers and dealers.
The Client
Avery Automats manufactures and sells high-quality, customized, aftermarket floor mats for a huge variety of vehicle makes and models. Their exclusive Griplock design makes their products some of the most trusted in the industry.
The team at Avery Automats approached us after having acquired Avery's Floor Mats and consolidating it with their existing AutoMats brand. Over the last 35+ years, the business had been steadily growing and broadening the product line. Embracing new technologies, managing new accounts, and selling to both B2B and B2C, the staff had their hands full.
This was exacerbated by having two separate websites that needed to be managed, and the extra customer service that came along with them.
The Challenge
Avery Automats came to us with two already-established sites to sell their products, with plans to consolidate them into one branded shopping experience. With a mix of B2B and B2C customers and a very niche yet extensive product line, the Avery team was looking to solve some specific problems.
User Experience
On the front end of the site, the team at Avery Automats was running into a handful of issues that seriously impacted their productivity and the customer experience.
They were familiar with complaints of not knowing where to start on the site, and that theme carried throughout the shopping and checkout process. Besides focusing on the issues that shoppers were having, they also wanted to enhance functional areas of the sites to make them even better.
The issues that the Avery team came to us with, looking for solutions, were:
Customers found it difficult to know where to start shopping. The vehicle make/model selection process was not intuitive enough for it to be helpful to the shoppers. That would have to be revamped.
Time spent on customer service was huge, as the staff would often have to walk shoppers through the order process from start to finish. The entire buyer's journey required a personal shopper.
Shoppers were not taking advantage of the free samples in order to color-match their orders. This led to more returns and cancellations than necessary, especially when a solution was already available.
The Avery team wanted to go further to offer incentives to their B2B shoppers.
A complex ordering system was a deterrent for the larger B2B clients who needed a fast and efficient way to make their purchases, with an emphasis on practicality.
The customization available for the products allowed for nearly endless combinations of colors, designs, cuts, etc. A robust selection system would be needed to support this.
An entirely new look would be needed to encompass the two older sites being replaced. Avery would need rebranding and logo design in order to appeal to their shoppers and remain memorable.
With a mix of B2B and B2C customers and a very niche yet extensive product line, the Avery Automats team was looking to solve some specific problems.
Store Management
While making sure customers are happy is top of the list, the success of the store would also depend on whether the site would be easily managed by the Avery Automats staff. In order to reduce site maintenance time and optimize the SEO outputs, Glendale Designs had to address the following:
The site would need to be built on a framework that would reach search engine standards for quality and user experience.
Appealing to a larger market through design and features would help them take advantage of the social media attention garnered by younger consumers.
The staff needed to more easily manage the very large product catalog of over fourteen thousand products.
Discount management for B2B clients as well as other perks would need some form of automation. Management of applications, taxes, and discounts would help to streamline their workflow.
Implementation of technical SEO tactics would help to enhance their reach as much as possible, and avoid pitfalls during the site migration.
The Solution
Configurator Tool
An important problem that our team needed to tackle was the massive amount of data that came along with a product catalog of fourteen thousand products. Some serious mapping would have to happen in order to keep the site structure clean and easy to navigate.
At the same time, that data would have to be integrated into a configurator – a tool that allows shoppers to define their own product requisites. In this case, it includes the year, make, and model of their vehicle.

Thankfully, this was not Glendale's first time handling a configurator like that, nor were we strangers to very large product catalogs like that of Avery Automats. 
While humans and computers often don't follow the same lines of logic, we were able to arrange the data in a way that made sense to the shopper as well as to the code. This resulted in an easy-to-use configurator tool paired with an easy-to-navigate category structure.
The Buyer's Journey and Product Customization
A direct effect of getting the products laid out in a more shoppable way was an improvement to the buyer's journey through the site.
Through a combination of logical site structure and smart design, the customer is now guided through their shopping experience, one step at a time.
The automation of the custom product builder instructs the shopper without locking them into a frustrating set of boundaries. Able to revert to the previous step to make changes along the way, shoppers can ensure they are getting exactly what they want.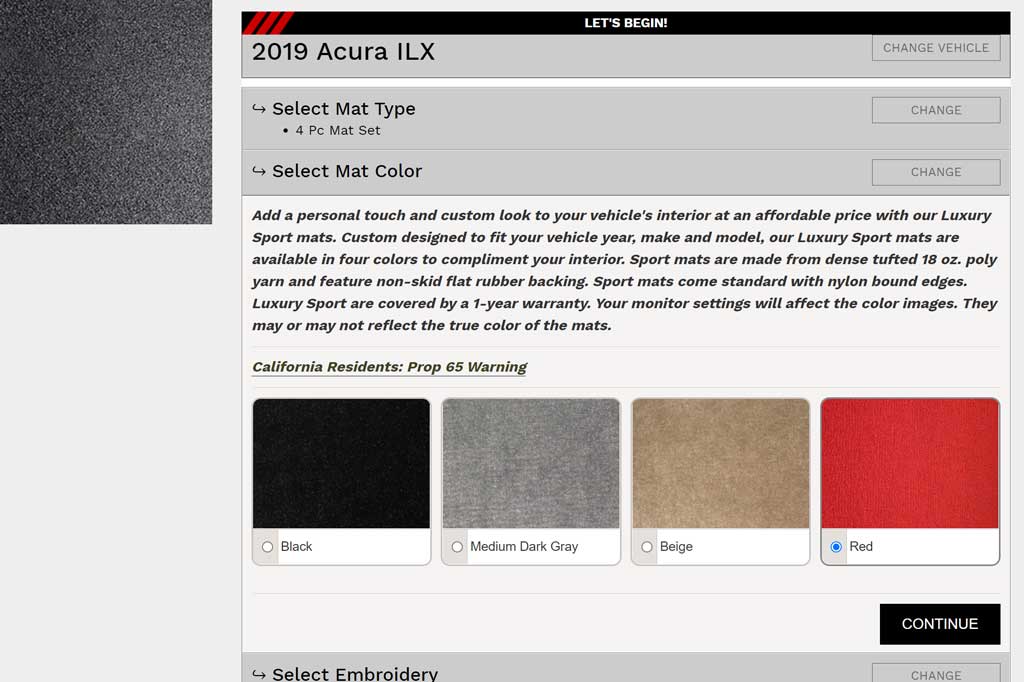 It's as though the user still gets the experience of a personal shopper to guide them through the selection process, without the customer service overhead.
Furthermore, the availability of free samples was made more visible to site visitors by adding it to the homepage, global banners, and the category navigation.
Supporting B2B
Having some diverse discount options for their wholesale clients means that Avery Automats is able to incentivize those clients that resell on their own sites and in store. With custom discount structures in place, the staff can apply savings on a case-by-case basis.
With perks like exclusive product lines and robust customer support, B2B shoppers are encouraged to register for more than just the discounts.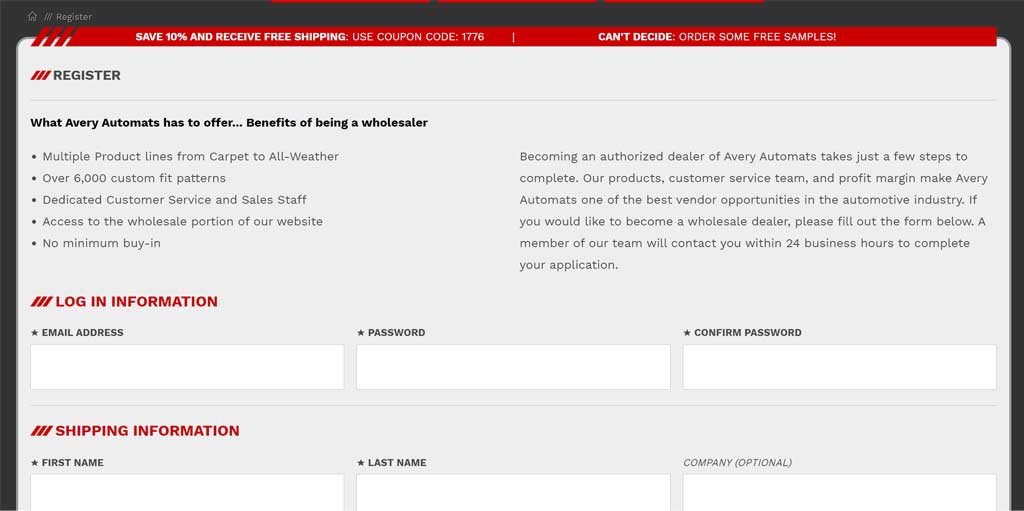 The purchasing process for B2B accounts was simplified and trimmed in order to provide the fastest possible ordering experience. Reordering at the click of a button and a detailed order history page means resellers can get in, get what they need, and get out. 
Platform Migration
In order to accomplish everything that would be needed to turn their site from "usable" to "special", we knew the client would need to migrate over to Miva. Miva's built-in B2B capabilities, catalog management, and customizability, made it the perfect canvas on which to build the site. 
During the migration, Avery Automats would also be consolidating two of their previously existing sites:
www.averysfloormats.com
www.qualitycarmats.com
With the new site being run on Miva, and the two old sites combined into one, the staff would be more easily able to keep up with the demands of running an eCommerce website. And shoppers get to reap the benefits of a focused shopping destination.
The use of Miva's Theme Component and Layout tools also means that the staff are going to be able to update the site on a whim. 
Technical SEO
While the merging of the two old sites was best for both staff and customers, it was also best for the business's bottom line. With both sites selling the same products and essentially having duplicate content, they were cannibalizing their own ranking. By that, we mean that the two sites were competing against each other for attention, to the detriment of both.
Now, Averyautomats.com can shine front and center, and gain a boost in SEO. This was thanks to the traffic being funneled into one domain.
In addition, our developers paid special attention to the implementation of the 301 redirects. We were essentially shutting down two stores and opening one in their place; the links that had previously been shared or bookmarked were at risk.
Through some careful work, we were able to preserve the ranking of those links. That also protected the customer satisfaction of shoppers not having lost their bookmarks.
The Result
The final product of Averyautomats.com is a truly unique shopping experience. Besides an appropriately bold and sleek design that all car enthusiasts will respond to, shoppers also get to enjoy a buying journey that is guided for them in a way that feels luxurious.
With a focus on satisfaction and ease of use, the site provides a straight-forward path from discovery to purchase, without any second guessing along the way.