Ironmaster.com
Miva eCommerce Custom Development
Data Manipulation, Design, Replatforming, Web Development, Customization, Data Transfer
Ironmaster is a US-based leader in the personal fitness industry. Since 1978, the business has grown and developed into a premier innovator of personal training equipment. Their proprietary products are engineered in the US by fitness experts who know exactly what's important.
The Client
Ironmaster designs, produces, and sells high-quality personal fitness and free weight equipment. With a focus on quality and performance, their proprietary products are engineered by people who use the equipment themselves.
Offering high value and innovative designs, their products are keenly sought after and sell world-wide to both personal users and resellers.
A fitness company run by fitness enthusiasts means Ironmaster provides real quality and expertise in the industry. Likewise, they called on Glendale Designs, with our team of previous business and ecommerce store owners, to help provide expertise on a new website.
The Challenge
It was time to move to a new eCommerce platform that could more easily handle their unique combination of products, volume of users, and customizations.
Upon first looking at Ironmaster's existing website, we immediately noticed that speed was a major issue, sometimes taking several minutes for pages to load. Impeding usability, their slow site speed made the old site a frustrating experience for their shoppers. The team at Ironmaster decided it was time to move to a new eCommerce platform that could more easily handle their unique combination of products, volume of users, and customizations.
While developing the scope of the new build, Glendale Designs was able to pinpoint some issues and challenges that the Ironmaster team would need addressed.
New platform. The site would need to be launched on an eCommerce-specific platform in order to provide the functionality and capabilities needed for a high-traffic store.
Customer usability. Selling directly to individual consumers meant that the new site would need to provide a well-rounded customer experience. While B2B shoppers may expect a slightly more utilitarian approach, the Ironmaster site would be catering strictly to B2C customers.
Accurate representation. The engineering and expertise that goes into the Ironmaster products sets their brand apart from competitors. It was important that the new site be an accurate portrayal of the quality and value their products provide.
Bundles and kits. Their systems are designed to work together and apart, but in order to provide the best possible value to the shopper, the Ironmaster team wanted to be able to offer specially priced bundles and kits.
Discounts and savings. In addition to the bundles and kits needed, the team also wanted to be able to offer sales. On top of that, member discounts for military, trainers, and first responders would be required.
Limited stock. Ironmaster has an extremely high demand for their products which regularly results in an urgency on the customer's part. When products come back into stock, the site needs to be able to support a rush of shoppers in a short period of time.
With those goals in mind, the Glendale team was able to put together a plan to build a new site that would highlight the products, cater to consumers, and support the brand.
The Solution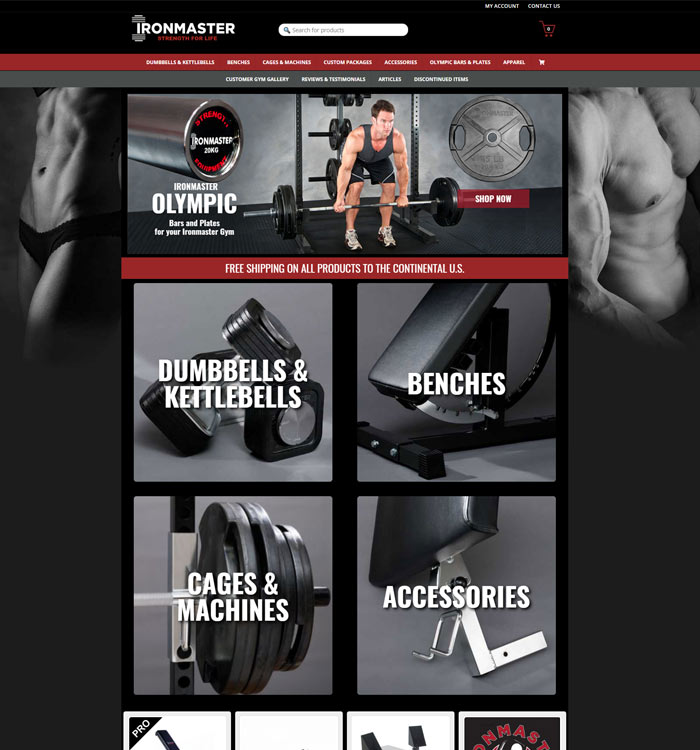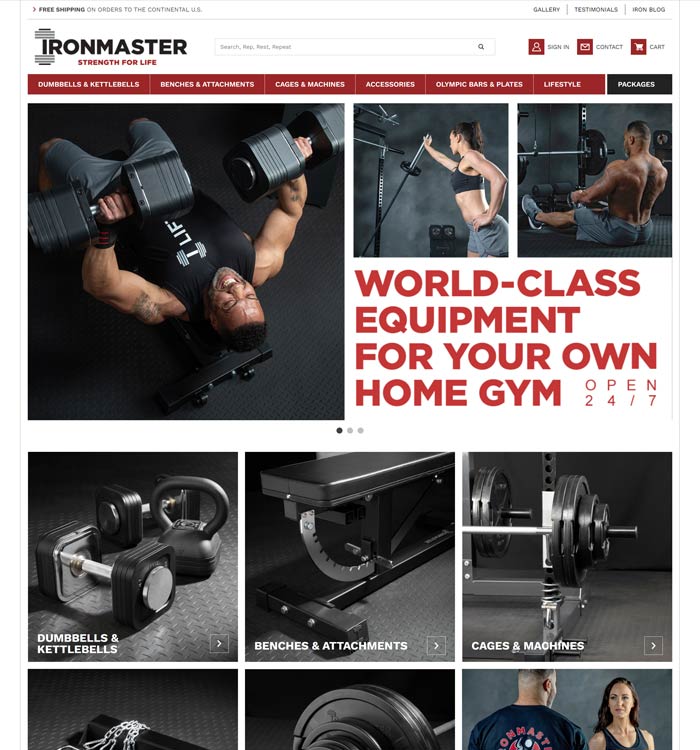 New Platform
To ensure the necessary functionality could be handled, Ironmaster.com was brought over to Miva. While the clients had a team of staff that were once comfortable with updating the site as needed, they would now all be in uncharted territory. By providing our clients a custom instructional manual, complete with images and step-by-step guides, we were able to give some guidance on the specifics of their site.
Furthermore, our extensive online collection of video tutorials and walkthroughs helped to provide a more general and expansive education of the platform.
In conjunction with features developed in a specifically user-friendly way, the Ironmaster team will now be able to update and maintain the website as needed in-house.
For example, by implementing the use of Components and Layouts within Miva, the client can easily update images, links, and text on the customized portions of the homepage.
Usability
This new usability extends past the store staff and owners. The site is now a richer experience for the shopper as well. The new design and the capabilities of the platform mean Ironmaster customers can browse easily and quickly. With dramatically improved site speed, there are no more extended waits, broken pages, or timeouts.
Besides being able to access the site faster and easier, we were also able to help improve the navigation, and the checkout process. An all-around updated site running on a stronger framework provides a more stable browsing and shopping experience for customers.
Updated Design
The new design is one that provides clarity to the shopper. Thanks in large part to the work done by the Ironmaster team, we were able to use high quality images with clean backgrounds and a branded look to create a cohesive site design.
Letting the products take center stage, the site allows the user to envision the equipment and gear in their own homes, and their own hands.
Product Packages
Because so many of the store's products work in conjunction with each other, it was paramount to be able to offer bundles and savings for shoppers who wanted to purchase an entire kit. This was accomplished through the use of special landing pages, in-depth discount set-up, and a tiered set of options. The different tiers provide the best possible value to users as well as highly flexible solutions.
By arranging price groups in various configurations, we were able to help provide discounts based on the number of products purchased from a set group, and constraints like order total. Depending on the selection of products that a shopper chooses, tiered discounts are applied to their basket automatically.
The custom landing pages help guide the shopper to the right selections based on their individual needs.
User-Based Price Groups
In addition to the package discounts, it was also important to Ironmaster to offer other customer-based savings. Specifically, to military and first responder personnel, as well as certified trainers. We knew the best way to accomplish this was by utilizing Miva's built-in Price Groups.
By setting up the appropriate price groups with Specific Customer eligibility, the client can add and remove customers as needed. When a shopper logs in that has been added to the Military price group, for example, the site automatically applies the necessary discount to their cart.
We also created a landing page with all the necessary information about those discounts for interested parties. Part of the process for applying for the discounts involves submitting some credentials. We made this possible by using an image upload feature. Instead of creating a submission form specifically for this application, however, we added the feature to the main contact form. This allows all shoppers to take advantage of the tool, so they can submit images or files for any sort of inquiry or request.
Lottery, Wishlist, and Waitlist
Due to the high demand for their products, and the resource limitations that have affected most businesses throughout 2020-21, the Ironmaster team devised a lottery system.
This lottery would make it possible for thousands of people to put their hat in the ring for the chance to secure a limited release of products. They needed a way to carry this over to the new platform.
On the new site, when a customer has been selected for the lottery, they receive a link and a password to a hidden product page, allowing the shopper to purchase their product without any worry of over-selling, miscommunication, or unfair practices.
To supplement the lottery, we have also implemented the waitlist and standard wishlist options for all other non-lottery items. Together, the three tools keep shoppers informed and keep inventory organized and on track.
The Result
The new Ironmaster.com has a strong aesthetic appeal, with large, high-quality images. The font styling and color palette are clean and strong, just like your squats, and the navigation is easy to follow, just like the product assembly.
The professional, informational, and community-driven design allows health and fitness-minded adults to find exactly what they need. Whether it's equipment, gear, fitness guides, or support, the new site offers those resources in an organized and efficient space that also provides inspiration.
By carefully arranging the data and structuring the categories, we were able to help compose a beautiful and highly functional site for the enthusiastic community behind Ironmaster. The new website serves as a pedestal to highlight the exceptional design and quality of the products, providing the best possible all-around experience for the shopper.
30-Day Post Launch
70%
Page Speed Improvement
18.79%
Click-through-rate (CTR) organic
After interviewing many agencies across multiple platforms, Glendale Designs quickly built confidence and earned our trust that they were team to deliver our new website. Our technical needs were great, and GD helped ensure our new website not only solved our shipping and merchandising challenges, but also managed to smoothly migrate all our years of data. On top of this, they created a fresh new design that effectively communicates our brand and value props, and we are super proud of it. We will continue to utilize their expertise and I highly personally recommend GD for your website build or replatforming—Glendale Designs is a best in class agency.