Misceladorousa.com
Miva eCommerce Development
Design, Web Development, Customization
A multi-generational family business, Miscela d'Oro has been producing high-quality Italian coffee for over 74 years. Combining artisan-level attention to detail with the modern-day technology of a thriving business, Miscela d'Oro doesn't just perfectly blend coffee. They also perfectly blend convenience and innovation with old-world service and warmth.
The Client
For three-quarters of a century, Miscela d'Oro has been passionate about producing high quality Italian coffee. With a burgeoning presence in Europe, founder Umberto Urbano and his team decided it was time to bring that passion and quality overseas to the US. Glendale Designs was contacted to create the new site.
Unlike so many other retail industries, coffee is unique in that the consumers often aren't hunting for bargain-basement deals. Miscela d'Oro has a specific appeal to the shoppers who are particular about the products they buy and want only the best in quality and service.
The Challenge
Brand New Build
It isn't typical, these days, to come across a client that doesn't have an existing website. Usually, our clients come to us to update an old site; it's becoming less common that we are building one from scratch.
In this instance, it was a cross between the two. Umberto and his team have an existing European B2B site, and thus had some of the digital assets available (like a logo and product images). But the new retail site would be an entirely different entity in design, function, and audience.
It would need to be developed and designed from the ground up. However, Miscela d'Oro is still a small business, and the American branch was an entirely new venture for the company. This meant the project would need to be managed under a relatively restrictive budget, with the finished product reflecting the high-quality and luxurious atmosphere of the brand.
These relationships would be built on the sterling reputation of the company, the expertise passed down from generation to generation, outstanding customer service, and of course, the highest quality products.
Customer Centric
Umberto's goal for the new branch of the company, Miscela d'Oro USA, Inc. was to enter into the retail space in America via direct eCommerce. They wanted to expand their reach and increase brand awareness, making valuable connections and long term relationships with a new, entirely B2C market.
These relationships would be built on the sterling reputation of the company, the expertise passed down from generation to generation, outstanding customer service, and of course, the highest quality products. The site would need to exude that same sense of customer care that the company values so greatly.
Simplicity and Ease of Use
Both for the customers and the staff, the new site would need to be easy to operate. This would call for keeping the data and product pages as clean and direct as possible. In order to feel like a boutique experience, offering exclusive products to shoppers with the finest taste, there wouldn't be a lot of product customization or variation.
On the surface, this likely sounds counter intuitive to what is on-trend for eCommerce shopping right now. For large stores with tons of products, offering personalization and add-on options let the customer get exactly what they want.
But in this case, Miscela d'Oro is at the other end of the spectrum. As a specialty retailer of a unique and carefully crafted product, the items are cultivated to already be perfect. No variants, options, or edits necessary.
The Solution
Design That Feels Like Home
Needing to appropriately represent the high quality and warmth of the brand was paramount when designing the new site. It was easy to convey that when using the beautifully shot photos, taken in-house by the Miscela d'Oro team.
The combination of product photos and marketing images allowed our designers to build the perfect working display for the brand. The responsive theme lets the high-quality images take up the full breadth of the site. The effect makes you feel as though you're stepping into their café-bistrot in Sicily.
With immediate access to the long history of the brand, and the Miscela d'Oro Lifestyle via the homepage, the user is welcomed into the rich warmth of the brand and its products.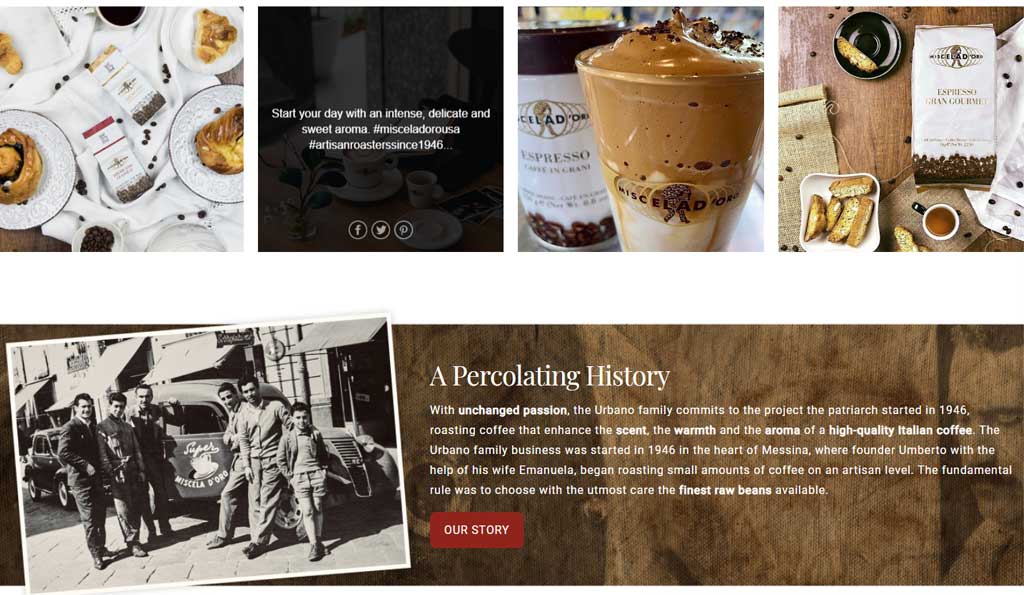 Once the shopper clicks through to the categories and product pages, however, they are greeted with bright, clear product displays. Avoiding an overwhelming barrage of information, the category pages are neatly aligned to show only what's important. The added feature of search facets to help further clarify the shopping experience.
Safe, Secure, and Compliant
Building on a fresh, responsive framework, our developers were able to ensure that the site would be secure and compliant. As with every build and design we do, we ensured complete compatibility and security.
This step not only included integration of Termaggedon for privacy policy compliance, but also AccessiBe, which helped to ensure Americans with Disabilities Act (ADA) compliance. Beyond just compliance with the ADA, Miscela d'Oro took that as an opportunity to improve their customer experience. The site is now fully capable of catering to those with disabilities.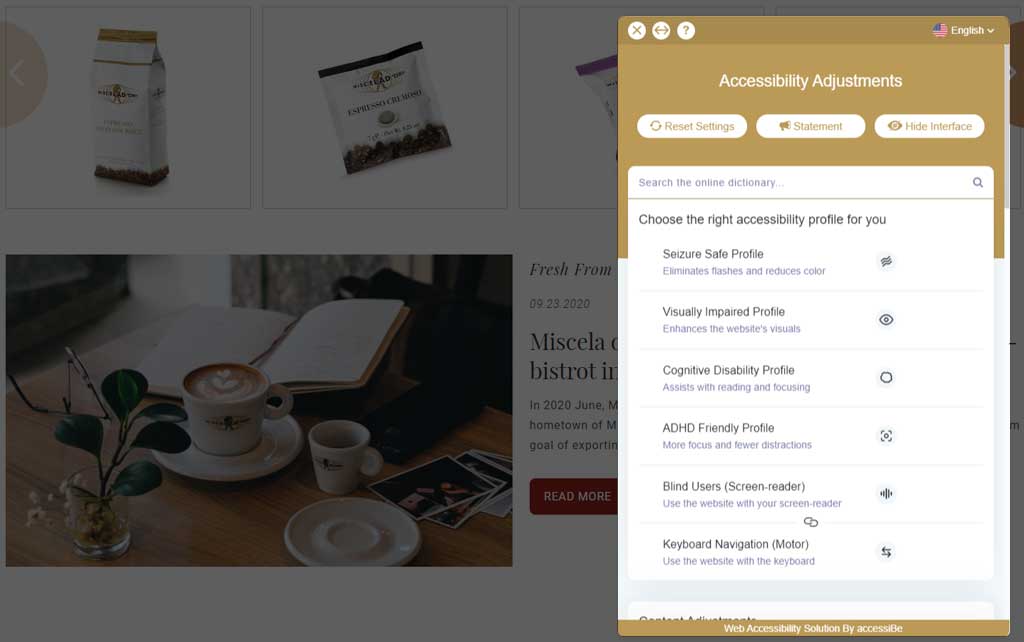 Attention to Customer Care
In an effort to further provide outstanding service, a loyalty points system was introduced. The Robust Rewards Program allows shoppers to collect points on purchases, promoting customer loyalty. It's also a nice perk (pardon the pun) for those shoppers who regularly purchase their coffee on a recurring basis. This is yet another example of the dedication to customer service.
In addition to a pleasant shopping experience, Umberto and his staff want to be able to offer real-world resources to their patrons. We integrated a blog system that will allow the staff to provide helpful guides and how-to articles. This will help establish themselves as authorities in the industry, not just a retailer.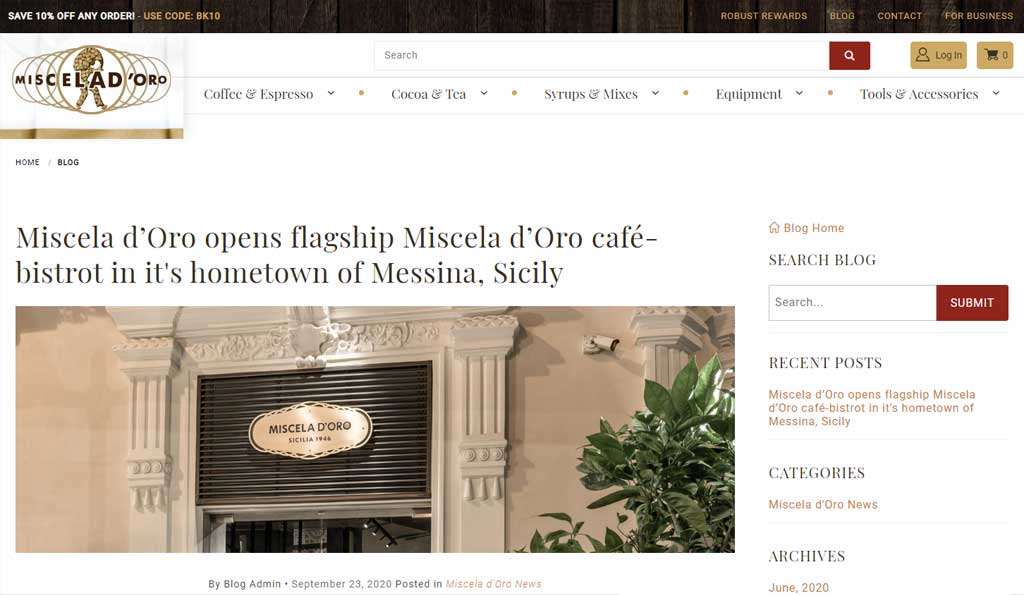 Clean and Clear Catalog
Having a relatively limited product catalog on the site allowed our developers to create a very neat and orderly category tree. The results highlight the fact that the products sold on Miscela d'Oro's site are carefully curated, and exclusive.
The products are set to show availability, preventing the shopper from purchasing backordered items. Instead, we implemented an email notification system, so customers can be alerted when their favorites items come into stock. This helps the staff better manage their inventory, which is critical in eliminating confusion and over-selling for in-demand products; you don't want to get in between a coffee-lover and their espresso.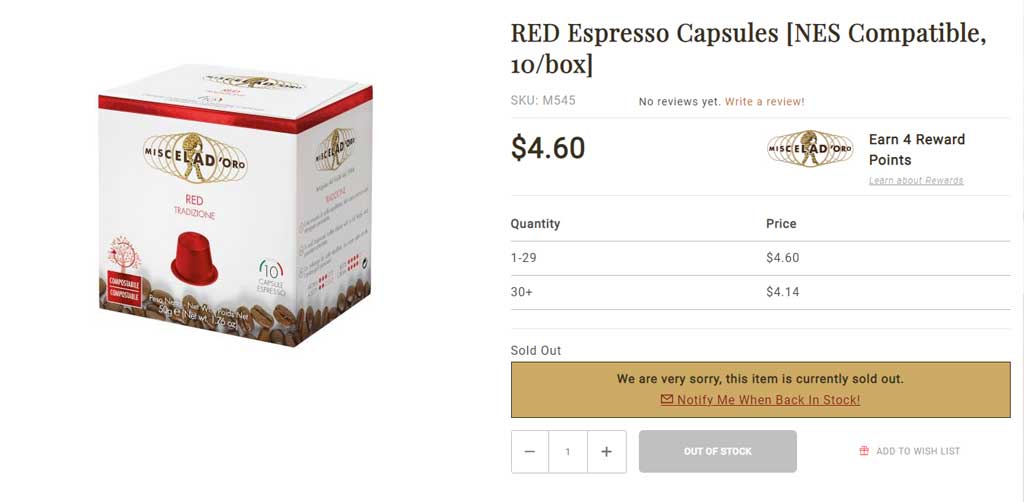 Furthermore, we installed MivaPay, which lets those coffee drinkers complete their purchases quickly and easily. And it gives the store owners the possibility of implementing subscription services in the future.
On the product page itself, we made sure to include information tabs for the product description, reviews, and flavor profile. This is yet another way to provide a better shopping experience for the user, and present data in an manageable way.
Technical SEO
Finally, because this site was an entirely new eCommerce site, there was no historical data available. This didn't only apply to customer accounts and store settings, but also to SEO and Google Analytics.
To fully equip the store, our Google and SEO experts set up all needed XML sitemaps, title and meta tags and descriptions, favicon, and rich snippets. It's easy enough to count off tasks in a short list like this. But our experts ensured that the very detailed and extensive code work was meticulously implemented. This would help ensure the site would rank on Google when searched.
Equipping the site with Google Analytics allowed Umberto and his team to track the progress of their newest venture right from day one. Alongside Analytics, we also integrated a local Google My Business listing for their warehouse location, allowing shoppers to leave public Google reviews.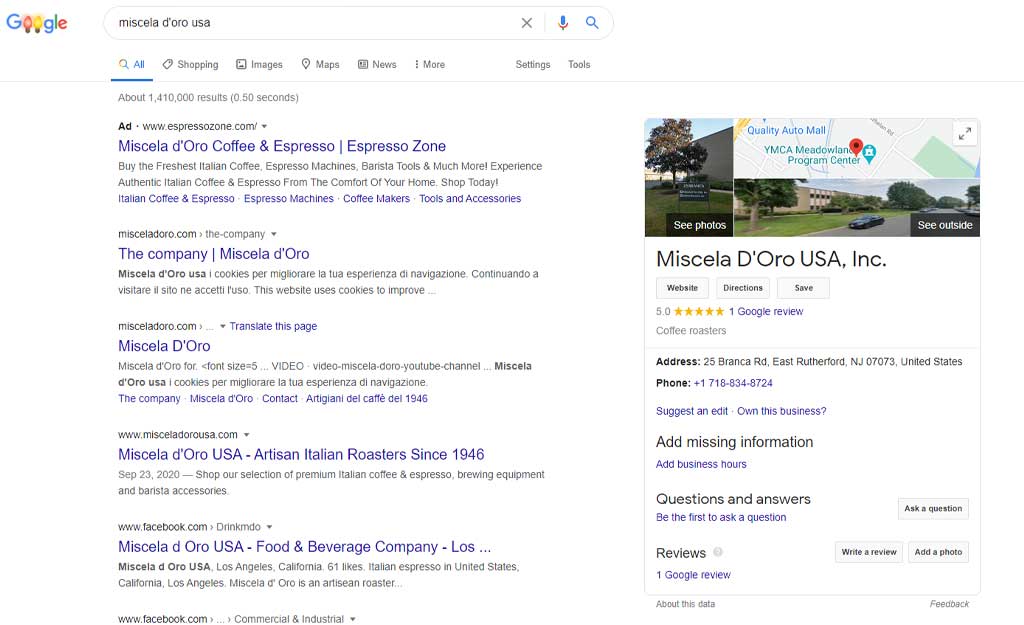 The Result
Warm, rich, and fresh. You could be describing a freshly brewed cup of dark roast coffee. Or you could be describing the new Miscela d'Oro USA website. Our client approached us looking to voyage out on a new path; to expand their reach to a new geographic market overseas, and a new retail market, direct-to-consumer.
The resulting website is modern and professional while also warm, inviting, and full of rich history; just like the brand itself.
If you're thinking it's time to expand your business into a new market, get in touch with our eCommerce experts to discuss your options. We can work alongside you to create the perfect plan.