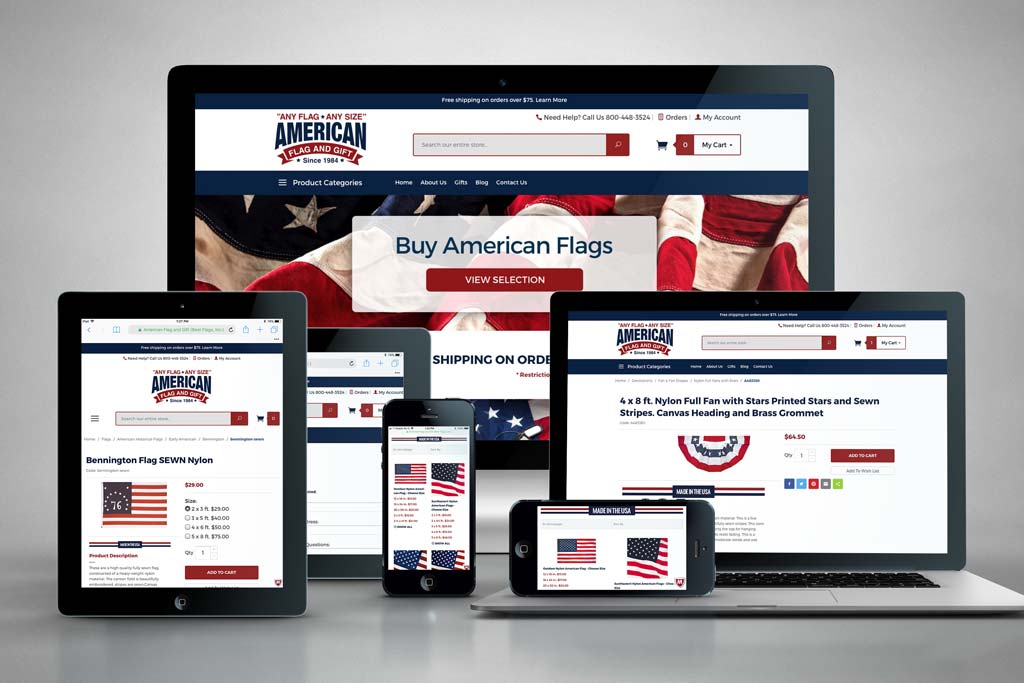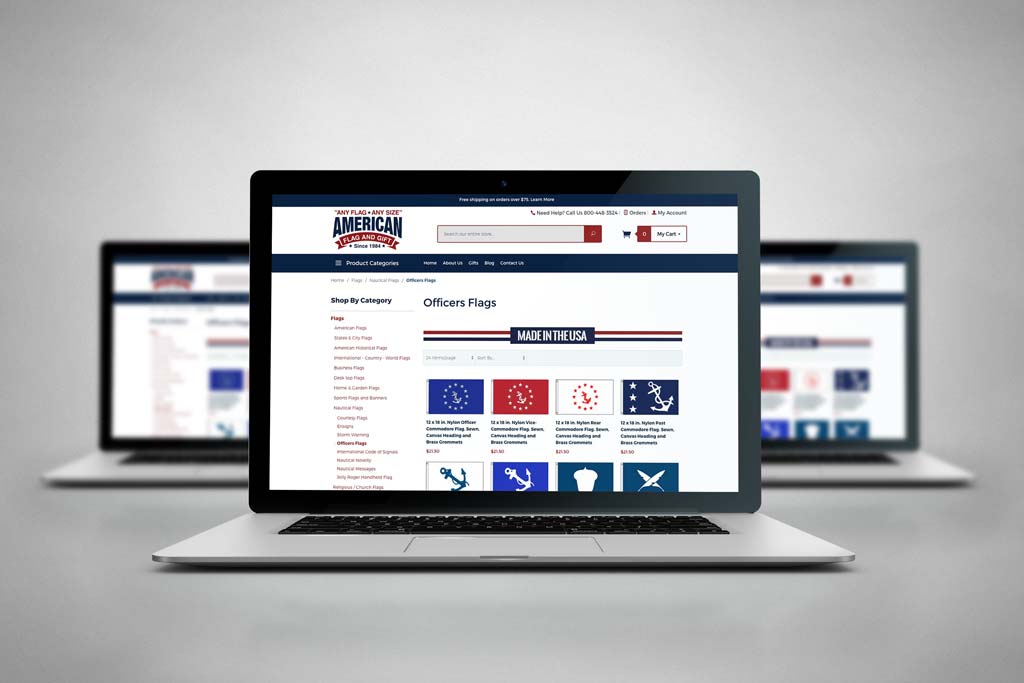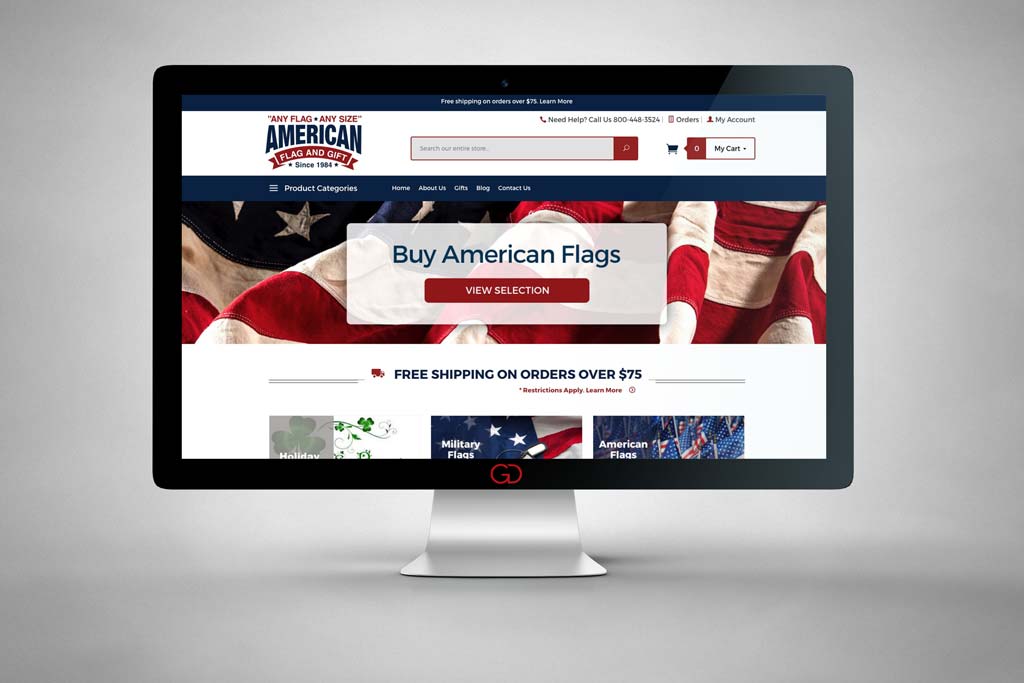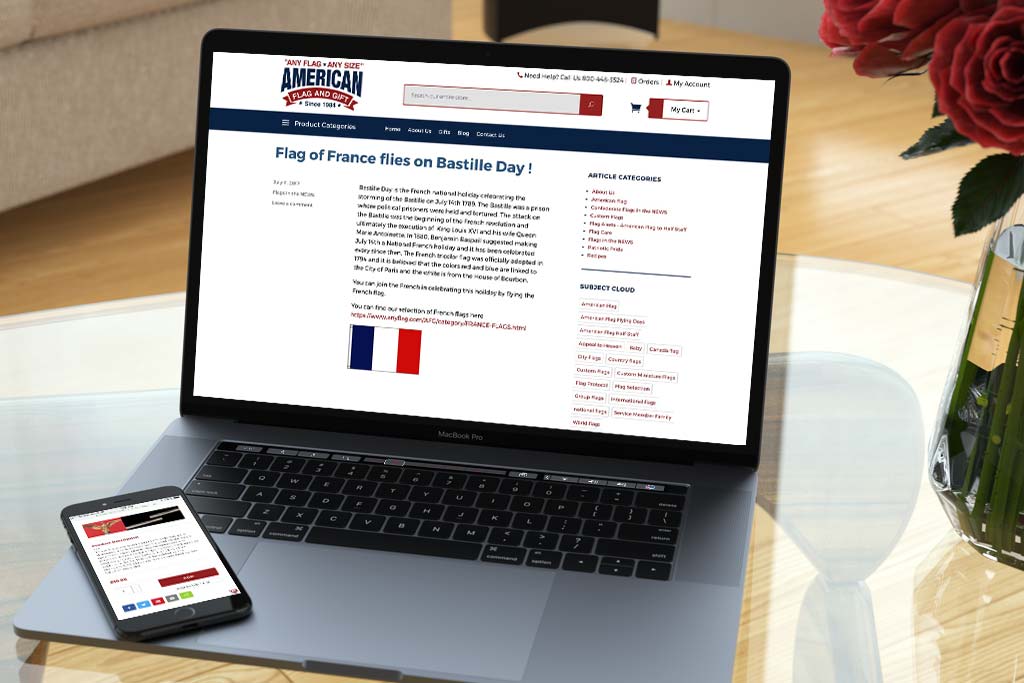 Miva Ecommerce Design & Development
Ecommerce site re-launch AnyFlag.com, featuring a much improved responsive site, combining 5 (previous) stores into one to make the user experience much simpler for the shopper.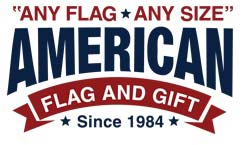 Anyflag.com Ecommerce Customizations:
Global Design
Based on Miva's Levels ReadyTheme (most features, most up to date, most mobile friendly, nice use of white space)
Miva ReadyTheme content sections so customer can easily add promotions site-wide
New branding, colors, logo
Flyout Menus customized for readability and quick access to specific categories
Additional search bar in the footer
Data
Full/Site-wide HTTPS Conversion on site re-launch
We used product variants to combine duplicated products and categories into a simpler user experience
Massive category restructuring to make more sense to the shopper and easier maintenance going forward.
Combined multiple additional stores (and WordPress sites) into one store – not competing against themselves on Google anymore, eliminating duplicate content as well
Proper use of 301 redirects and optimized 404 page for customers to still find help when needed
Simpler and more SEO Friendly URLs Site-wide
Data heavy pages like Policies formatted to be simple to read/skim with mobile friendly sub-navigation.
Optimized product and category titles for readability and utilized SEO title field for the keyword rich equiv.
WordPress Blog
Re-coded on responsive framework
Styled to match the site to feature a continuous User Interface
Home Page:
Modal popup message for free shipping notice with single-click button to auto-redeem coupon (no complicated coupon codes to enter)
Latest MailChimp newsletter implementation directly on the page
Responsive slider for affiliated companies
Category Layout:
Optimized UX and custom programming to see product variant prices. This got rid of duplicated hand coded price tables for each size and is now completely data driven, which makes maintenance for the store owner much easier and less time consuming.
Product Layout:
Optimized layout to showcase use of product variants, variant prices and volume pricing discounts.
Custom programming to dynamically show selected variant volume pricing
This also eliminated a lot of duplicated hand coded price tables for sizes and volume price discounts.
Checkout
Utilizes all the new Miva features like coupons, gift certificates, credit on account, etc.
Custom programming for a one-click free shipping coupon redemption w/o any complicated codes to enter
Customer survey
I can't say enough about Sabine and her team in their detailed work re-inventing/ re-creating our website. She is insightful in the needs of her customers and their customer's needs. She made our site more customer friendly, faster and easier to check out. Sabine is organized and makes instructions easy to follow and apply. Sabine and Glendale Designs are great to work with and we look look forward to our continuing partnership.